Lindor, Rizzo named Platinum Glove winners
Softball star Andrews receives first female Gold Glove at awards ceremony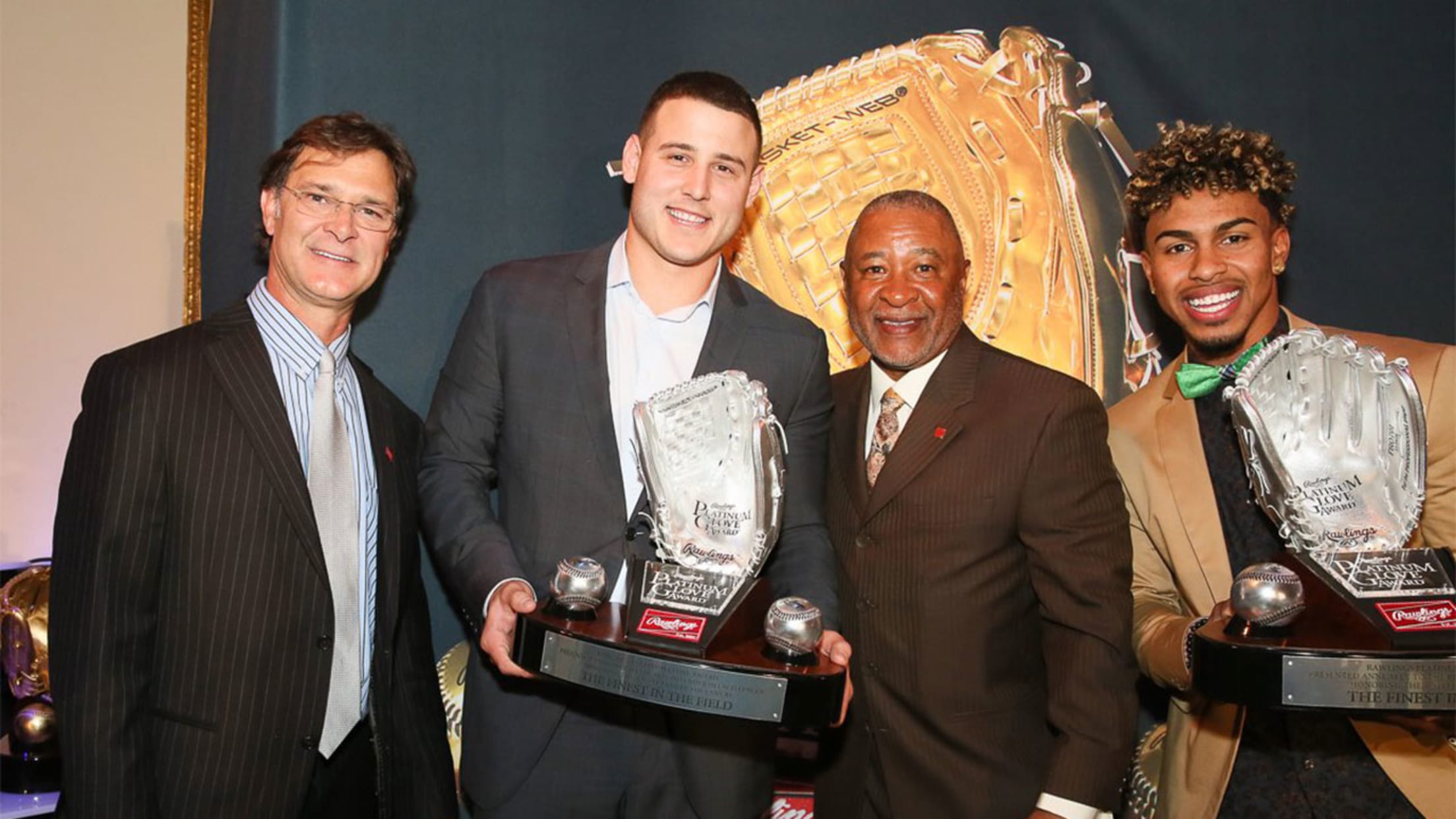 NEW YORK -- Their gloves already gold for the first time this year, Francisco Lindor and Anthony Rizzo turned platinum Friday night.Lindor and Rizzo were presented with the Rawlings Platinum Glove Award as Major League Baseball's best overall defensive players in each league during the Gold Glove Awards ceremony at
NEW YORK -- Their gloves already gold for the first time this year, Francisco Lindor and Anthony Rizzo turned platinum Friday night.
Lindor and Rizzo were presented with the Rawlings Platinum Glove Award as Major League Baseball's best overall defensive players in each league during the Gold Glove Awards ceremony at The Plaza in Manhattan.
The awards were well deserved, as both Rizzo and Lindor cemented their places among baseball's elite defenders this season. Rizzo led MLB first basemen with 125 assists and 11 Defensive Runs Saved. Lindor ranked in the top 10 in Ultimate Zone Rating and Defensive Runs Saved while posting a 2.7 dWAR (defensive wins above replacement), tied for the best among shortstops.
The Platinum Glove is awarded based on a formula that combined fan voting and the Society of Baseball Research's SABR Defensive Index.
The 2016 #Rawlings #PlatinumGlove Award winners are @ARizzo44 and @Lindor12BC! pic.twitter.com/Mf51D1stfB

— Rawlings Sports (@RawlingsSports) November 12, 2016
As is the case every year, the event was flush with baseball royalty, including Roberto Alomar, Joe Torre, Jim Palmer, Don Mattingly, Jim Edmonds, Andre Dawson, Bernie Williams, Steve Garvey and Doc Gooden. Two living legends were honored in addition to this year's winners.
Brooks Robinson, considered by many to be the greatest third baseman of all time, was presented the Lifetime Achievement Award by Palmer. Al Kaline, the 15-time Detroit Tigers All-Star, was inducted into the Gold Glove Hall of Fame in a presentation by Jim Kaat.
National Pro Fastpitch softball star A.J. Andrews became the first female Gold Glove winner. The former LSU standout is known for making highlight-reel catches as an outfielder for the Akron Races. Now in its 58th year, the Rawlings Gold Glove has been awarded to 323 players, all male Major League Baseball players, until now.
"I'm really excited to be that pioneer that paves the way for more girls to win Gold Gloves in the future," Andrews said. "For young girls to grow up thinking they can win something MLB players do, I don't think anyone understands the significance in that."
American League Gold Glove recipients were Lindor at shortstop, catcher Salvador Perez of the Royals, first baseman Mitch Moreland of the Rangers, second baseman Ian Kinsler of the Tigers, third baseman Adrián Beltré of the Rangers, left fielder Brett Gardner of the Yankees, center fielder Kevin Kiermaier of the Rays, right fielder Mookie Betts of the Red Sox and pitcher Dallas Keuchel of the Astros.
National League trophies went to Rizzo at first base, catcher Buster Posey of the Giants, second baseman Joe Panik of the Giants, third baseman Nolan Arenado of the Rockies, shortstop Brandon Crawford of the Giants, left fielder Starling Marte of the Pirates, center fielder Ender Inciarte of the Braves, right fielder Jason Heyward of the Cubs and right-handed pitcher Zack Greinke of the D-backs.
Posey, Rizzo, Panik, Inciarte, Moreland, Kinsler, Lindor, Garner and Betts were all first-time winners. Beltre won his fifth career Gold Glove, while Arenado and Perez took home their fourth consecutive awards.
"Beltre, to me, is on his way to the Hall of Fame," Robinson said.
Arenado is the first third baseman in Major League history to begin his career with four consecutive Gold Glove wins.
"He's the best defensive player I've ever seen at any position," 15-year veteran and former teammate Michael Cuddyer said last year.
Posey's first career selection broke a streak of eight straight awards for Cardinals catcher Yadier Molina, who will likely be honored with a lifetime achievement award of his own one day.
Esurance MLB Awards week concludes Nov. 18 on MLB Network and MLB.com at 8 p.m. ET with the MLB Awards. Categories include Best Major Leaguer, Hitter, Pitcher, Rookie and Manager, and recognize overall MLB winners with no league distinction.
Joe Trezza is a reporter for MLB.com based in New York.