Cubs, Halos to make up postponed game June 3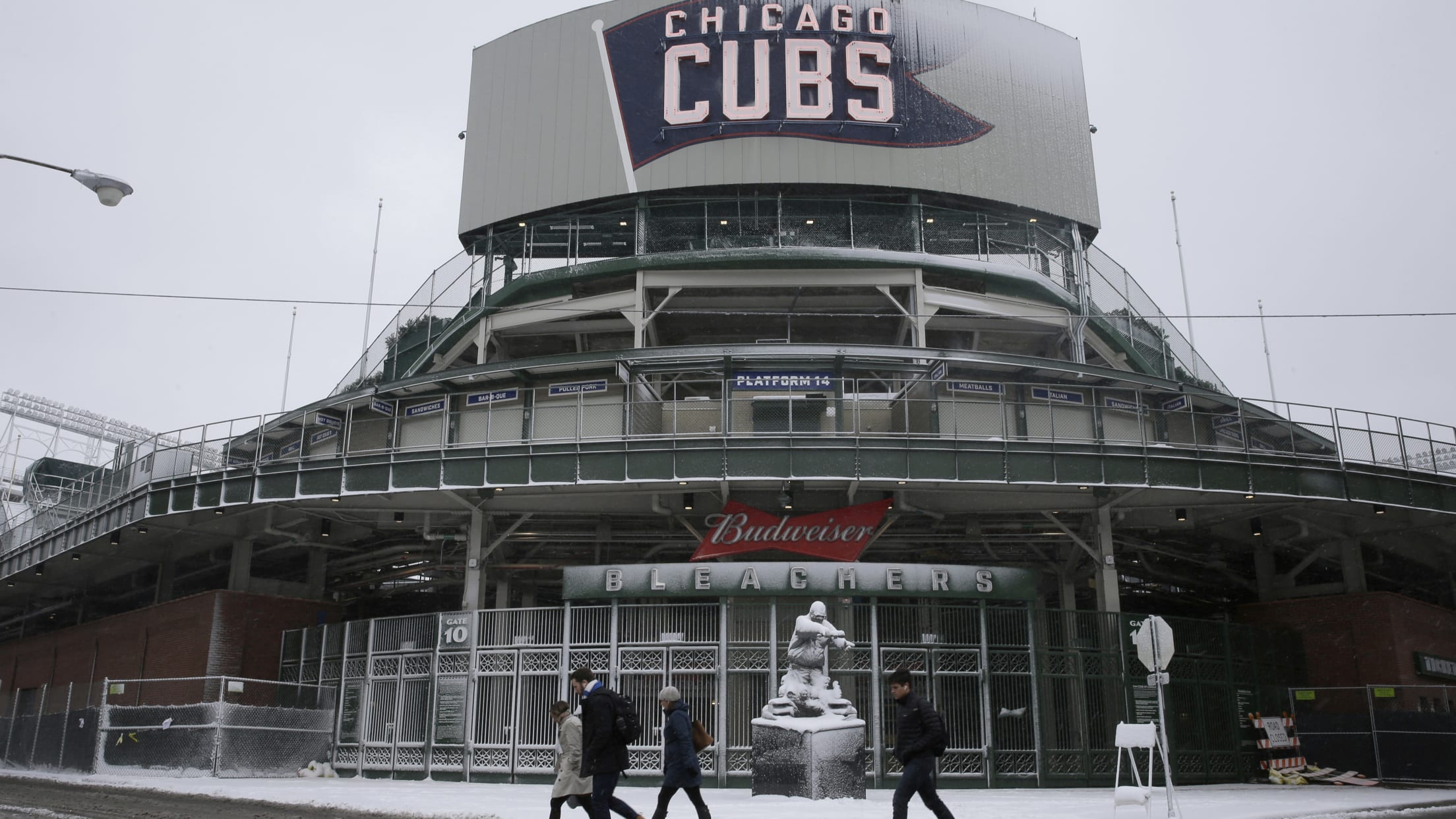 CHICAGO -- The weather that overtook Chicago on Sunday made it seem more appropriate to head to Soldier Field for a Bears game. The near-freezing temperatures and snow flurries expected throughout the day made playing baseball at Wrigley Field an impossibility for the Cubs and Angels. The Cubs were swift
CHICAGO -- The weather that overtook Chicago on Sunday made it seem more appropriate to head to Soldier Field for a Bears game. The near-freezing temperatures and snow flurries expected throughout the day made playing baseball at Wrigley Field an impossibility for the Cubs and Angels.
The Cubs were swift with their morning announcement that the afternoon game against Los Angeles was postponed, and the team announced Monday that the game will be made up at 3:05 p.m. CT on Monday, June 3, which was a mutual off-day for both teams. Tickets to the April 14 game at Wrigley Field will be honored for the makeup game.
"I know it's tough for the Angels in that spot," Cubs manager Joe Maddon said on Monday. "It would've been an off-day for us. We've gone through this whole thing last year times two or three, so I think everybody learned a lesson and we're just trying to take care of the game. We're going to have another rainout at some point, and it's going to require an August makeup date. It's just going to. And when you keep piling them up like that, it becomes much more difficult. I know it's tough for them. They've got to go west to east to go right back."
Chicago would surely have preferred to wrap up its three-game set against the Mike Trout-less Halos, but the inclement weather may actually work in the Cubs' favor for their pitching staff. Chicago had planned to send right-hander Tyler Chatwood to the mound on Sunday in place of veteran lefty Jon Lester, who is on the 10-day injured list due to a left hamstring injury. The snow out now gives the Cubs the option of returning to a four-man rotation -- possibly until the day Lester is deemed healthy and ready for activation.
"Honestly, with Jon," Maddon said earlier this week, "when he's ready to go, he's going to go. That's pretty much what it's going to be."
Lester, who tweaked his hamstring while running the bases in the home opener against the Pirates, will be eligible for return on Friday when the Cubs return home to face the D-backs. With off-days looming on Thursday and April 22, however, Chicago will not technically need a fifth starter until its April 27 road game against Arizona. Lester might be ready to come back before -- or in time for -- that game.
The postponed April 14 #Cubs-Angels game is now scheduled to be played at Wrigley Field on Monday, June 3, at 3:05 p.m. CDT. pic.twitter.com/Pg23hy6eaX

— Chicago Cubs (@Cubs) April 15, 2019
In fact, the Cubs only need a fifth starter twice over the next 23 days (also on May 7 vs. Miami), thanks to additional off-days on April 29 and May 2. What that does for the Cubs is give them the flexibility to take a conservative approach with Lester, if that is what his rehab progress requires. In the meantime, Cole Hamels, Yu Darvish, Kyle Hendricks and José Quintana can hold down the fort -- with Chatwood moving back to the bullpen.
For this week's series in Miami, Darvish pitched Monday and is set to be followed by probable pitchers Quintana (Tuesday) and Hamels (Wednesday). Chatwood will stay in a relief role, giving Chicago a nine-man bullpen for the moment.
As for the Angels, they will have to make a return trip to Wrigley Field later this season, when Cubs fans may get to see Trout in person. While the star center fielder has the ability to seemingly beat teams single-handedly, Maddon said he would have preferred to have Trout (currently dealing with a groin injury) in the opposing lineup for the Halos.
"I always prefer beating the other team at full strength," Maddon said this week. "I think probably the biggest disappointment would be for the fans who were looking forward to that opportunity [to watch Trout play]. He's just a different talent. He's a generational talent, and it's too bad. I'm not even saying that tongue-in-cheek. Of course, it helps us in a sense that he's not playing. But you always want to beat the other team at full strength."