Wrigley renovation to be ready for Opening Day
This phase of four-year project most extensive structural changes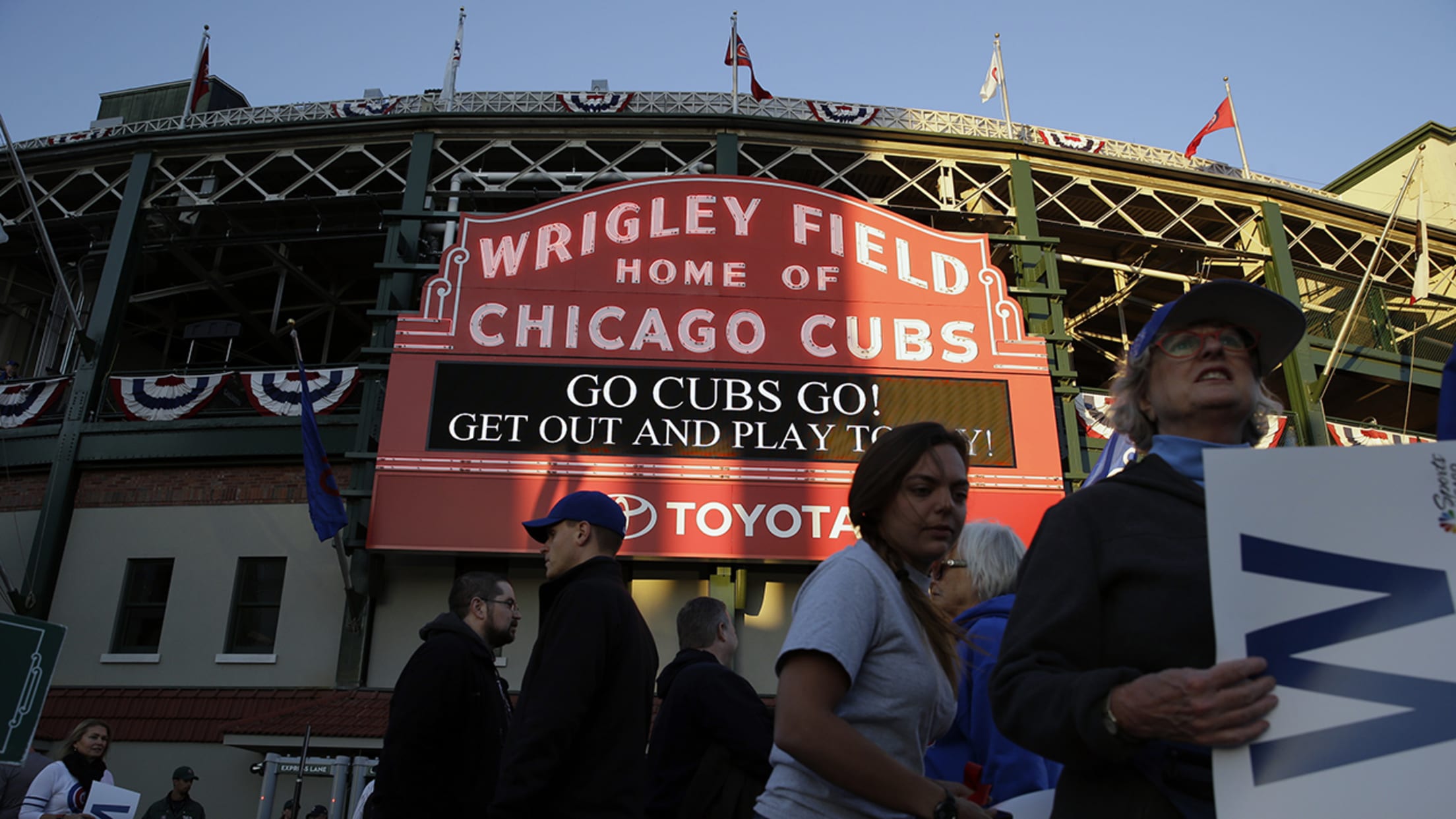 Fans arrive at Wrigley Field before Game 3 of baseball's National League Championship Series between the Chicago Cubs and the Los Angeles Dodgers, Tuesday, Oct. 17, 2017, in Chicago. (AP Photo/Nam Y. Huh) (Nam Y. Huh/AP)
MESA, Ariz. -- Anyone who has walked past Wrigley Field this offseason knows the ballpark has been under construction and on Thursday, Cubs president of business operations Crane Kenney said it will be ready by Opening Day, April 9.This phase of the four-year renovation project is the most extensive in
MESA, Ariz. -- Anyone who has walked past Wrigley Field this offseason knows the ballpark has been under construction and on Thursday, Cubs president of business operations Crane Kenney said it will be ready by Opening Day, April 9.
This phase of the four-year renovation project is the most extensive in terms of structural changes and the cost, he said.
"I'm here to remind everybody that we're on track and, in fact, a couple days ahead of schedule for our plan for Opening Day," Kenney said.
Cubs manager Joe Maddon said he likes all the work being done.
:: Spring Training coverage presented by Camping World ::
"I prefer updating an old ballpark as opposed to tearing it down and building a new one because you're not ever going to replicate the beauty of that place -- it's impossible to recreate that," Maddon said.
The biggest change fans will see on the field is wider dugouts, which will be pushed farther down the line about 28 feet. There will be a new camera well on the home-plate side of the dugout.
"A good dugout matters," Maddon said. "I like to stand at the corner, and I think access and egress are important. When you're not on top of one another, it helps. I'm curious to see what it looks like."
Next week, the grounds crew will begin installing the field, Kenney said.
• Cubs Spring Training info | Tickets | Schedule
On the concourse, Kenney said there will be eight new concession stands and four of them will be ready by Opening Day. The new 1914 American Airlines Club, located behind home plate, also will be ready. The other concession stands will be ready by mid-May.
New elevators will take fans to the new suite level as well.
Fans also will see new netting in front of the dugouts, and it will taper as it goes toward the foul poles. The Cubs will be using a knot-less green screen.
Outside Wrigley Field, the Hotel Zachary, located at Clark and Addison Streets, will be ready by Opening Day. There will be new restaurants as well, including the return of a McDonald's.
Do all the changes and upgrades mean the Cubs could soon host an All-Star Game?
Kenney said that the club and city have made a joint application, but beyond that it's unclear. The Dodgers and Athletics are the only teams that have gone longer than the Cubs since hosting an All-Star Game, excluding the Rays, who have never hosted.