Indians fans dressed as bloody-fingered, drone-carrying Trevor Bauer for Halloween
By now, everyone knows about Trevor Bauer's little drone mishap during the ALCS. He cut his finger on one, missed his Game 2 start and then brought in the toy to be questioned by the media. He thought he could start Game 3, but then, uh, this happened and he was asked to leave: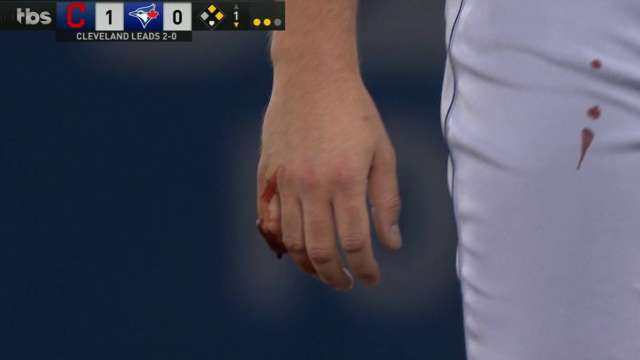 It was one of the biggest stories of the series (besides, you know, the Indians winning), and because it involved a famous athlete, a cool prop and, most importantly, BLOOD -- it became a hit for Indians fans on Halloween:
My awesome niece picks @BauerOutage for her Halloween costume! #HappyHalloween #WorldSeries #RallyTogether @Indians @MLBastian pic.twitter.com/D6hoVtCB3M

- greta goose (@GretaGoose) October 31, 2016
What a legendary costume by @Mears30 @Reflog_18 @BauerOutage pic.twitter.com/acRhH8DXNu

- Ty (@therealfoopa) October 29, 2016
don't worry I'm ready to pitch tonight pic.twitter.com/YfWJd1Yjm7

- Laurel Wilder (@laurelwilder) October 30, 2016

Pretty great, but will it help Cleveland take Game 6 and their first World Series since 1948? Tune in to FOX on Tuesday (7:30 p.m. ET air time l 8 p.m. game time) to find out.
Matt Monagan writes at night for Cut4. In his spare time, he travels and searches Twitter for Wily Mo Pena news.
Teams in this article:
Players in this article:
Topics in this article: