Cut4 Postseason Primer: Detroit Tigers
Here's how the Tigers got to the postseason this year
From 30 World Series hopefuls, only a few remain. In case you haven't been following every contender, here's a catch-up on what you missed and what to expect next. In this edition: The Detroit Tigers
Also: BAL | KC | LAA | LAD | OAK | PIT | SF | STL | WAS
After three consecutive postseason appearances, guess what? The Tigers are baaaaaackkk:
With new manager Brad Ausmus at the helm and a veteran presence on both sides of the ball, Detroit will be looking for its first Fall Classic victory in 30 years. Here's how they got to this point.
5. Coaching
The Tigers replaced manager Jim Leyland with former Astros catcher Brad Ausmus during the 2013 offseason. Ausmus, a Dartmouth graduate who cites "A Schopenhauerian Critique Nietzsche's Thought" as his favorite book, used his wit and smarts to guide his players through the tough AL Central. He was also rated MLB's most handsome skipper (THIS IS ABSOLUTELY CRUCIAL TO POSTSEASON DOMINANCE).
First-base coach Omar Vizquel, who also enjoyed a pretty successful MLB career, showed he's still ready to help out if an infielder goes down with an injury.
And Leyland has also kept a close eye on the team this year. Hopefully the guys remember to invite him into the clubhouse for any champagne celebrations:
4. Celebrity Support
Many stars came out this year to support the Tigers. Jack White, who was in the midst of a gloomy ballpark tour, actually cracked a small smile during his visit to Comerica Park in July.
Actress/model Kate Upton also took in a Tigers game at Yankee Stadium. You probably know that she dates pitcher Justin Verlander, and if you didn't, well, here's some ADORABLE proof:
Michigan native Jeff Daniels paid close attention to games down the stretch, tweeting his delight after a crucial win against the Royals.
Wondering if I just saw "The Save That Turned Around The Season" for Joe Nathan. #Tigers

— Jeff Daniels (@Jeff_Daniels) September 10, 2014
We can only imagine he looked like this: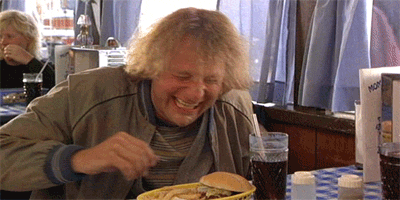 3. Joba Chamberlain's Beard
After seven seasons with no facial hair on the Yankees, Joba has, quite beautifully, let it all go in 2014:
In-depth research has determined that the beard is helping the reliever on the mound (he's posted his lowest ERA since 2011). However, those same magical powers don't seem to do much for him at the plate.
2. New Kids on the Block
Along with Chamberlain, the Tigers have had a few more solid additions to their roster this year. Former Cy Young winner David Price was picked up at the trade deadline, Ian Kinsler has played like an All-Star out of the leadoff spot, J.D. Martinez has had a breakout season and closer Joe Nathan seems to finally be rounding into form. But hey, if not, he still has a very good sense of humor about it.
1. Victor and the Vets
At the age of 35, Victor Martinez has had a career year -- tallying 32 homers, 102 RBIs and leading the AL with a .981 OPS. He also has just 42 strikeouts in 552 at-bats. Other veterans like Justin Verlander, Max Scherzer (18-5, 3,19 ERA), the 39-year-old Torii Hunter (who's recently been acting like the 29-year-old version)
have all helped their squad to a successful campaign. Oh, and there's also that guy Miguel Cabrera. After back-to-back MVP seasons, he's still hitting long home runs, legging out triples and getting his reps in:
So, what can we expect from the Tigers this October? A few predictions:
After interrupting two separate Tigers games during the season, the pigeons will return in October -- hellbent on ending the sport of baseball once and for all. And this time, they'll bring some other winged friends. The scene will resemble something like the below:
Max Scherzer will fill Comerica Park with every heterochromatic man, woman, child and cat on earth. They will sit in the batter's eye and stare into the box from innings one through nine. Distracted, hitters will fail to make even the slightest contact.
Miggy's good friend, Calvin Johnson, will join the Tigers postseason roster. Megatron will proceed to hit a home run in every single at-bat and lead lead the city of Detroit to World Series glory. Seriously, the guy can mash: