Minor League Road Trip, Day 6: A bat flip over the Green Monster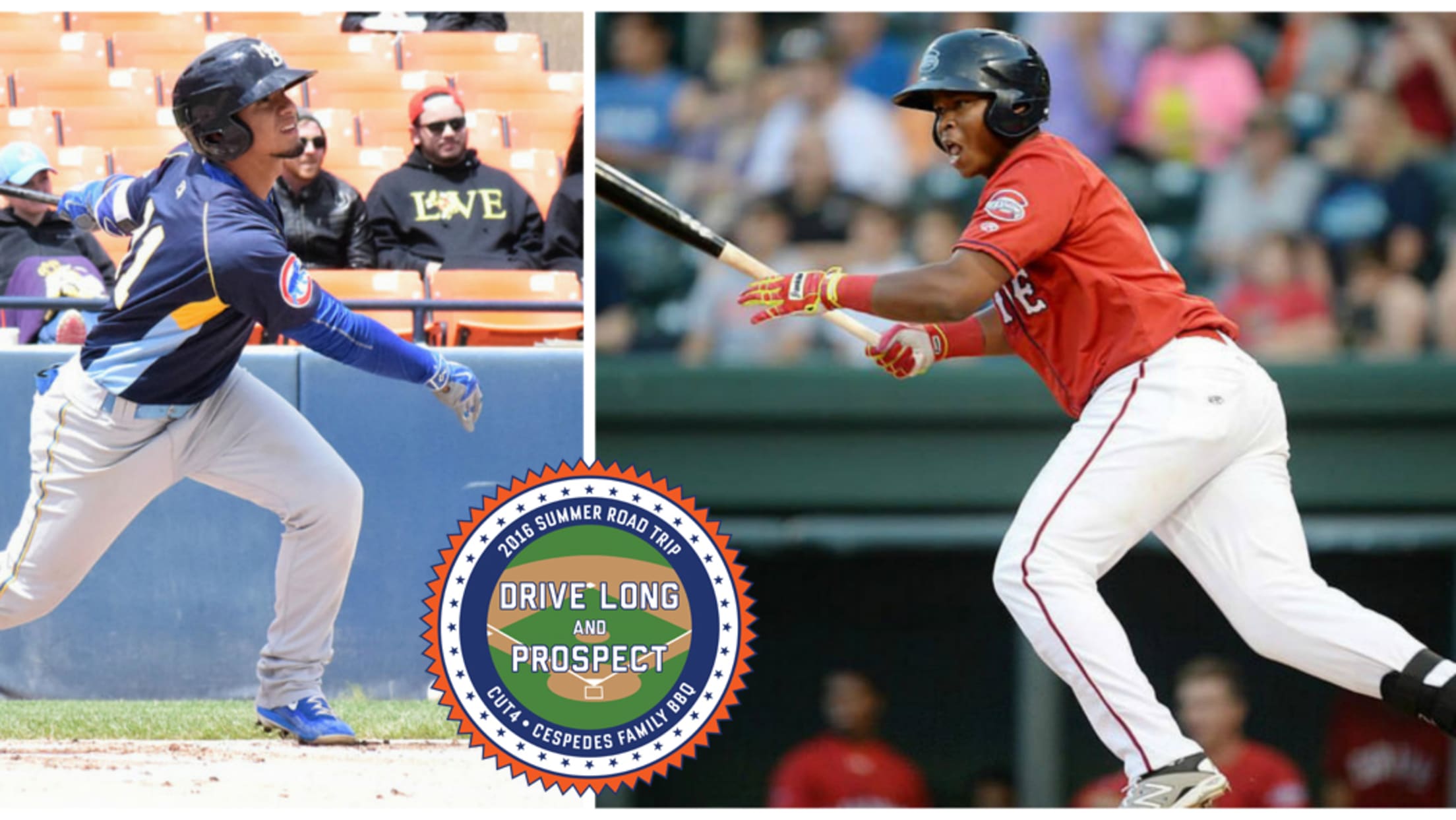 The guys behind Cespedes Family BBQ have embarked on a cross-country road trip to see as many Top-100 MLB prospects as possible. You can find an introduction to the trip and the full schedule by clicking here, and a recap of their travels to date right here.
Baseball is about joy. It's about other things too, like hot dogs and home runs and Bartolo and big contracts and Statcast data and brawls. But the origin story of every big leaguer's career has to do with joy. For fans, the most entertaining moments come when players carry themselves with a childlike innocence and, yes, joy.
We thought there's no better way to bring out that pure feeling than to put a few professional baseball players on a field literally made for children for a pint-sized home run derby. So we did just that before our stop in Salem, Va. to watch the Salem Red Sox (Class A affiliate of Boston) take on the Myrtle Beach Pelicans (Class A affiliate of the Cubs).
After sweating profusely in the insane Virginian humidity, we ran to the car, changed our clothes, and made it back into the park in time to talk to Gleyber Torres, the top prospect in the Cubs system, about Miguel Cabrera:
A Baseball Game Appeared
Well, technically there were two games, but we only stayed for one for reasons we'll explain later. Rain in Salem on Monday meant that two seven-inning games were on the slate for Tuesday. In game one, the Sox and Pelicans combined for 11 doubles (!!!), as the Sox won 5-3.
We had to leave at that point to get home in time for our busy Wednesday (see below), but in the car, we checked in on the happenings in Salem to find that we had missed something incredible. Down two runs in the ninth, the Sox rallied for three runs to win on a walk-off single by none other than our bat-flipping compadre Rafael Devers. Check out how he celebrated the win:
You see us doing work, work, work! @salemredsox @Rafael_Devers #BatFlip #WalkOff pic.twitter.com/xfAA39D1yn

— C. Ryan Shelton (@cryanshelton) June 29, 2016


We'll take 40 percent of the credit for that bat flip, thank you very much. Closest we'll ever come to bat flipping in a professional baseball game, most likely. Flip everything.
Where We Woke Up: Hagerstown, Md.
Where We Slept: Washington, D.C. (HOME)
Miles Driven: 463
Miles Driven To-Date: 1,912
Time in Car: 7:08
Time in Car To-Date: 32:39
Tomorrow's Plan: DETOUR, Y'ALL. We were originally supposed to head down to Hickory, N.C., but then, some dude got called up to the big leagues. We figured that driving six hours out of our way to talk to the No. 1 prospect in baseball was totally worth it. While we probably won't have the time or resources to set up a Connect 4 rematch, we're looking forward to chatting with the best baker south of the Mason-Dixon, Lucas Giolito.