Jeter, Papi, the Cubs, Vin and the most entertaining MLB late night TV visits of 2016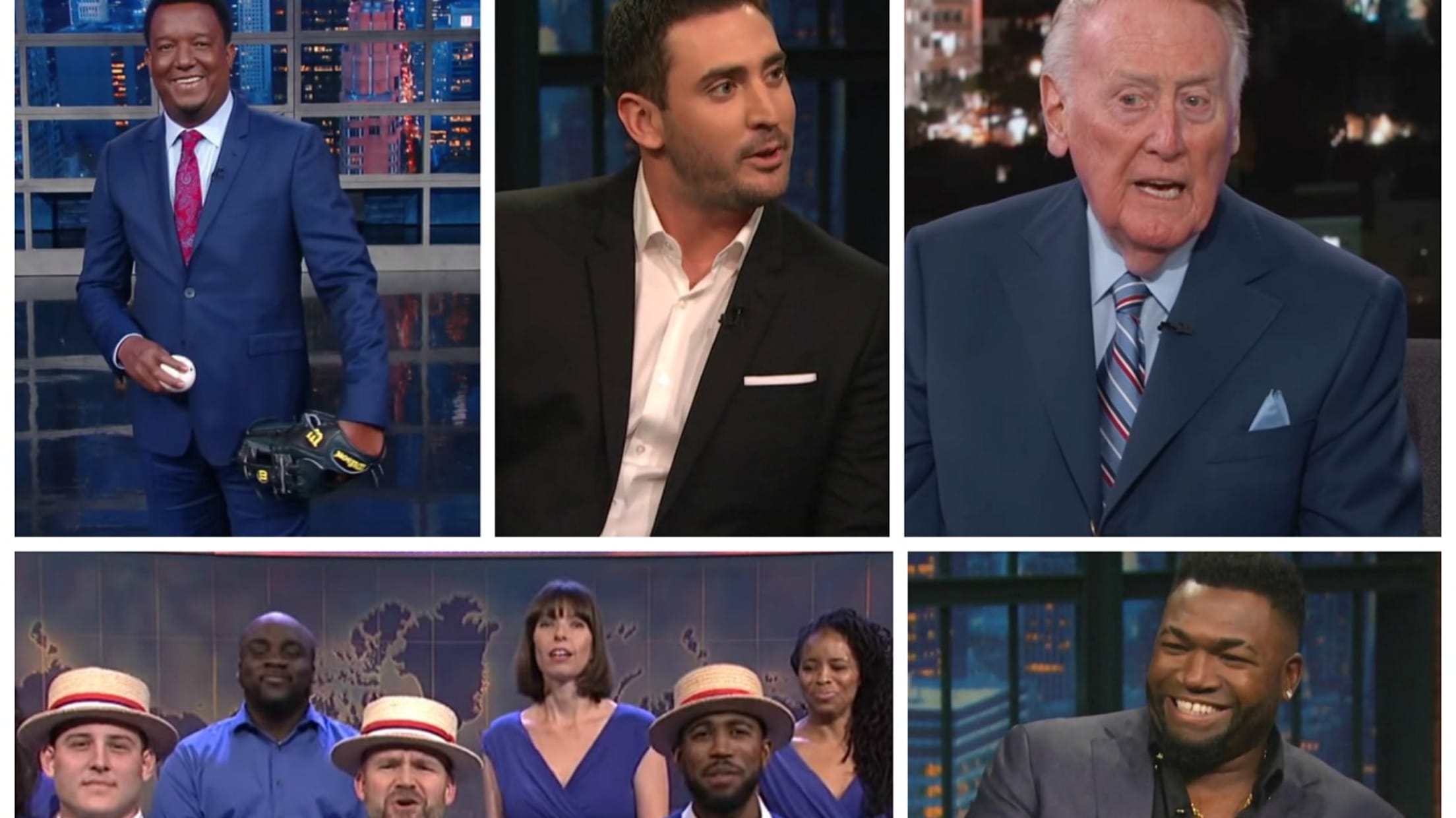 Throughout 2016, all kinds of high-profile baseball figures made appearances on late night TV shows such as "Jimmy Kimmel Live," "The Tonight Show Starring Jimmy Fallon," "Late Night with Seth Meyers" and "Conan" -- and they weren't just Cubs, though there were plenty of Cubs on TV after the World Series.
It's in that spirit that we take a look back at some of the best baseball-related late night moments of the year.
The Dark Knight reveals his true nemesis
Every superhero has his or her arch-villain -- the entity that always gets under the skin, always pesters and bothers and is generally a hassle. For Mets right-hander Matt Harvey, his was revealed to be Jayson Werthduring a visit with Seth Meyers:
Pedro comes in out of Colbert's 'pen
Pedro Martinez's larger-than-life personality takes up residence in the analyst booth these days as he shares thoughts and fires off takes as only a three-time Cy Young Award winner can. But, he moonlighted as a much-needed bullpen arm in relief of Stephen Colbert during a great gag on Opening Night:
Derek Jeter and Seth Meyers' Yankees-Red Sox rivalry, renewed at last
Seth Meyers is a noted Sox fan. Jeter is a Yankee legend. When Jeets stopped by "Late Night" to address a rumor about a supposed hole-in-one at his own golf tournament, he also took some time out to share his thoughts about Boston fans -- who, of course, were a constant thorn in his side throughout his career:
To anyone that caught Jeter's hosting appearance on "Saturday Night Live" in 2001, this visit probably rekindled a fond memory of an exchange he and Meyers had on "Weekend Update." A bit in that episode featured Meyers playing the role of a boisterous Sox supporter shouting down a polite Jeter:
An underrated TV moment the pair revisited during Jeter's recent appearance, for old time's sake:
The Cubs have a funny roommate
In the build-up to the All-Star Game in mid-July, Cubs stars Jake Arrieta, Kris Bryant and Anthony Rizzowere revealed to actually live inside Stephen Colbert's office/studio:
Perhaps that was part of the Cubs' secret to their success this season -- living in confined quarters with each other and a prominent media celebrity?
Insert curious emoji face here.
Big Papi talks about retirement gifts with Seth Meyers
The retirement tour of David Ortiz was on most folks' minds for much of the season (one of the best-ever in terms of production, we should mention) -- and part of that farewell included the gifts teams lavished upon Ortiz throughout the year. In late September, Ortiz discussed the whole "receiving gifts from everybody" thing with Seth Meyers:
Vin Scully offers up some more wisdom just because he can
When he stepped away from the microphone on Sunday, Oct. 2, that was it: Vin Scully's impeccable 67-year career behind the mic for the Dodgers was over.
But while the longtime announcer and everyone's surrogate baseball teacher/life explainer may have moved on to a well-deserved retirement, he did make time for an appearance on "Jimmy Kimmel Live" in October to share some wisdom gained over the years:
And give Kimmel's 2004 All-Star Celebrity Softball Game round-tripper the dramatic call it's always deserved:
World Series warm-up with President Obama and "Harry Caray"
On the eve of what would prove to be a thrilling World Series won by the Cubs, Jimmy Kimmel was visited by two luminaries on drastically different sides of the aisle, so to speak: White Sox fan President Barack Obama and retired baseball player Will Ferrell, bringing back his famous Harry Caray impression.
The results, as you might imagine, were zany:
And, naturally, proud Cubs supporter Bill Murray came up in the conversations as well:
Live, from New York, it's the Cubs
After the Cubs wrapped up their first World Series title since 1908, they took a triumphant victory lap around late night TV. And while their visits with Fallon, Kimmel and the like were full of amusing moments, it was a special appearance on "Saturday Night Live" that really took the proverbial cake.
You see, it was there that some Cubs -- specifically David Ross, Dexter Fowler and Rizzo -- were joined by Murray for a rendition of (what else?) the ubiquitous "Go Cubs Go" during "Weekend Update":
Fallon's flub leads to Biagini's return engagement
In November, Blue Jays reliever Joe Biagini took an offseason trip to "The Tonight Show" where he tried -- and failed -- to secure a high-five from Jimmy Fallon. Once this egregious oversight was pointed out to Fallon, he made amends by inviting Biagini back to the program, which led to this:
High five redemption with the @BlueJays' Joe Biagini! ✋ #FallonTonight pic.twitter.com/SKLQLnhbAY

— Fallon Tonight (@FallonTonight) November 19, 2016
All's well that ends well, right?
Zobrist talks rings, bike rides with Conan
Ben Zobrist was the man responsible for the single-most important base hit of the Cubs' season (and century?) in Game 7, as his 10th-inning double gave Chicago a lead it wouldn't relent. After it was all over, part of the Cubs' extended victory lap included Zobrist's visit to "Conan," where he discussed the Game 7 emotions, riding his bike to Wrigley and more:
And this was all before Zobrist was toasted as grand marshal of his own hometown's holiday parade! Not a bad time to be him.
What was your favorite baseball-related late night TV appearance of the year? Let us know in the comments below.