The State of the Union was actually, mostly about baseball last night
Did you know the SOTU was actually about baseball?
Barack Obama issued the 2015 State of the Union address on Tuesday night. While many of you may have thought you heard our president talk about the status of our economy, war and healthcare -- you were wrong. He was talking about baseball. The entire speech was about baseball.
Here were some of our favorite quotes:
"They were young and in love in America, and it doesn't get much better than that."
Awesome Justin Verlander/Kate Upton shoutout, Mr. President.
"If we're going to have arguments, let's have arguments - but let's make them debates worthy of this body and worthy of this country."
Here, he seems to be advocating for more reviewable plays. More challenges and, unfortunately, less this:
"Good luck, Captain. Make sure to Instagram it"
He's obviously wishing his golfing buddy Derek Jeter luck in his retirement and hoping to catch some Insta's of The Captain's foray into the publishing, coaching or archaeology worlds.
"Look, I'm the first one to admit that past trade deals haven't always lived up to the hype ..."
Yes, as a noted White Sox fan, President Obama has seen some lopsided trades. The Sammy Sosa and Ken Patterson for George Bell deal in 1992 comes to mind ...
"Imagine if we broke out of these tired old patterns. Imagine if we did something different."
It's already happening, Mr. Obama!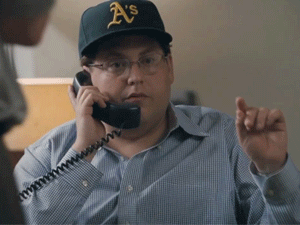 Good talk, sir. We'll see you next year.