These were the 10 most retweeted @MLBGIFs of the season's first half
The first half of the 2016 season was full of unhittable pitches, basepath dances and sentient helmets. Which ones did YOU like the best? Glad you asked -- below are the top 10 most retweeted GIFs off @MLBGIFs from April to All-Star Weekend. Please enjoy and get ready for many, many more.
10. Brad Ausmus gets a little bit angry
9. DON'T DO THAT TO JUAN URIBE, BRANDON PHILLIPS.
8. It wasn't enough for Alcides Escobar to make this incredible catch, he also had to turn a double play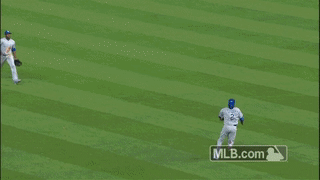 7. Dellin Betances is just unfair
6. Who let the dogs out at the Rays game?
5. Yasiel Puig finishes a double with a slide that seems to stop time
4. Some Francisco Cervelli sadness
3. Rougned Odor mirrors Elvis Andrus perfectly on throw
2. Adrian Beltre movin' like James Brown
1. Jose Ramirez and his helmet absolutely defying physics
Matt Monagan writes at night for Cut4. In his spare time, he travels and searches Twitter for Wily Mo Pena news.