March 29 proclaimed D-backs Day in Arizona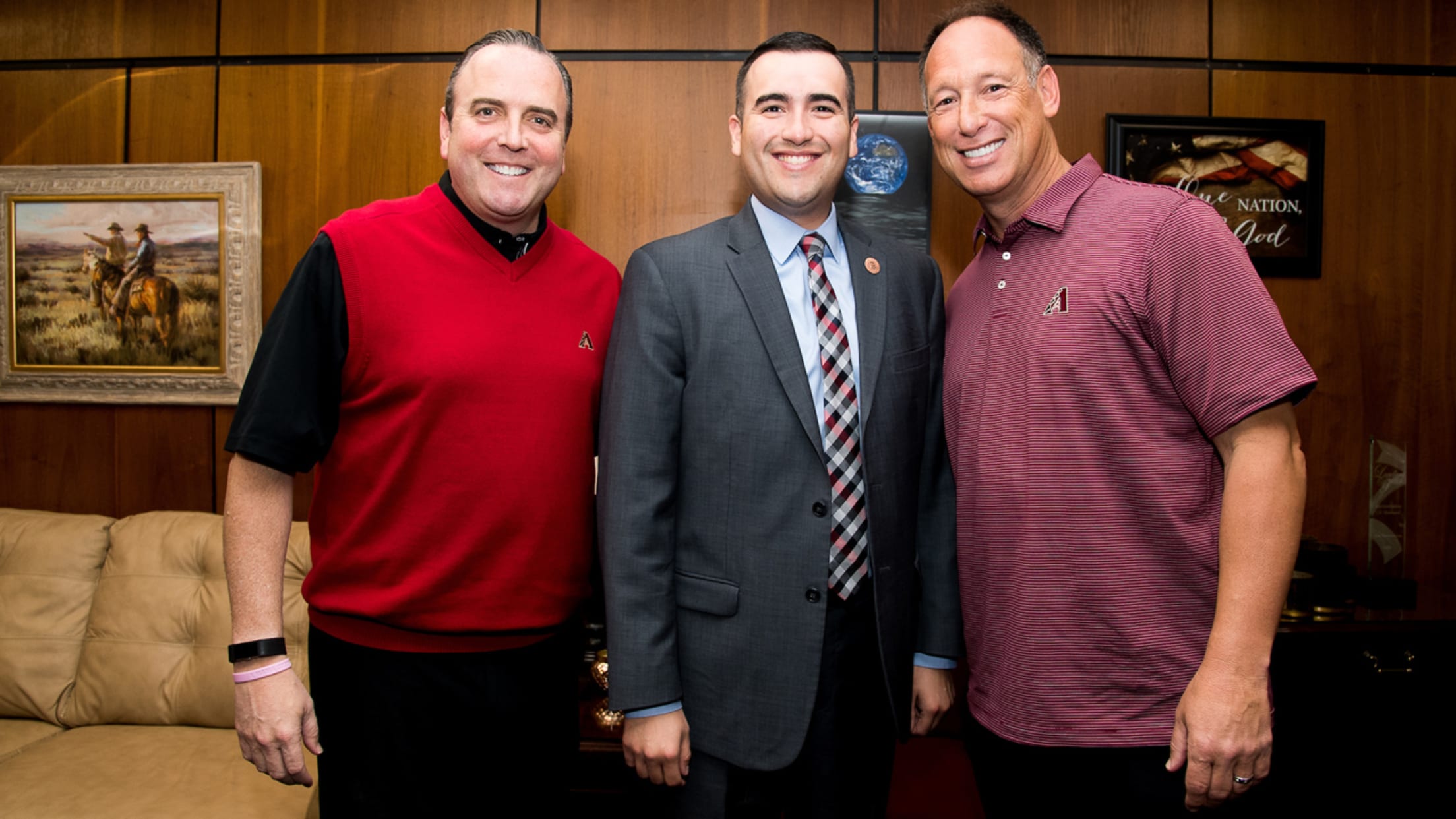 D-backs president and CEO Derrick Hall (left) with Rep. T.J. Shope and Luis Gonzalez. (D-backs)
PHOENIX -- As D-backs president and CEO Derrick Hall and senior advisor to the president and CEO Luis Gonzalez ventured through the Arizona State Capitol on Thursday morning, they took a brief break from the handshakes and photos to meet with Gov. Doug Ducey. The governor, with a smile, gave
PHOENIX -- As D-backs president and CEO Derrick Hall and senior advisor to the president and CEO Luis Gonzalez ventured through the Arizona State Capitol on Thursday morning, they took a brief break from the handshakes and photos to meet with Gov. Doug Ducey. The governor, with a smile, gave the two men certificates and offered some good news on Opening Day, just hours before the D-backs host the Rockies at Chase Field.
Ducey proclaimed March 29 as "D-backs Day" in honor of the organization's 20th anniversary, which the club will celebrate throughout the 2018 season.
"One of the most successful young franchises in Major League Baseball, which also gave me the greatest week of my adult life -- the year we won the greatest World Series ever played," Ducey said of the 2001 World Series-winning D-backs. "Gonzo, I'll never forget when you hit that line drive to the opposite field to finish that game. I just want to say that's a personal favorite of mine."
Rep. Cesar Chavez came up with the idea of giving the D-backs their own day. He brought it up last year, and while the club loved it, it wanted to wait a year to make it an extra special and fitting touch to this season.
While fans will always remember the 2001 World Series victory over the Yankees and Gonzalez's impressive on-field efforts and performance, the organization is especially proud of its charitable efforts. The D-backs Foundation has exceeded $55 million in contributions throughout the community.
"It defines who we are," Hall said. "We feel like if we can make a change, not only in Phoenix or Maricopa County, but in Arizona, that we should. We have that grand stage, we have the ability to do so."
At one point during the morning, a senator brought up an annual softball game between the Arizona House of Representatives and the Senate. The trophy currently resides in the Senate, which will defend it in this year's contest.
"Have some time?" the senator jokingly asked Gonzalez. "We could use an extra bat."
There are some baseball legends who fade away after their playing days. Not Gonzalez. In his role with the D-backs, he's continued making appearances in the community.
"I think as a player when I played here, I saw the value and how important it was to be able to go out there with the platform that you have as an athlete, as a player, to impact people's lives in a positive way," Gonzalez said.
According to Hall, the D-backs have a circle of success, and one of the areas in that is "community." Employees are given paid time off to help with causes they're passionate about, and players and coaches are encouraged to get involved, too.
"It becomes ingrained, it's who we are, it's part of our fiber," Hall said.
The D-backs don't seek any praise for their efforts, but on Thursday morning, they were rewarded with their own day.
Justin Toscano is a reporter for MLB.com.