Hot early on, Snakes' offense fizzles out
Club unable to cash in on chances; J.D. (illness) scratched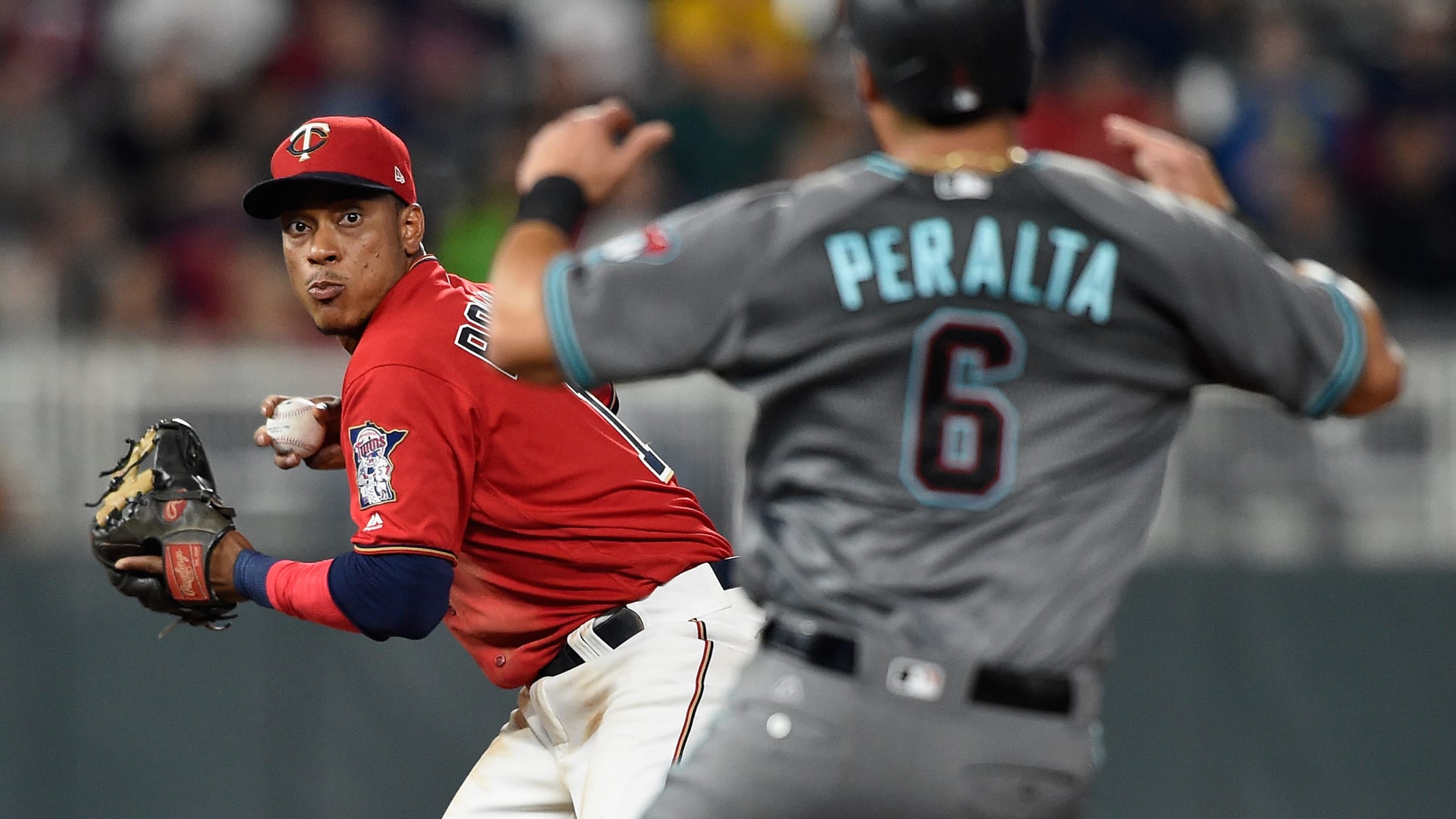 David Peralta is forced out at second base as Jorge Polanco turns a double play in the seventh. (Getty) (Hannah Foslien/Getty Images)
MINNEAPOLIS -- Early on Friday, it looked like it would be a good night for the D-backs' offense as they scored a pair of runs in the first and one in the second off Twins right-hander Ervin Santana."We had it going," said D-backs outfielder David Peralta, who homered in the
MINNEAPOLIS -- Early on Friday, it looked like it would be a good night for the D-backs' offense as they scored a pair of runs in the first and one in the second off Twins right-hander Ervin Santana.
"We had it going," said D-backs outfielder David Peralta, who homered in the second. "I don't know what happened."
For one thing, Santana settled in and for another, the Twins' offense got cranking as they blew by the D-backs, 10-3, at Target Field.
After Peralta's two-out solo homer in the second, A.J. Pollock singled and then Santana set down the next 10 Arizona hitters.
"He started making better pitches," Peralta said. "He was hitting his spots. I think at the beginning of the game he was making a lot of mistakes and we were making him pay for it, but he's a very good pitcher and he made adjustments. That's why he got us."
It isn't as though the D-backs didn't have their chances, though.
In the sixth, Paul Goldschmidt led off with a single and Daniel Descalso drew a walk. The game was tied at 3 and it appeared the D-backs might be able to break it open.
Instead, Santana retired Chris Iannetta, Brandon Drury and Ketel Marte to leave runners on first and second.
"We've got to keep building those innings and cashing them in," Lovullo said. "I think that's the key right now."
One inning later, Gregor Blanco and Peralta reached to lead off the frame, but Pollock grounded into a double play and Jake Lamb popped out.
"I think we were probably coming out of the zone a little bit and not staying with our plan that was working so [well] early on," Lovullo said. "I think we had first and second a couple of times and no outs and really didn't pose any threats. I think those are some key moments where we probably came out of the zone and didn't create the opportunities we would hope for."
The D-backs were without the services of outfielder J.D. Martinez, who was a late scratch due to illness. Martinez, who was acquired before last month's non-waiver Trade Deadline, has been a force hitting behind Goldschmidt.
"J.D. had some illness and it was brought to my attention that he wasn't feeling 100 percent right before the game," Lovullo said. "We wanted to make sure we gave him a chance to recuperate to see if we can get him ready for [Saturday]."
The loss dropped the D-backs one game in back of the Rockies for the top National League Wild Card spot while their lead over the Cardinals for the second spot shrunk to four games.