D-backs' Hall shaves beard in fight vs. cancer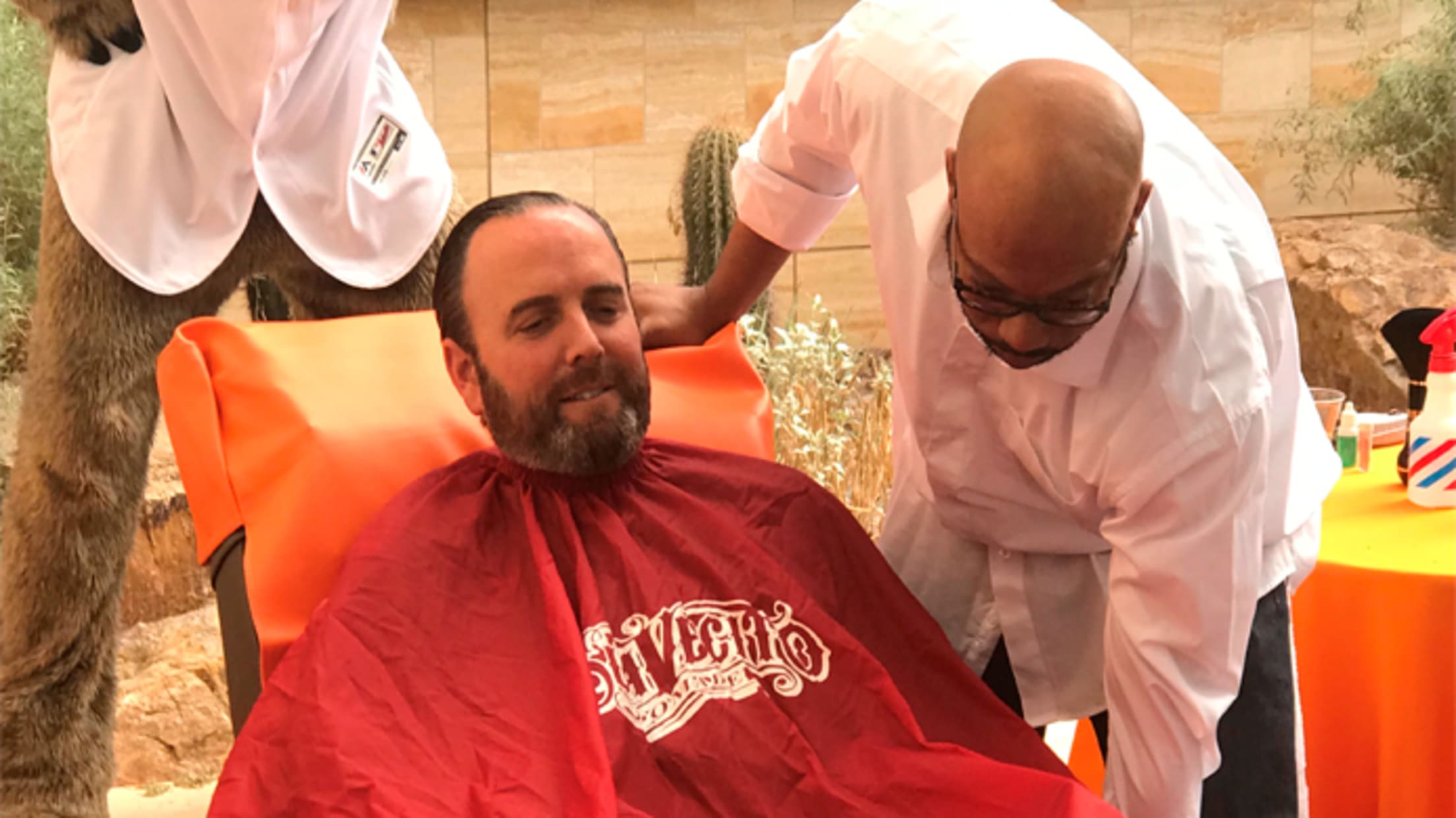 D-backs president Derrick Hall has his beard shaved on Friday during the club's third annual shave off. (MLB.com)
PHOENIX -- It's been a year since D-backs president Derrick Hall and advisor Luis Gonzalez had their graying beards shaved because of the fight against cancer.Many men in the D-backs front office grow their beards during the month of November. Friday morning was their third annual shave off, sponsored by
PHOENIX -- It's been a year since D-backs president Derrick Hall and advisor Luis Gonzalez had their graying beards shaved because of the fight against cancer.
Many men in the D-backs front office grow their beards during the month of November. Friday morning was their third annual shave off, sponsored by the University of Arizona Cancer Center and Dignity Health, St. Joseph's Hospital and Medical Center. The D-backs donated $35,000 to find a cure.
The D-backs have been particularly plagued by many forms of the disease, and the past 365 calendar days haven't been that kind to their family. Hall is a prostate cancer survivor and said Friday that his PSA (prostate-specific antigen) level is again elevated. Hall's wife, Amy, continues to battle triple-negative breast cancer.
#Repost @supportstjosephs (@get_repost)
・・・
We're here at UA Cancer Center with our friends Derrick Hall and Luis Gonzo Gonzales @Dbacks and they are itching to get a clean shave, culminating our month long Let Your Humankindness Grow campaign. Than… https://t.co/daxuVwAVtQ pic.twitter.com/7G1Fj5M7U4

— Dignity Health AZ (@DignityHealthAZ) December 1, 2017
And in the last year, former D-backs and Padres general manager Kevin Towers was diagnosed with a particularly virulent and rare form of thyroid cancer that has consumed his day-to-day life.
Hall learned he had prostate cancer in 2011 and almost immediately underwent invasive surgery that revealed the disease had spread further than tests had indicated. Just as he was beginning to recover from that ordeal, his father, Larry, lost a three-year battle to pancreatic cancer at the age of 68.
Hall's wife, Amy, discovered a mass in her breast early last year and had two extended cycles of chemotherapy to shrink the tumor and one of radiation therapy sandwiched around surgery. She's now in a clinical trial based in Kansas City, taking an experimental vaccination once a month that was developed in the hope of staving off a recurrence of the disease, Hall said.
"This [event] is timely for me," Hall said. "We talk about the ups and downs of our survival. I just took a blood test over the last month and my [PSA] numbers are trickling up again. There's been some suggestion that I should go back for radiation, but we're going to wait and see.
"Amy went through a lot more than I did. She's a champ. Her positive outlook is part of it. I have to keep an eye on it, but that's what this is all about. It's very important for us all to get that detection early if cancer is there."
D-backs managing general partner Ken Kendrick is also a prostate cancer survivor and has been in remission for many years. But the cancer that's plaguing Towers came as a shock to Hall and many in the baseball world who have followed his progress.
Towers was the D-backs' general manager from 2010-14 after a 16-year tenure with the Padres in the same job that ended in 2009. His teams won five National League West titles -- including with the D-backs in 2011 -- and the 1998 Padres were swept by the Yankees in the World Series.
Hall said he talks frequently to the 56-year-old former Minor League pitcher known as K.T., who's back in San Diego with his wife, Kelley, also a two-time breast cancer survivor.
"I hear he looks a lot better. He had lost a lot of weight, but he's gained some of that back," Hall said. "I try to talk to him at least once a month to catch up to see how he's doing. That cancer he has is a unique and aggressive one."
Towers was diagnosed with anaplastic thyroid cancer only last December after the Winter Meetings. He had trouble breathing, an initial symptom of the disease, which is so rare it afflicts only 600 patients in the U.S. annually, according to the Thyroid Cancer Survivors' Association.
Its detection comes late, and by that time, the cancerous cells have already spread, which happened in Towers' case. It is resistant to known remedies for cancer, chemo and radiation therapy, and has no known source or cure.
Towers has prevailed for months taking huge doses of chemo both orally and intravenously just to ward off the cancer's spread. He also was able to qualify for a clinical trial for a drug that helped arrest the disease, at least for a while, allowing him to regain some strength and weight.
"It's almost like pancreatic cancer," Hall said. "You really can't discover it until it's there. It's brutal."
Towers' friends in the game and media had been asked to respect his privacy as he battled the disease. But Astros manager A.J. Hinch made it public last month during the fifth inning of Game 4 of the World Series in Houston. As the crowd at Minute Maid Park stood for a moment honoring victims for Stand Up to Cancer, Hinch held up a placard with Towers' name on it.
"He means a lot to me," Hinch said that night after the game. "He means a lot to the people within the game for many, many years. He's done everything in the game. I wanted to put someone on there that was a baseball person that has resonated across the game at so many levels for so many years, and we just keep rooting for K.T. to have a recovery."
The only way to face cancer is head on, which Hall knows. Last year, as he embarked on the beard challenge, he revealed that he was facing elevated PSA levels. But during the course of this year, those levels evened out. It has been Hall's ongoing cycle in the nearly seven years since he was diagnosed with prostate cancer. Not particularly early, but early enough.
"We'll know in about three months what to do," he said. "I should be in the clear because it's been six years. And usually they say the five-year mark is what you want to get to. We're beyond that, but we're still encouraged. Nothing is out of whack too bad."