Breaking down D-backs' 7 Day 1 Draft picks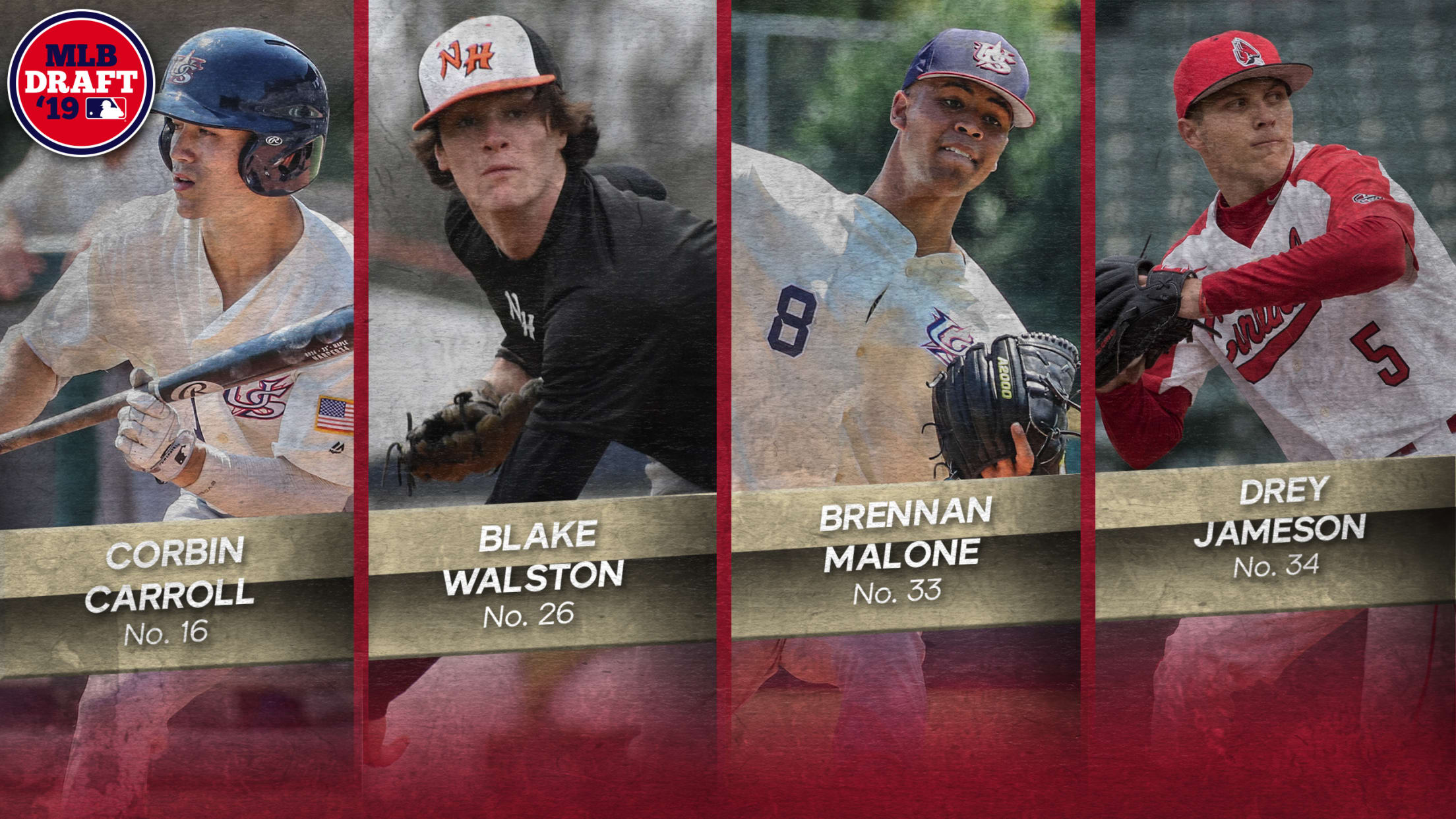 PHOENIX -- Owners of the largest bonus pool and a whopping seven of the first 75 selections, the Arizona Diamondbacks had all sorts of options Monday on Day 1 of the 2019 MLB Draft. They opened the Draft with three straight high school players with tremendous upside and finished with
PHOENIX -- Owners of the largest bonus pool and a whopping seven of the first 75 selections, the Arizona Diamondbacks had all sorts of options Monday on Day 1 of the 2019 MLB Draft.
They opened the Draft with three straight high school players with tremendous upside and finished with four college players.
• Draft Tracker: Complete pick-by-pick coverage
Five of the picks were pitchers, which scouting director Deric Ladnier said helped to balance out some of the position players they've selected high in previous Drafts.
While the D-backs may have to go over slot to sign a player or two, it doesn't seem like they will have to go over by much, which leaves them the flexibility on Day 2 to be creative and spend above slot to get a player or two that may have slipped due to signability concerns.
"Maybe there's somebody that wasn't selected that maybe their demands were a little bit higher than where they're going to be selected and we'll have the financial flexibility to maybe do some things," Ladnier said. "Not saying we are, but we do have that flexibility. I think the Draft will be deep and I think you'll see where we go tomorrow."
Here's a look at who the club selected on Monday after No. 1 pick (16th overall) Corbin Carroll:
1st Round (26th overall): Blake Walston, LHP, New Hanover (N.C.) High School
A lanky left-hander at 6-foot-4, 172 pounds, Walston excelled at two sports in high school, also starring on the football field as a quarterback.
Walston has committed to play baseball at North Carolina State and is looked at as a player who, if he goes to college, could be one of the first players selected in the 2022 Draft.
"It was pretty shocking," Walston said of being picked 26th overall. "It was definitely an awesome experience. I guess I couldn't ask for anything more."
Comp A Round (33rd overall): Brennan Malone, RHP, IMG Academy
The North Carolina commit has a fastball that touches 96 mph regularly, a plus slider and an average curve. He became more of a pitcher and less of a thrower as a senior.
"Over the course of the spring, we watched him develop into a power pitcher," Ladnier said. "Obviously he's young, big, strong and has tremendous upside."
Hall of Famer and former D-backs pitcher Randy Johnson was the one who announced Malone's selection at the Draft where Malone was with his family.
"It's kind of crazy; like a dream, almost," Malone said. "To have a pitcher of his caliber, it's crazy. I love this organization and I'm ready to get started."
Comp A Round (34th overall): Drey Jameson, RHP, Ball State
A Draft-eligible sophomore, Jameson has a fastball that ranges from 93-96 mph and can top out at 98. He was the Mid-American Conference Pitcher of the Year.
Because he's a college pitcher, Jameson helps balance things out a bit because he should be able to move through the system faster than some of the high school arms taken.
🎥BEHIND THE SCENES 🎥

"It's probably the best day of my life so far."

Pitcher @DreyJameson09 was selected 34th overall by the @DBacks last night, making him the eighth first rounder in @BallStateBB history.

Congrats Drey!#WeFly l #ChirpChirp pic.twitter.com/diNmu54pbJ

— Ball State Sports (@BallStateSports) June 4, 2019
"Shorter in stature, 6-foot, but his [fastball is] electric," Ladnier said. "We've had him up to 100, honestly. If you watch him, you see it's high energy, plus breaking ball, plus changeup, pounds the zone."
Round 2 (56th overall): Ryne Nelson, RHP, Oregon
For his first two seasons with the Ducks, Nelson played shortstop while pitching out of the bullpen. Last year, he was used strictly as a pitcher. He initially was a starter, but moved back to the bullpen to help his team.
Nelson's command is still somewhat of an issue, but his stuff is not. He's been clocked as high as 99 mph this spring.
"Given the fact that he's a converted guy, it's going to take a little bit more time to get his delivery in control and online," Ladnier said. "But given the athlete, we feel like this could be something that we can put in the hands of our development and it should not take very long for him to be able to harness all of the talent that we felt like he has."
Comp B Round (74th overall): Tommy Henry, LHP, Michigan
"Henry, we saw him a bunch this year," Ladnier said. "He's a big, strong left-hander that we had up to 94 [mph]. Your traditional curveball, your traditional changeup. Pounds the zone, lot of swing and miss, He's that big-bodied lefty, college performer, like Jameson, who we feel like once we get him in the system, we'll be able to start pushing him like we have some of our other guys."
Tommy Henry was just drafted by the @Dbacks!

The moment with his teammates and mother 💛💙 #GoBlue #ProBlue

No. 79 overall pic.twitter.com/1U7yeMvRRl

— Michigan Baseball (@umichbaseball) June 4, 2019
Comp B Round (75th overall): Dominic Fletcher, OF, Arkansas
Fletcher is the younger brother of Angels infielder David Fletcher, and he's known as an outstanding defensive center fielder.
"He's got power, but we see more gap-to-gap type, doubles-type guy with tremendous instincts," Ladnier said. "His brother plays in the big leagues with the Angeles, so there's some genetics there. He's been around the game so we feel like that will be an easy transition for him."
The Draft continues on Tuesday with Rounds 3-10. The MLB.com preview show begins at 9:30 a.m. MST, with exclusive coverage beginning at 10 a.m. MST. Go to MLB.com/Draft for complete coverage, including every pick on Draft Tracker, coverage and analysis from MLB Pipeline's Jim Callis and Jonathan Mayo, the complete order of selection and more. And follow @MLBDraft and @MLBDraftTracker on Twitter.