D-backs sign 18-year-old righty from Mexico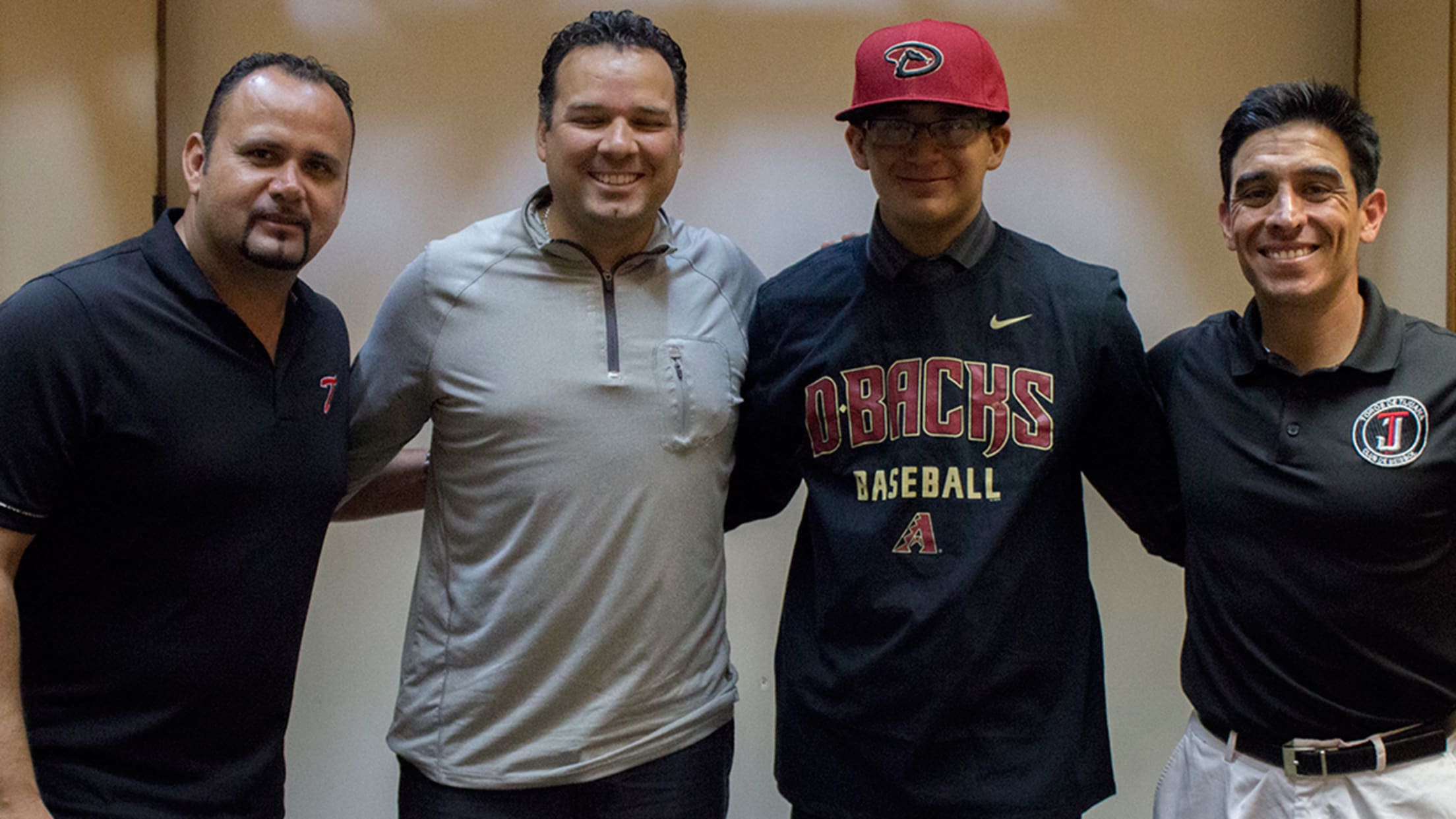 Toros de Tijuana president Jorge Campilllo, Latin America coordinator Francisco Cartaya, Edgar Martinez and Guillermo Armenta of the Toros de Tijuana celebrate Martinez's signing with the D-backs. (Toros de Tijuana)
SCOTTSDALE, Ariz. -- The D-backs' investment in Mexico is already paying dividends.On Wednesday, the D-backs agreed to terms with teenage right-handed pitcher Edgar Martinez, 18, of Juarez, Mexico, on an undisclosed signing bonus less than $300,000.The 6-foot-1, 180-pound Martinez throws a fastball in the 90-91 mph range, a slider and
SCOTTSDALE, Ariz. -- The D-backs' investment in Mexico is already paying dividends.
On Wednesday, the D-backs agreed to terms with teenage right-handed pitcher Edgar Martinez, 18, of Juarez, Mexico, on an undisclosed signing bonus less than $300,000.
The 6-foot-1, 180-pound Martinez throws a fastball in the 90-91 mph range, a slider and notable changeup. He pitched for Mexico's U18 in 2014 and was signed by to Toros de Tijuana the same year. He spent all of 2015 in the Toros' academy.
The signing makes sense for the club, and it could be an indication of more things to come. Consider this: The D-backs cannot sign an international prospect for more than $300,000 under the international signing guidelines until 2017, because they are in the maximum penalty after exceeding their bonus pools more than 15 percent during the '14-15 signing period.
• D-backs Top 30 Prospects
Last month, the D-backs introduced three new employees: former first baseman Erubiel Durazo of Mexico, Latin America coordinator Francisco Cartaya and Mexico-based scout Rodrigo "Chapo" Aguirre at a press conference in Sonora, Mexico. The club also signed a formal partnership with the baseball team in Hermosillo, Mexico, the Hermosillo Naranjeros.
"We naturally want to have a presence down there, not only from a marketing standpoint, but also from a scouting perspective," D-backs president and CEO Derrick Hall said. "For me, the priority is to find and develop a top talent from Mexico."
In the last two years, 15 players, including Martinez, from the Toros de Tijuana have signed contracts with Major League Baseball teams. Former Major League pitcher Jorge Campillo is the president of baseball operations with the club.