Hazen: 'Most players' liked D-backs' new turf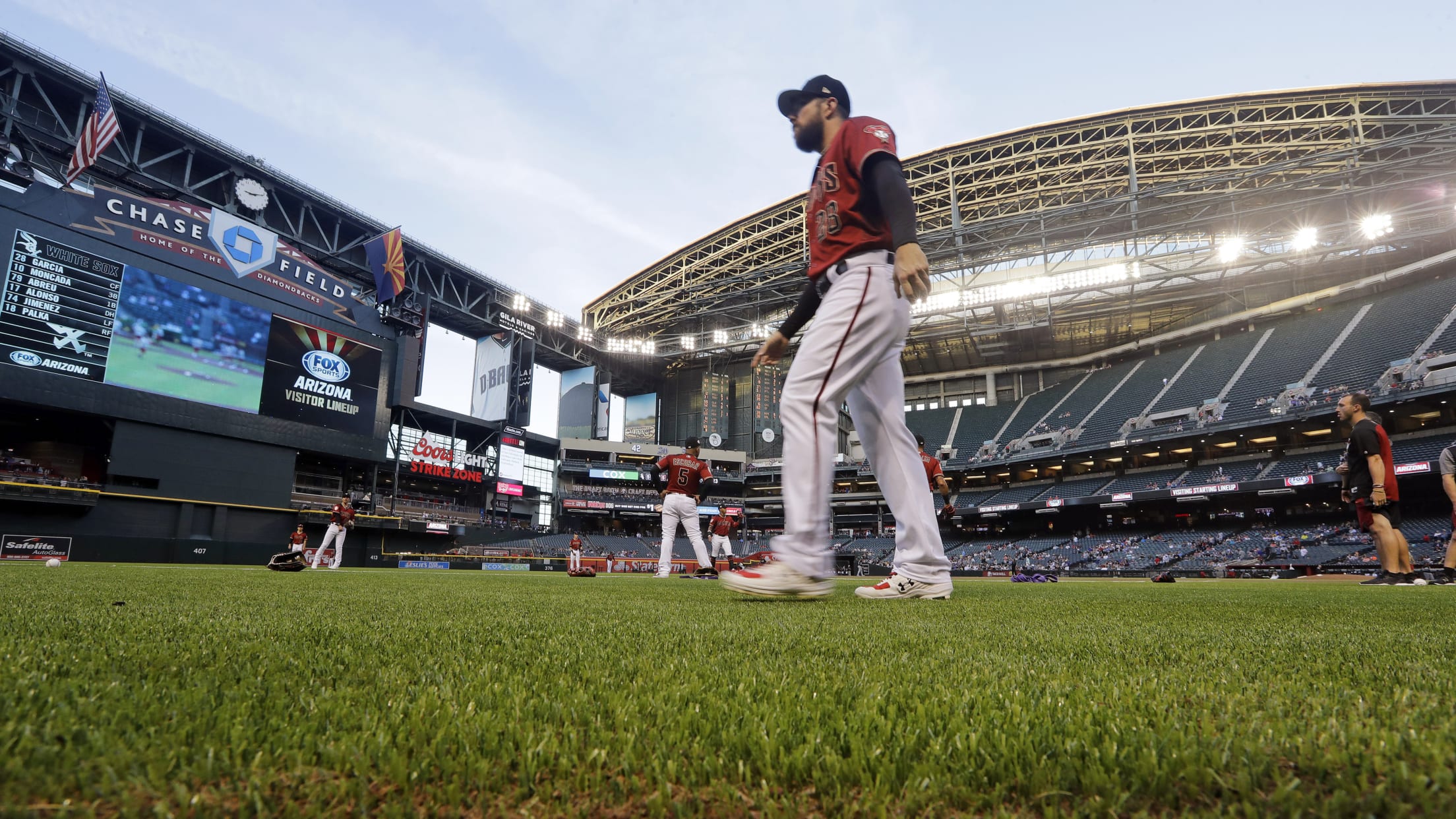 PHOENIX -- After sorting through the feedback they've received from other teams, D-backs general manager Mike Hazen said the synthetic grass the team used for the first time in 2019 got positive reviews. "We've asked a lot of questions around it," Hazen said. "We've surveyed almost every single visiting team
PHOENIX -- After sorting through the feedback they've received from other teams, D-backs general manager Mike Hazen said the synthetic grass the team used for the first time in 2019 got positive reviews.
"We've asked a lot of questions around it," Hazen said. "We've surveyed almost every single visiting team -- somebody from every team, either an executive, coach, manager plus visiting players -- or asked [the executives] to ask their players about their reaction to it. Certainly, [we] placed a little more emphasis on the divisional opponents who played there more than once. We didn't get a lot of critical feedback. Most players seemed to like it."
The team also spent some time trying to determine if the turf was a factor in Ketel Marte suffering a season-ending stress reaction in his back.
Marte initially he said he thought the turf might have played a role, but then walked back those comments. Hazen said from what the organization has gathered so far it was probably more an issue of Marte bouncing between two positions -- center field and second base -- plus being asked to play a lot of games.
"I will qualify that with we are going to continue to ask those questions and look into that," Hazen said. "But we do not believe that [the synthetic grass was a factor] from the questions that we've asked so far, from the information that we've gotten from him, from the information we've gotten from others, from our medical staff review of it. But there's still probably more things that we need to continue to look at."
The team installed a synthetic grass field at its Salt River Fields Spring Training complex last year so that infielders were able to get familiar with it.
Getting the outfielders adjusted to it was more challenging, since none of the full fields had the surface. Instead, outfield coach Dave McKay hit fungoes to outfielders on the team's agility field, which had the synthetic grass.
Escobar ideally at third
If the D-backs are able to find a center fielder on the trade or free agent markets, Marte will likely see most of his playing time at second base.
If finding a center fielder becomes problematic, then Marte will probably spend more of his time in center.
Either way, the team would prefer not to move Eduardo Escobar from third base to second, even though it's a position he can play.
"Third base would be the priority, in my opinion," Hazen said. "Just like I think Ketel plays both positions great. I think [Marte] is a more natural infielder historically. I think if all things were even, he'd play a little more in the infield than the outfield."
Hirano may come back
Hazen left open the possibility of free-agent reliever Yoshihisa Hirano returning. Hirano originally signed a two-year contract out of Japan prior to 2018.
The right-hander, who turns 36 next March, had a 2.44 ERA and a 173 ERA+ in 2018 before falling off to a 4.75 ERA and 94 ERA+ in '19.
"We've had some initial conversations, but I don't have anything to report on that yet," Hazen said. "We love Yoshi. He did a great job for us. He's a professional. He did a great job in our bullpen for the time he was here. We love the guy."
Varsho sustains Grade 3 sprain
Catcher Daulton Varsho, ranked by MLB Pipeline as the No. 5 prospect in the D-backs' organization, was diagnosed with a Grade 3 sprain of his ankle Thursday following an MRI.
Hazen said that Varsho will be in a boot for two weeks and then will be evaluated.
Varsho sustained the injury while playing in the Super Round at the World Baseball Softball Confederation (WBSC) Premier12 tournament.