Naranjeros honor Durazo by retiring No. 44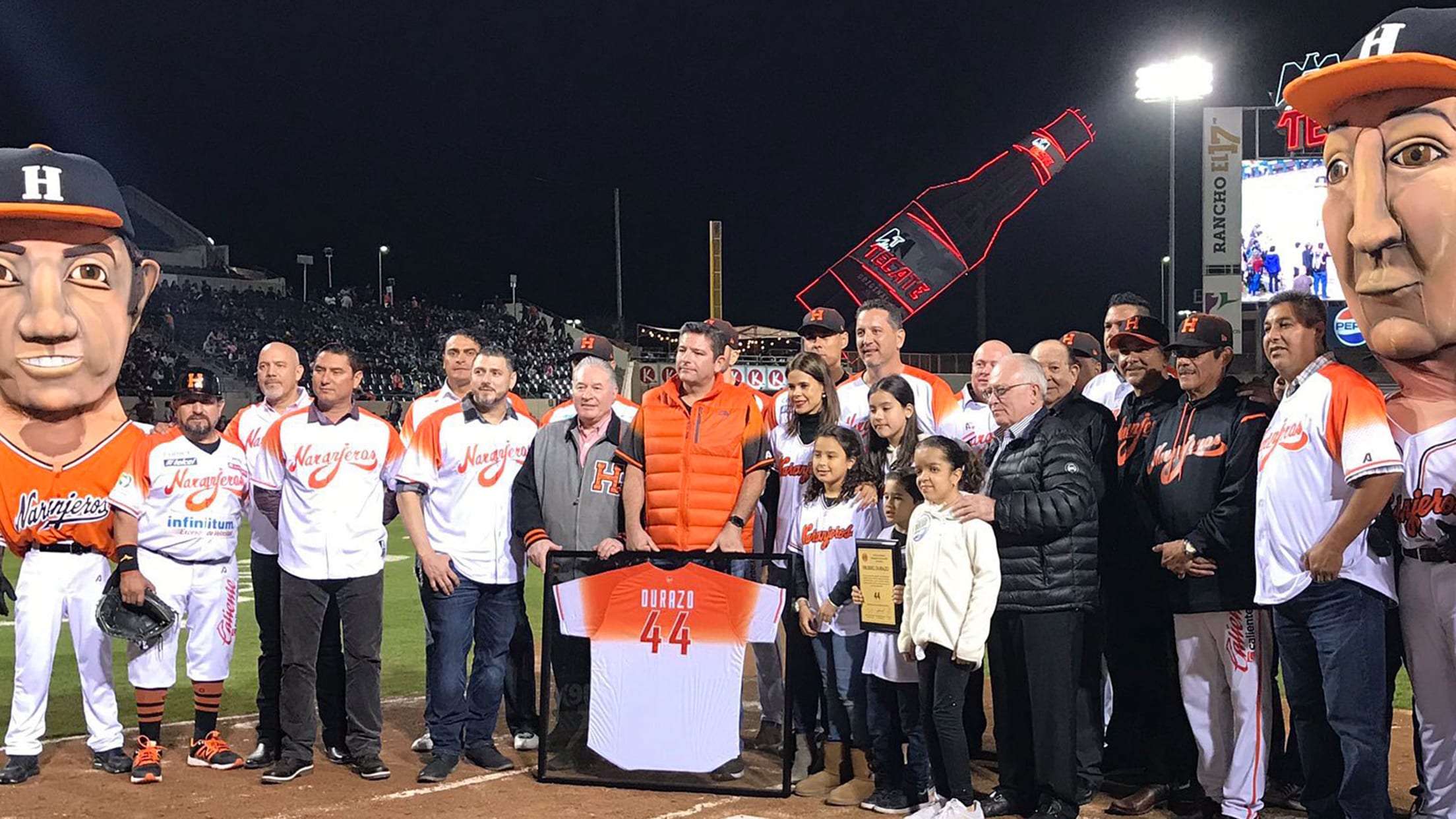 Erubiel Durazo had an emotional night Sunday as he witnessed the Naranjeros de Hermosillo retiring his No. 44 and putting it up in the rafters. Durazo was joined by the most important people in his life, such as family, friends and the fans who always supported him, as well as
Erubiel Durazo had an emotional night Sunday as he witnessed the Naranjeros de Hermosillo retiring his No. 44 and putting it up in the rafters. Durazo was joined by the most important people in his life, such as family, friends and the fans who always supported him, as well as former teammates who made him feel as if he had hit a grand slam.
"I was so glad that [Naranjeros president] Enrique Mazon made the effort to bring them all over here to support me during this moment that means so much to me in my career," Durazo said.
The honors started taking place at Legends Plaza outside the Estadio Sonora, as Durazo unveiled his plaque before the game between Naranjeros de Hermosillo and Caneros de Los Mochis in the Mexican Pacific League (Liga Mexicana del Pacifico). His number was retired during the game itself after the fifth inning.
Durazo stepped up on the mound to throw the ceremonial first pitch to his former teammate and catcher Geronimo Gil, who played with him during the 2006-07 season that saw the Naranjeros win it all with Durazo as league MVP thanks to his .344 batting average, 18 home runs and 56 RBIs.
¡Felicitaciones, Erubiel! Una tarde/noche inolvidable para el ex campeón de la Serie Mundial con #LosDbacks durante la ceremonia del retiro de su número 44 con los Naranjeros este domingo. Imágenes que valen más que mil palabras. pic.twitter.com/72Blh1qo9I

— Arizona Diamondbacks (@LosDbacks) December 3, 2018
His No. 44 was resplendent both in the rafters as well as on the right-field fence alongside the other 11 numbers previously retired by the organization. Two former big leaguers, Elmer Dessens and Luis Carlos Garcia, took part in that moment as well.
Durazo received a plaque that recognized his great career with the Naranjeros as well as a jersey with his No. 44 on the back. He did not hesitate to address the fans after that.
"I'm so proud to be here with Enrique Mazon and all my former Naranjeros teammates," said Durazo. "I want to thank you all as Naranjeros fans from Hermosillo for all the support you gave me throughout my career."
The crowd then erupted in thunderous applause while chanting, "Let's go, 44."
Durazo currently works as an adviser to D-backs president and CEO Derrick Hall and also thanked D-backs alumni Luis Gonzalez and Richard Saenz for their presence.
"[Durazo] was a big part of the team that won the World Series as a bat in the heart of the order," said Gonzalez, who won the World Series in 2001 with Durazo as his teammate in Arizona.
"Erubiel was a tremendous player, but he was an even better person. We are here representing the Diamondbacks to show how important Durazo is to us as well to the people here in Mexico."
Walk softly & carry a big stick - that saying epitomizes Erubiel Durazo. Such a genuinely good guy who seeks no attention but whose performance on the field earned his number retirement tonight in Hermosillo. What he does for the @Dbacks in the community in Mexico is incredible! pic.twitter.com/aVBguBfIkA

— Josh Rawitch (@joshrawitch) December 3, 2018
Durazo also told the story behind his preference for the No. 44.
"I have always liked numbers that have one or two fours in them, but 44 was taken [with Naranjeros] when I first got here, so I chose 24," Durazo said, explaining why he started his career using a different number.
"My contract then got sold to the United States, and the Diamondbacks had four or five numbers available, including 44, so I told them that that would be my lucky number."
That is how he started using it with Arizona, and from then on in Hermosillo. The rest is history.