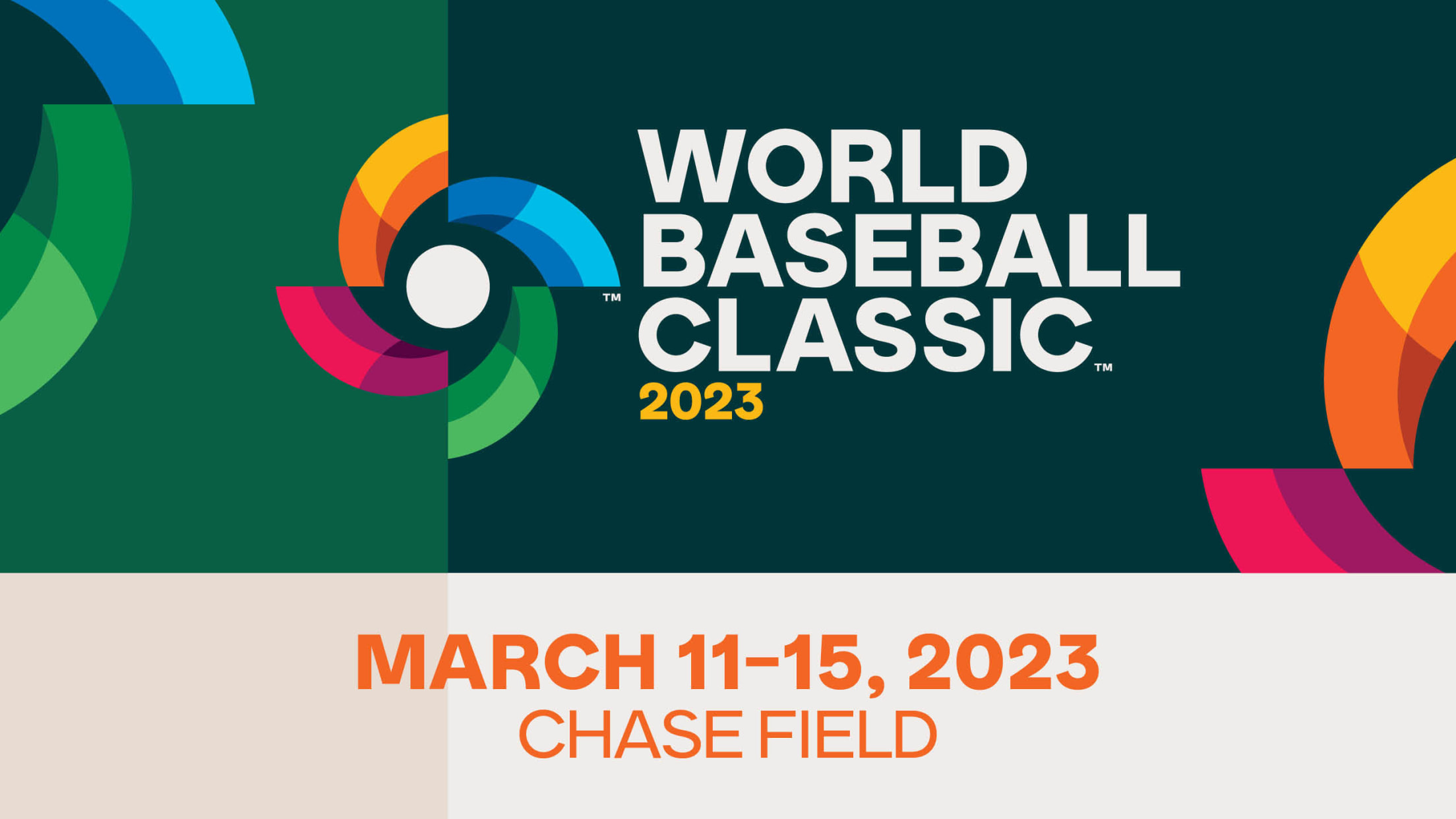 Chase Field hosted the 2023 World Baseball Classic with 10 games over 5 days from March 11-15. Games for Pool C included the defending World Baseball Classic Champion Team USA, Team Canada, Team Mexico, Team Colombia and Team Great Britain.
World Baseball Classic Schedule of Events at Chase Field
Round 1: March 11-15, 2023
Pool C: United States, Mexico, Canada, Colombia, and Great Britain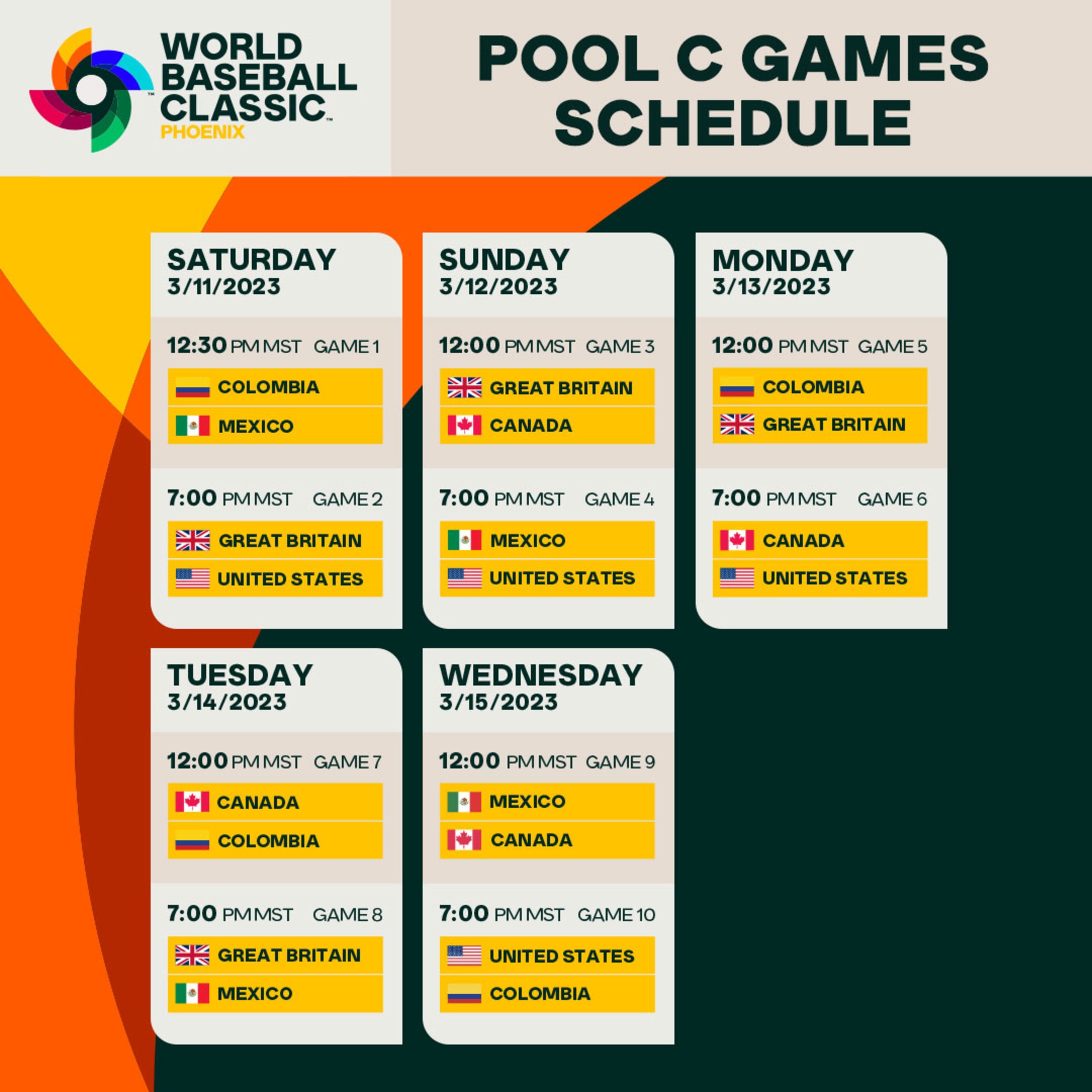 Ingress Policy
Gate Times:
Gate Times will be 90 minutes prior to first pitch for the day games and 2 hours prior to the night games.
Bag Policy:
To ensure fan safety and expedite ballpark entry, a clear bag policy is in effect for Chase Field, but there is no need to have it leave your side when you walk through gates. Each fan may carry one clear plastic or vinyl bag no larger than 12" x 6" x 12" or a clear plastic gallon freezer bag. Small clutch purses are also permitted that are no larger than 4.5" x 6.5". All bags are subject to search.
Flag Policy:
Banners, flags and/or signs no larger than 3'x5' in size are permitted and must be made of a light, flexible material.
Prohibited Items:
Aerosol cans (e.g. hairspray, sunscreen, compressed air, etc.)
Amplified music and noise making devices
Animals (except certified or in-training service animals).
Ball retrievers (e.g. butterfly/fishing nets, etc.)
Banners, flags and/or signs that do not comply with ballpark guidelines.
Baseball bats, bases and large framed items (excluding small souvenir bats purchased at ballpark retail locations)
Beach balls, balloons or other inflatables
Costume masks
Digital cameras with zoom lenses fully extended greater than eight (8) inches.
Drones
Fireworks, flares or other incendiary devices
Flags, banners, and chanting that include anything abusive to the opposing team, particular countries or regions, or anything political or religious.
Frisbees or other sport objects that can be thrown (e.g. football, soccer ball, tennis ball, golf ball, etc.)
Full-sized brooms, sticks, rods, flag poles or selfie sticks
Glass/metal/aluminum containers, bottles or cans (e.g. travel thermoses, tumblers, etc.)
Hard-sided coolers/containers
Helmets (e.g. bicycle, motorcycle and/or baseball helmets, etc.)
Illegal drugs or paraphernalia
Laser devices or pointers, confetti, glitter or tinsel
Obscene, indecent or offensive clothing (e.g. bathing suits, vulgar/political words/phrases, images on clothing, etc.)
Outside alcoholic beverages
Paint of any kind
Professional/commercial-grade camera equipment (e.g. mono/tripods, etc.)
Smokeless/chewing tobacco, e-cigarettes or vaping.
Soft drinks or sports/energy drinks (e.g. Gatorade, juice, flavored waters, etc.)
Strollers (exception of private suites - strollers may be checked at the Home Plate or 3rd Base Entrance prior to entering the ballpark.
Toy weapons (e.g. guns, water guns, swords, knives, etc.)
Weapons of any kind regardless of permit (e.g. firearms, knives, tasers, nunchaku, pepper spray, mace, expandable batons, etc.)
Wheeled recreational devices (skateboards, roller blades, roller skates, wheeled footwear, bicycles, hover boards, razor boards, Segways, etc.)
Wrapped presents
Permissible Items:
Afuche/Cabasa
Bongos
Buleador
Claves
Congas
Cowbell
Flags (Less than 3 ft x 5 ft)
Guira
Guiro
Maracas
Matracas
Pandereta
Pandero
Tambora
Tambourine
Tambura
Trumpet