Dodgers tweak Hernandez's depth in center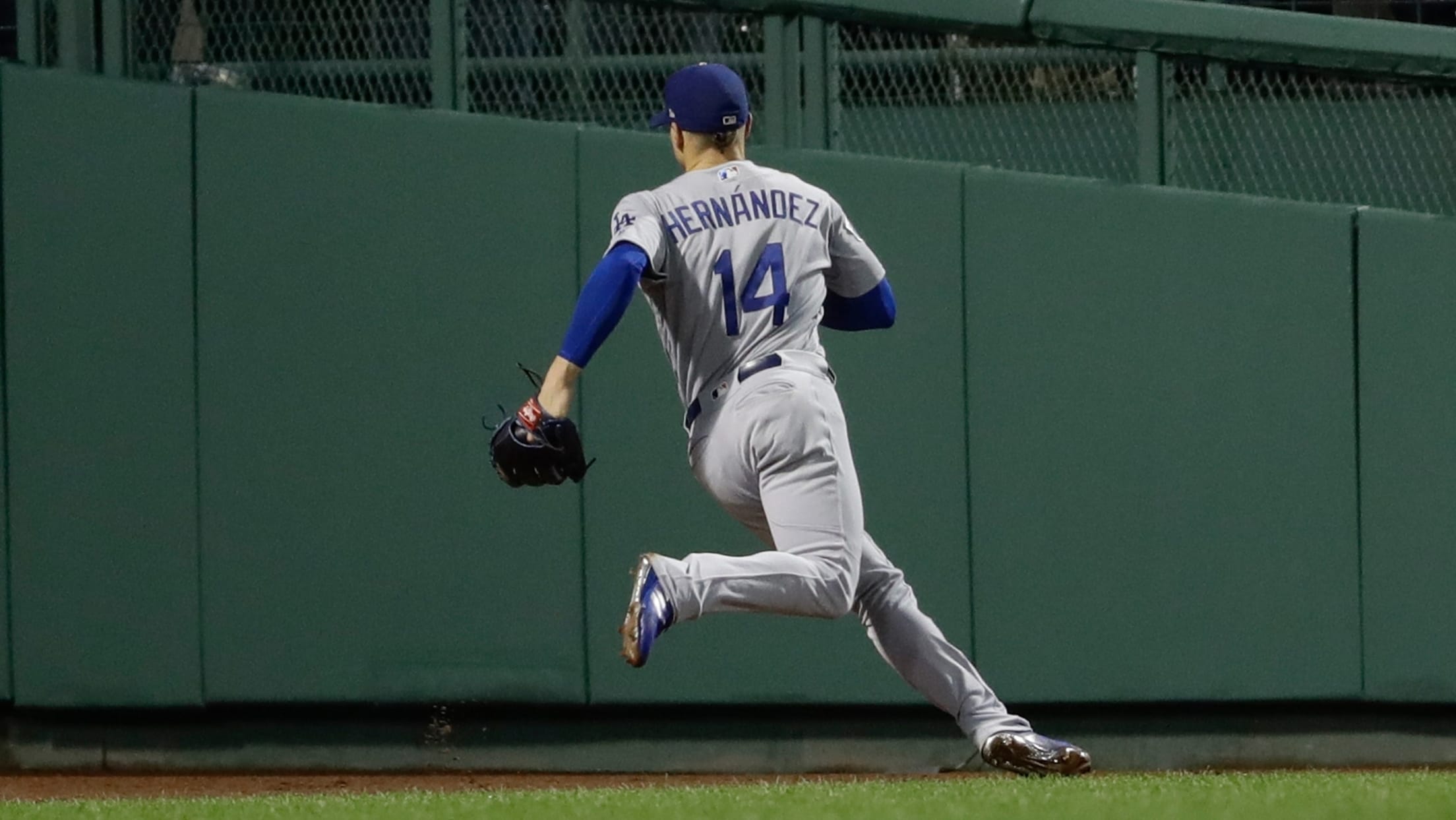 BOSTON -- Dodgers manager Dave Roberts said he would have center fielder Enrique Hernandez play shallower in center field during Game 2 on Wednesday than he did in Game 1 to prevent balls from dropping in and to thwart aggressive baserunning."We're going to make an adjustment tonight," Roberts said. "Left
BOSTON -- Dodgers manager Dave Roberts said he would have center fielder Enrique Hernandez play shallower in center field during Game 2 on Wednesday than he did in Game 1 to prevent balls from dropping in and to thwart aggressive baserunning.
"We're going to make an adjustment tonight," Roberts said. "Left field, we're fine. I think in center, our defense can shallow up a bit. Typically, we go by distance and depth. Right field, I'm fine with."
:: World Series schedule and results ::
Hernandez, a star last October, is 3-for-30 this postseason, but Roberts said he started him the first two games of the World Series because of the difficulty a left-handed hitter like Cody Bellinger would have against southpaw's Chris Sale and David Price.
"I just believe staying the course and believing in the player is going to benefit us," Roberts said. "Still plugging Cody or Max [Muncy] in a certain spot has value. I don't see a reason for mixing it up."
Buehler's between-starts adjustment
Walker Buehler, the Dodgers' Game 3 starter on Friday night, no longer throws a bullpen session between starts, pitching coach Rick Honeycutt said.
"The last one he threw was before the game in Atlanta," Honeycutt said of the Dodgers' National League Division Series Game 3 loss, in which Buehler allowed a five-run second inning.
Instead, the right-hander plays a firm game of catch on flat ground in the outfield.
"No need to waste the bullets at this point in the season," said Honeycutt.
Tighten up the 'D'
Roberts said he was satisfied with the Game 1 offense, which chased Sale in the fifth inning and posted four runs. He said it was the club's sloppy play in the field that cost them the game, even though no errors were charged.
Pop flies fell in, double plays weren't turned, popups were not caught, cutoff men were overthrown.
"The guys in the clubhouse realize how many outs we left on the field last night," said Roberts. "I expect us to turn it around tonight and play a clean game and get the outs we're supposed to get. We match up really well with this club. With that, we still have to play good baseball. These guys, teams that play well at home feast on extra outs, extra bases. You have to minimize that. For us to play the game straight, we'll come out on top. If we don't, we just make it tough on ourselves."
Battling the elements
Dodgers reliever Ryan Madson admitted he wasn't completely ready to pitch when he entered in the fifth inning of Game 1 Tuesday because of the weather, and he will advise his bullpen mates to "move around" and take measures to combat the cold.
"I think I pride myself on being able to get ready quickly," the veteran reliever said. "So on an 80-degree day, that was probably just fine. But I don't think I was completely ready going in there. My arm was ready, but I don't think mechanically I was ready, and it showed that first at-bat."
Madson entered in the fifth inning with inherited two runners from starter Clayton Kershaw. He threw a wild pitch to Steve Pearce and eventually walked him on four pitches to load the bases with two outs. Madson then struck out J.D. Martinez, but the next batter, Xander Bogaerts, beat out the double-play relay throw to first to bring the go-ahead run home. Rafael Devers followed with an RBI single to right to extend Boston's lead to 5-3.
"It was a quick up and in, but nothing I couldn't handle," Madson said. "I told them I was ready. I felt like I was ready, but it took another hitter to get ready. I think mainly because of the cold weather and also just the environment."
Madson said the bullpen area was warm thanks to a few heaters, but he didn't feel "as gummy as usual." He expects to be better prepared to brave the elements and will take measures to improve his grip if he is called on to pitch in Game 2. He said every pitcher uses sunscreen and rosin to improve grip and "you need to adjust that as well."
"I didn't think it was going to be as difficult as it was last night, the cold and the wet and the mound being -- actually the mound was pretty good," Madson said. "But the wet grass going onto the mound kind of clays up your cleats a little bit. So it was a difficult track, in my opinion, last night."
Roberts acknowledged that the weather can be a factor.
"That's an adjustment I'm sure he'll make," Roberts said. "For me to realize that, we'll have to keep working on that."