Dodgers injury updates: Puig, Urias, bullpen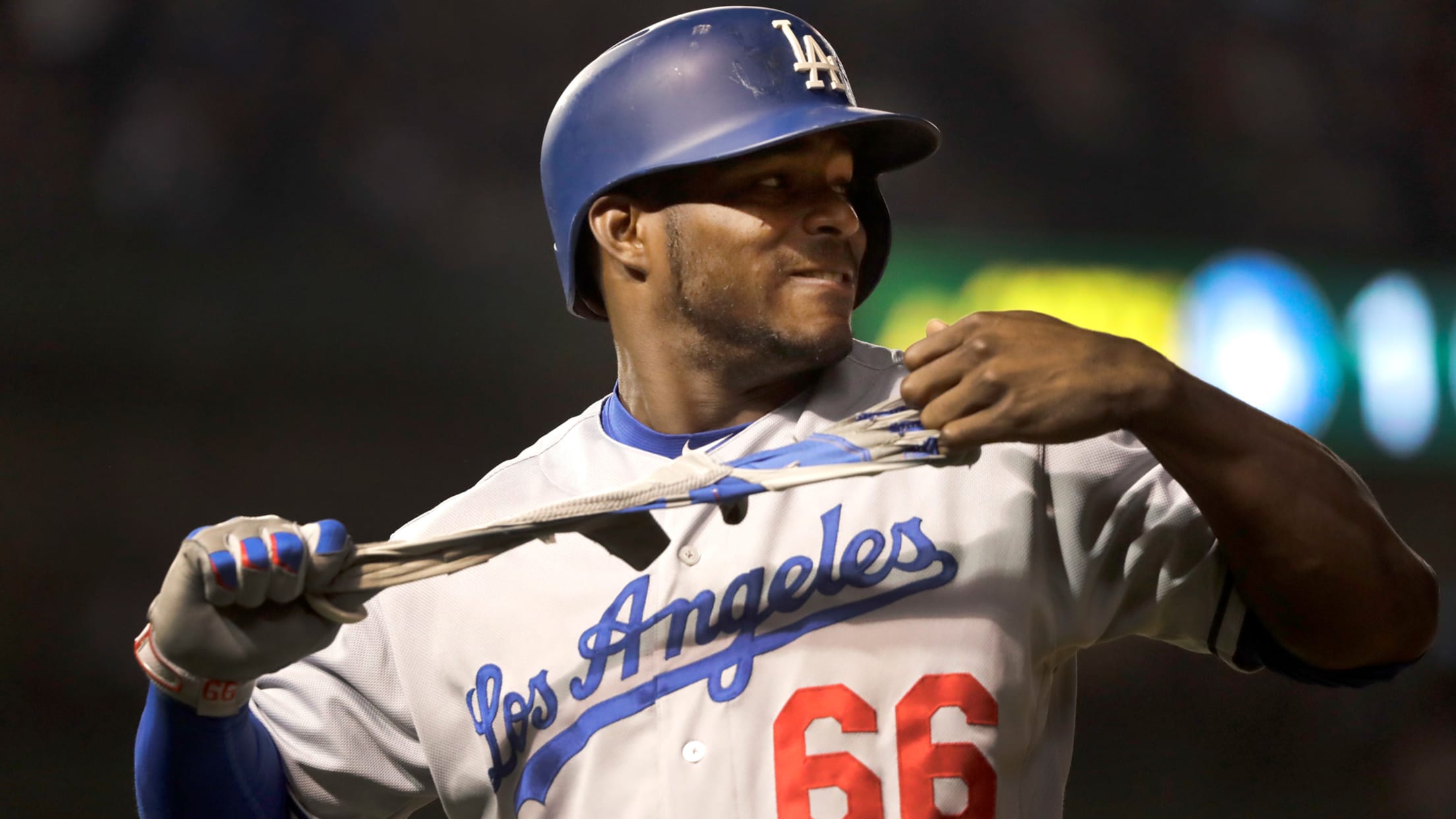 MILWAUKEE -- After acquiring Manny Machado and opening the second half with a win over the past four days, Dodgers manager Dave Roberts kept the good news coming with a series of positive injury updates before Saturday night's game against the Brewers at Miller Park.Yasiel Puig (right oblique strain) was placed
MILWAUKEE -- After acquiring Manny Machado and opening the second half with a win over the past four days, Dodgers manager Dave Roberts kept the good news coming with a series of positive injury updates before Saturday night's game against the Brewers at Miller Park.
Yasiel Puig (right oblique strain) was placed on the 10-day disabled list on July 9 and reported to Camelback Ranch in Phoenix and took between 20-30 soft-toss swings on Friday, according to Roberts.
Puig is hitting .348 with two home runs and eight RBIs over seven July games, and his return could come as soon as Thursday when the Dodgers start a road series against the Braves.
"Our goal is the Atlanta series," Roberts said. "That's the plan. Whether that stays the course depends on how he feels."
Roberts is confident Julio Urias (left shoulder surgery) will begin a Minor League rehab stint in August. Urias plans on throwing batting practice either Sunday or Monday. He threw to hitters, reaching 92 mph with his fastball, during the week of July 9.
"We're encouraged," Roberts said. "Hopefully he checks that box and continues to ramp up. When he's active on an affiliate, I don't know when that is, but this is a big step for him to face hitter."
Urias underwent surgery in June 2017 after five starts and 23 1/3 innings. While the 21-year-old projects as a starter in the future, Roberts isn't counting out using Urias as a bullpen arm if he were to return this season.
"I think there's a build-up," Roberts said. "Where we're at on the calendar, to say we'll build him up to six [innings] and 90 [pitches] doesn't make any sense. We don't want to classify him as a reliever, but I would say that the realistic build-up would be a little more abbreviated. I think a build-up of three [innings] and 45 [pitches] makes a little sense."
Roberts also provided updates on pitchers Pedro Baez (right biceps), Tony Cingrani (left rotator cuff) and Josh Fields (right shoulder inflammation). While Cingrani and Fields are still working toward full recovery, Baez is expected to return to the Major Leagues over the next few days.
"[Baez] was up going 92-96 [mph]," Roberts said. "It felt good. We're just going to continue to make sure he can go one-plus [innings], potentially a back-to-back situation. At any point in time now, Pedro will be ready to join us."