Giants name Sutter Health Park alternate site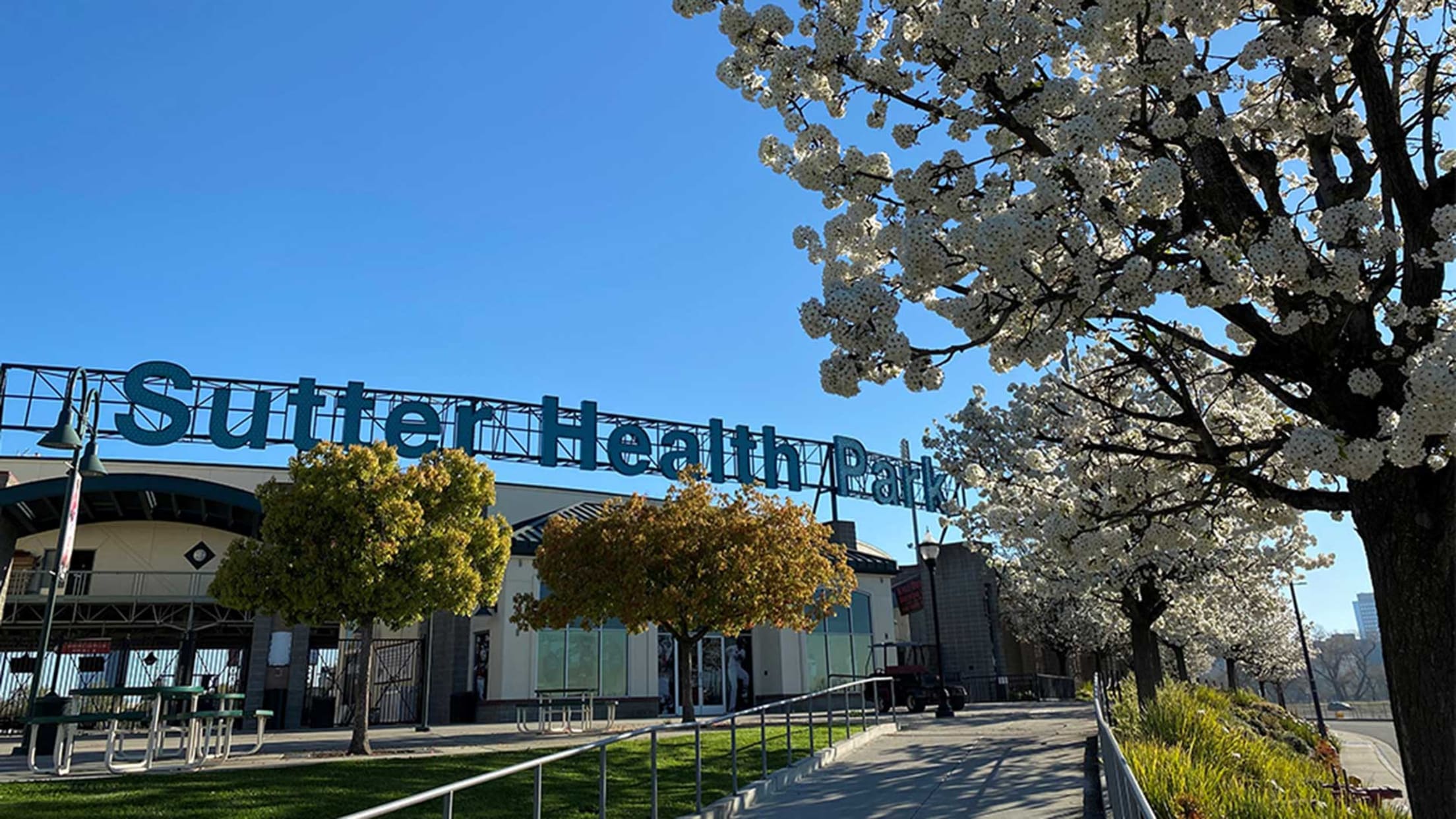 The Giants officially announced that they will hold their alternate training site at their Triple-A affiliate's complex in Sacramento on Wednesday. Workouts at Sutter Health Park will be reserved for members of the organization who are part of the Giants' player pool, but who are not added to the 30-man
The Giants officially announced that they will hold their alternate training site at their Triple-A affiliate's complex in Sacramento on Wednesday.
Workouts at Sutter Health Park will be reserved for members of the organization who are part of the Giants' player pool, but who are not added to the 30-man Opening Day roster next week. The group of roughly 30 players will continue training and will be eligible to be called up to the Major Leagues as needed over the course of the 60-game regular season.
Several of the younger prospects in the Giants' player pool, including shortstop Marco Luciano, third baseman Luis Toribio, outfielder Alexander Canario and catcher Patrick Bailey, are expected to spend the entire summer in Sacramento, where they'll have the opportunity to work with Minor League instructors and members of the player development staff.
"We are very excited to call Sutter Health Park our 2020 alternate spring training home and are very grateful to the River Cats and to the city of West Sacramento for working with us to provide a safe location and environment for our players and staff," president of baseball operations Farhan Zaidi said in a statement.
The River Cats said they are uncertain if fans will be allowed to attend practices or scrimmages, as public gatherings will need to adhere to local and state COVID-19 safety guidelines.
Intrasquad notes
• Right-hander Carlos Navas impressed in his start in Wednesday's intrasquad game at Oracle Park, striking out five over 2 1/3 scoreless innings. Navas, a 27-year-old out of Venezuela, logged a 3.40 ERA over 35 appearances between Double-A Richmond and Triple-A Sacramento in 2019 and will be a candidate to make the Opening Day roster as a multi-inning reliever.
"I think the way I would describe Carlos right now is dependable, professional, predictable," manager Gabe Kapler said. "I think you need pieces like that in your bullpen. I think you need pieces like that where the staff and his teammates really believe in him on a Major League roster, so he's making a nice push."
• The Giants are growing increasingly confident that Mauricio Dubón will be able to handle center field this year. Dubón, a natural middle infielder, helped buoy that belief on Wednesday, when he started in center and made an tremendous running catch to rob Tyler Heineman of extra bases in the second inning.
Here's the excellent running catch by Mauricio Dubon, who's quickly learning about center field and Oracle Park's new dimensions. pic.twitter.com/cHAqwg4QQw

— John Shea (@JohnSheaHey) July 16, 2020
"Obviously, that was a great catch today," Kapler said. "But he's also improving with his reads, his routes. His work is awesome. And he's been able to do all of that while getting work on the dirt as well, which is especially encouraging as we visualize what could be a pretty effective utility player. I don't want to pigeonhole Dubi, but it certainly makes my job easier when he can move around the diamond and be flexible. Right now, we see him as a capable shortstop, second baseman and center fielder. Those players, as you guys know, don't grow on trees."
• Top prospect Joey Bart hit a double off right-hander Andrew Triggs and threw out Mike Yastrzemski on an attempted steal of second base on Wednesday, but the Giants still do not seem inclined to carry the 23-year-old catcher on their Opening Day roster.
"I think we've sort of been having this conversation now for several weeks," Kapler said, "and kind of stayed with a really strong conviction that Joey's best path to being an excellent Major League player is through more repetition and a little bit more time to develop."
Bart has been one of the standouts of Summer Camp thus far and has impressed a few of the Giants' veterans, including Evan Longoria and Wilmer Flores.
"I really like Joey Bart's approach," Flores said. "He can hit the ball hard. He has really impressed me. I didn't get to see him in Spring Training, but I'm getting to see him now. He really has some pop."
Wilmer on Wilmer
Flores' youngest brother, also named Wilmer Flores, was signed by the Tigers as an undrafted free agent last week. The younger Flores is a 6-foot-5, 240-pound right-hander out of Arizona Western College.
"He's a big guy," Flores said. "You'll recognize him, he looks just like me."
Flores said he and his 19-year-old brother were able to train together at his home in Miami during the three-month shutdown, though he's still familiarizing himself with his sibling's arsenal.
"I know he throws hard," Flores said. "I saw him pitch only this year. He's still working on his breaking ball, but he's going to throw hard."
Flores grew up in a family of eight that includes three brothers and two sisters. Of the five men in Flores' family, four have the name Wilmer. His father is also named Wilmer, along with another brother who is not a professional baseball player. Flores said he goes by the nickname "Catire," or "blondie," at home, while his youngest brother is known as "Chiquito," which means "little." Flores has been called Catire since he was young because he had blonde hair when he was born.
Cahill update
Kapler said right-hander Trevor Cahill continues to be limited by a fingernail issue, making it unlikely that he'll be ready in time for Opening Day on July 23.
"He's still dealing with it," Kapler said. "It's a little tender when he plays catch. Obviously, no long-term concerns when it comes to a nail bed issue, but at the same time, it's getting down to that time where building up volume and innings is really important. I know Trevor wishes he was doing that right now."
Maria Guardado covers the Giants for MLB.com. She previously covered the Angels from 2017-18. Follow her on Twitter.