Giants make changes to scouting department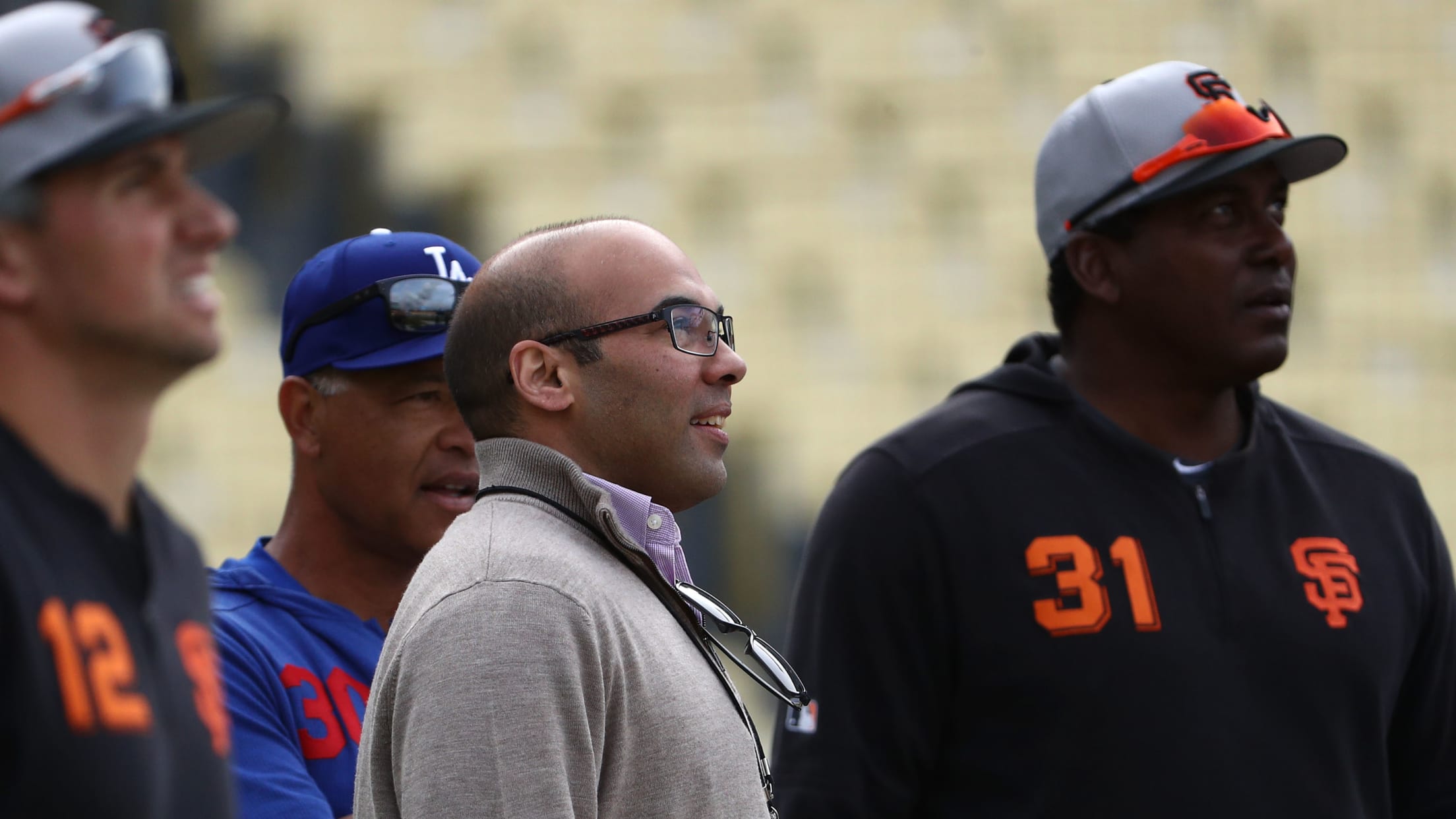 SAN FRANCISCO -- The Giants parted ways with eight of their 20 pro scouts Tuesday, marking the first wave of organizational change under first-year president of baseball operations Farhan Zaidi. Zaidi said the Giants retained 12 members of their pro scouting department, which had been one of the largest in
SAN FRANCISCO -- The Giants parted ways with eight of their 20 pro scouts Tuesday, marking the first wave of organizational change under first-year president of baseball operations Farhan Zaidi.
Zaidi said the Giants retained 12 members of their pro scouting department, which had been one of the largest in the industry. Brian Johnson, who hit a memorable walk-off home run to move the Giants into a tie with the Dodgers atop the National League West in September 1997, was among the scouts who were let go, according to the San Francisco Chronicle.
The others were Steve Balboni, Matt Nerland, Darren Wittcke, Glenn Tufts, Andy Skeels, Bob Mariano and Tim Rock, per the Chronicle.
"It's a good group of people that have made contributions over, in some cases, a long period of time and been part of some big moments in Giants history on the field, too," Zaidi said. "It's obviously sad in that respect, but we're really appreciative of their contributions over that time and wish those guys the best."
Zaidi said he expects to hire more pro scouts this offseason, though he doesn't have a specific number in mind yet. He acknowledged that the growing availability of on-demand video has prompted the Giants to reconsider how they distribute their network of scouts, allowing them to devote more resources to covering the lower levels of the Minor Leagues.
"I don't see us having dramatic changes in our coverage," Zaidi said. "We're still going to be sending guys out to ballparks at all levels, but another part of that is -- and I'm not passing along any big industry secrets here -- it's really important to scout at the lower levels with guys you have less history on. Rookie ball, short-season ball, even the [Dominican Summer League], more teams are actually having scouts cover that. That, I think, has gotten relatively more important, and maybe it's gotten a little less important at the higher levels where you have so much history and so much information available on these guys.
"Even if the importance of the scouting operation has stayed the same, I think the weight of it at different levels has changed a little over time because of the availability of other information at the higher levels."
Tuesday's reshuffling is likely only the beginning of wider changes throughout the Giants organization. Zaidi said he is currently in the process of assessing the organization's amateur scouting department and will make decisions regarding Bruce Bochy's field staff at the end of the season. He deflected a question about the Giants' upcoming managerial search, preferring to shelve those discussions until the season has officially ended.
"Obviously, we've got some games left," Zaidi said. "These guys are still kind of grinding every day. I'm sure I'll sit down with each of [the coaches] individually, and hopefully with all of our players as well. A little bit of an exit interview type process. It's been a year that we've gone through a lot as an organization. Kind of talking through plans and next steps with players and coaches alike, I think it's the important and the respectful thing to do."
Zaidi said he expects to interview candidates for a potential general manager opening, though he isn't committed to hiring anyone unless he finds the right person for the job.
Maria Guardado covers the Giants for MLB.com. She previously covered the Angels from 2017-18. Follow her on Twitter.