Giants mourn late broadcaster Greenwald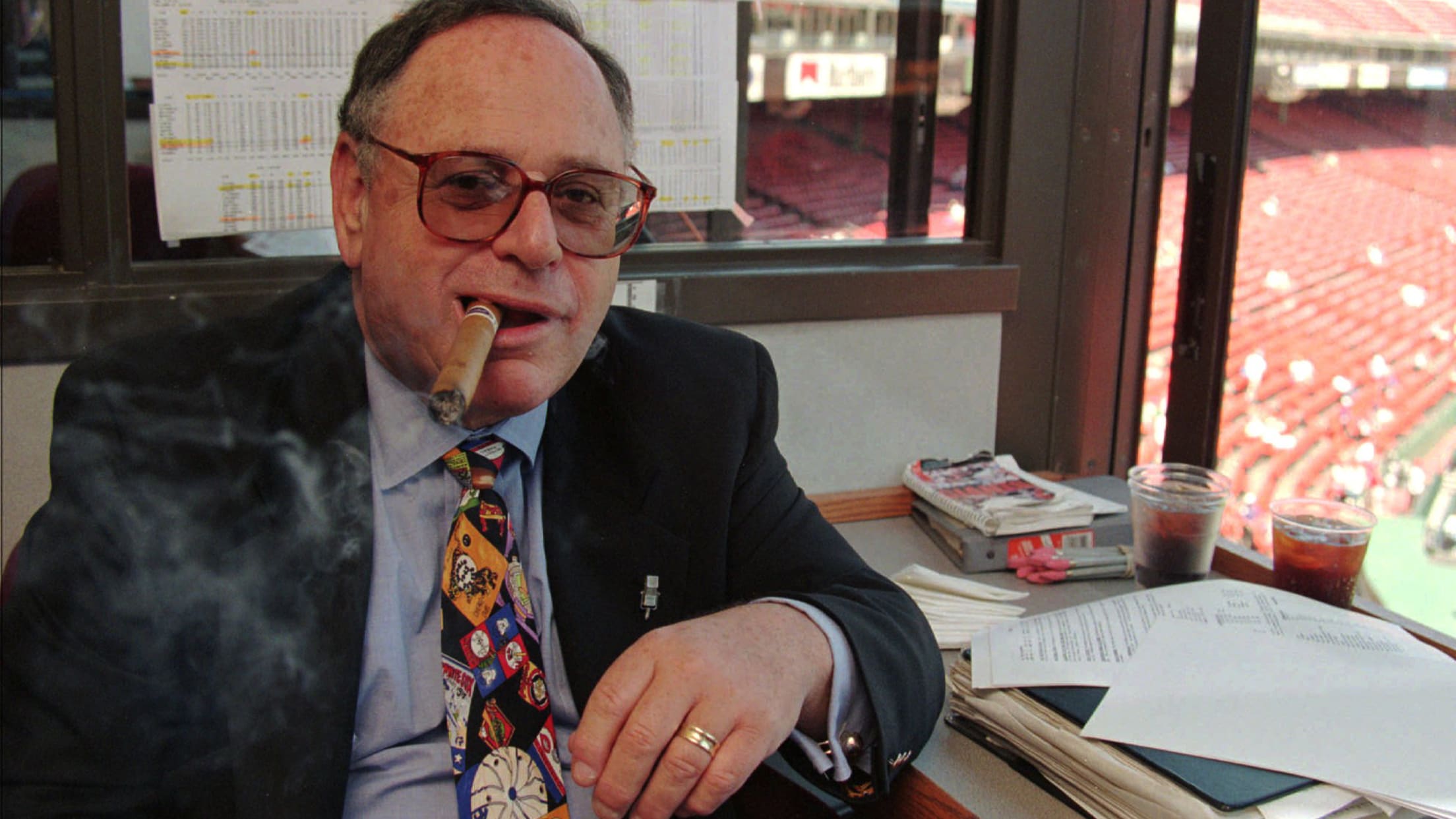 SAN FRANCISCO -- More than two decades have passed since Hank Greenwald last called a Giants game. Yet two major figures in franchise history found it easy to recall the gifts of Greenwald, whose death on Monday from heart and kidney complications was announced on Tuesday. He was 83."He'd come
SAN FRANCISCO -- More than two decades have passed since Hank Greenwald last called a Giants game. Yet two major figures in franchise history found it easy to recall the gifts of Greenwald, whose death on Monday from heart and kidney complications was announced on Tuesday. He was 83.
"He'd come by the park once or twice a year, and each year you could see he was starting to deteriorate a little bit more," Giants broadcaster Duane Kuiper said. "But he did have a twinkle in his eye. It was almost as if there was something magical about being at the park. And he'd perk up a little bit."
During Greenwald's 16 years as a Giants announcer, he was behind the microphone for some of the club's greatest moments, most notably during the 1989 postseason. That could be further distilled into Game 5 of that year's National League Championship Series. San Francisco edged the Cubs, 3-2, to advance to the World Series for the first time since '62.
Greenwald punctuated Will Clark's decisive two-run single in the NLCS finale with a verbal exclamation point: "Superman has done it again!"
As Chicago's Ryne Sandberg grounded out to end the game, Greenwald captured the emotion shared by every long-suffering Giants fan who yearned to see the team return to the World Series: "Twenty-seven years of waiting have come to an end!"
"He was a guiding light," said Kuiper, whose transition from Giants infielder to broadcaster accelerated alongside Greenwald. "He always said, 'Just because it's a bad game, it doesn't have to be a bad broadcast. Our listeners need us more during a bad game than a good game. A good game is going to carry itself.'"
Said Clark, "I am really saddened to hear about the loss of Hank Greenwald, one of the best Giants announcers. He and I got to be good friends, and my condolences definitely go out to his family, who I know extremely well. He was a true professional with love of his craft."
Greenwald's understanding of Giants tradition enhanced his appreciation for his job, as he explained in a 2008 interview with MLB.com.
"The fact that I grew up in the east, and my interest in the Giants goes back to their days in New York when I could listen to Russ Hodges' broadcasts when I was in high school and college, made it all the more special for me, because of the history of the franchise and the realization that I was now a part of it in some way," said Greenwald, a product of Syracuse University.
Though Greenwald often sounded glib on the air, he maintained a strict code of professionalism. For example, he urged Kuiper never to refer to the Giants as "we."
"For a former player, that's almost impossible. because everything is 'we,'" Kuiper said. "'We need a hit here. We need to score some runs.' He was really a stickler about that. He didn't punish me if I said it, but he'd let me know, 'So far you've used it only three times tonight.' "
Greenwald also lectured Kuiper about the importance of preparation. Mischievously, Kuiper would bring a folder full of blank typing paper to the press box. Said Kuiper, "It would have been a little embarrassing if he said, 'Hey, can I see some of those notes?'"
Kuiper described Greenwald as an "old-school" broadcaster who preferred radio to television. This became clear before a Giants telecast from Pittsburgh's Three Rivers Stadium, when the opening segment he taped with Kuiper exceeded the time limit. To demonstrate his annoyance over having to record a second take, Greenwald began his next try by saying, "I'm Hank Greenwald along with Duane Kuiper, and we're at Two Rivers Stadium."
Said Kuiper, "That's how quick he was. We were always afraid that if you're working with him, you were going to be the guy not to get what he just said."
Between Greenwald's stints with the Giants (1979-86, '89-96), he spent two years broadcasting Yankees games. Greenwald also did play-by-play of University of San Francisco men's basketball games and Golden State Warriors games when the team was known as the San Francisco Warriors. Greenwald also handled the unsung yet important role of press-box announcer at the Super Bowl.
"Hank was a broadcasting legend throughout the Bay Area and was a huge part of the Giants throughout his 16 seasons as our play-by-play announcer," Giants president and CEO Larry Baer said in a statement. "He was the key link to our fans listening at home and brought our game to life through the radio."
Greenwald is survived by his wife of 48 years, Carla, and their children, Kellie and Doug. A celebration of Hank's life is pending.
"My dad's goal was to be a Major League Baseball broadcaster. The San Francisco Giants provided him with that opportunity, and in turn he provided Giants fans everywhere with many exciting moments," said Doug, himself a longtime play-by-play announcer in Triple-A, in a statement released through the club.