Healthy Samardzija caps impressive spring
Shark lined up to start 5th game after posting 2.84 Cactus ERA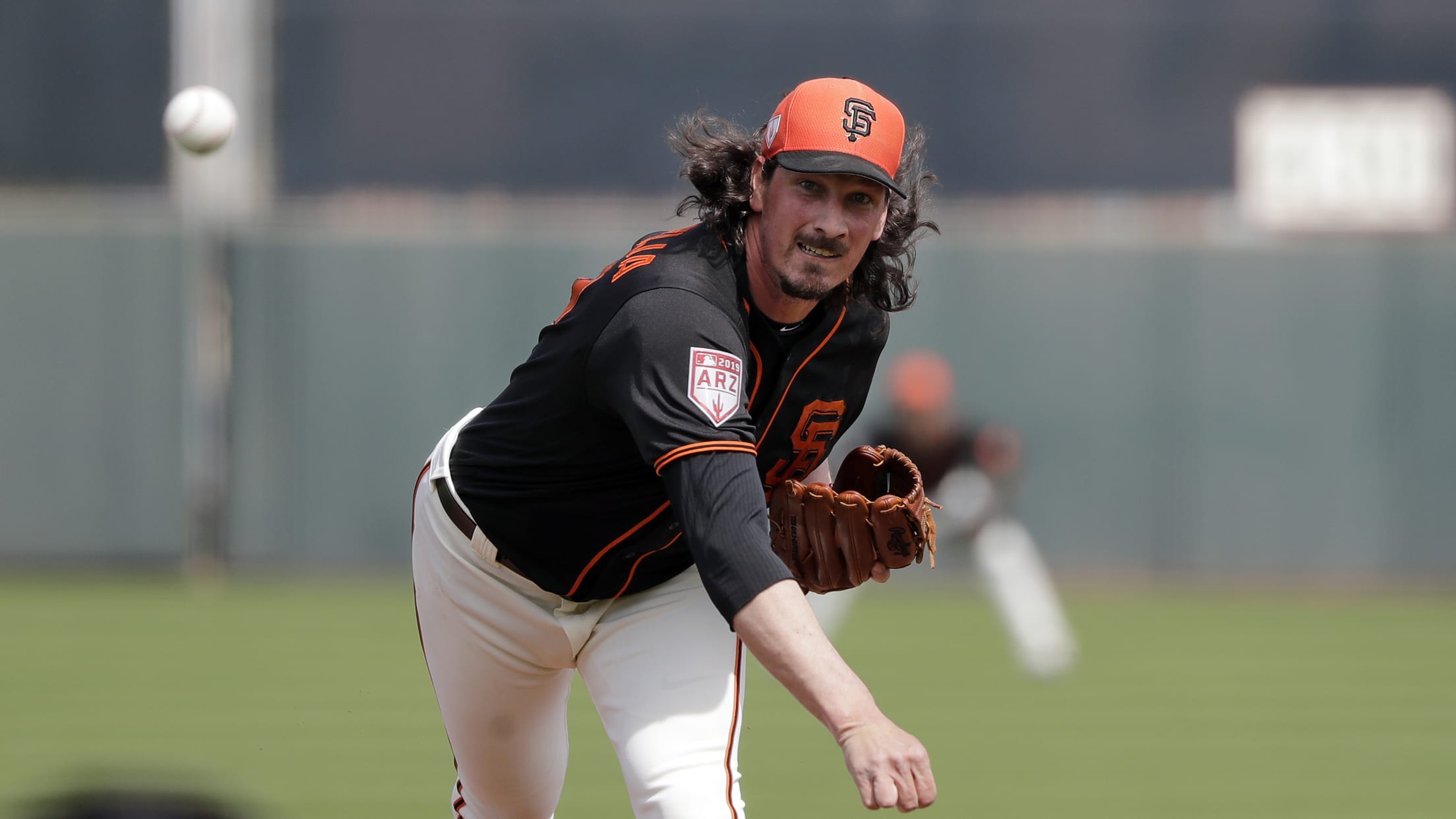 MESA, Ariz. -- Jeff Samardzija is preparing to enter his 12th year in the Majors, but he's approaching this season with a newfound sense of appreciation after being forced to sit out most of the 2018 campaign due to a persistent shoulder injury. "It just reassures you not to take
MESA, Ariz. -- Jeff Samardzija is preparing to enter his 12th year in the Majors, but he's approaching this season with a newfound sense of appreciation after being forced to sit out most of the 2018 campaign due to a persistent shoulder injury.
"It just reassures you not to take things for granted," Samardzija said Thursday. "You start to realize how much you love this game and why you love this game. It just allowed me to take a step back and kind of learn as a pitcher. To watch and kind of reassess where I'm at, take a deep breath and get back after it."
Samardzija's health had been one of the major question marks at the outset of Spring Training, but the 34-year-old right-hander has proved healthy and effective for the Giants, surrendering a pair of solo home runs over 5 1/3 innings in a 5-5 tie against the Cubs on Thursday at Sloan Park.
"Honestly, we're really excited by where he's at and how he's thrown the ball," manager Bruce Bochy said. "You look at last year, and you don't know how he's going to bounce back. But through hard work, he's back to where he should be. He's got a good four-pitch mix going and command. He's throwing the ball with a lot of confidence, too."
Samardzija, who logged a 2.84 ERA over five Cactus League starts, is lined up to pitch the final Bay Bridge series game against the A's on Tuesday, and he will likely debut as the Giants' fifth starter against the Dodgers on April 1. It's a welcome change from the way his spring ended last year, when he was pulled from a Minor League outing against the Cubs after experiencing shoulder pain and subsequently opened the season on the injured list.
"I'm just happy to be out there," Samardzija said. "I worked my butt off all offseason, man. I didn't have an offseason. So from Oct. 1 on, I was rehabbing four or five times a week, getting massages three times a week, and I pretty much didn't have much of a life, which is fine. That's the point where we're at, and I need to commit myself fully to this. That's easy to do when you really appreciate what you're doing."
Giants acquire Joe
The Giants acquired infielder/outfielder Connor Joe from the Reds on Thursday in exchange for Minor League right-hander Jordan Johnson. To clear a spot on the 40-man roster for Joe, the Giants designated Rule 5 Draft pick Drew Ferguson for assignment.
President of baseball operations Farhan Zaidi is familiar with Joe, who spent the 2018 season in the Dodgers' organization and crushed 17 home runs with a .935 OPS in 106 games between Double-A Tulsa and Triple-A Oklahoma City. Joe, a right-handed hitter, can play first, second and third base as well as the corner outfield. The 26-year-old shares a similar skill set with fellow utility player Pablo Sandoval, which could make Sandoval's spot on the roster a bit tenuous.
Joe, like Ferguson, carries a Rule 5 designation, meaning the Giants will have to keep him on their 25-man roster for the entire regular season or offer him back to the Dodgers. The Giants' willingness to send Johnson to the Reds at this stage in Spring Training likely indicates that they intend to carry Joe on their Opening Day roster.
Duggar continues to impress
Steven Duggar enjoyed another strong performance on Thursday, going 2-for-3 with a double and adding a terrific leaping catch at the center-field wall to rob Kris Bryant of extra bases in the fifth inning.
"He's a gifted defender," Bochy said. "I like the way he's swinging the bat, too. He's had some good at-bats against lefties. He smoked the ball today. He just gets a good jump on the ball, good routes. That's a gift, and that's what good center fielders can do."
Roster move
The Giants reassigned outfielder Anthony Garcia to Minor League camp on Friday, leaving 37 players in big-league camp.
Up next
The Giants will play a pair of split-squad games Friday as they head into the final weekend of Spring Training. Left-hander Madison Bumgarner will travel to Surprise Stadium to face the Royals at 6:05 p.m. PT, while right-hander Chris Stratton will start against the Rockies at Scottsdale Stadium at 7:05 p.m. Both games will be broadcast on MLB.TV.
Maria Guardado covers the Giants for MLB.com. She previously covered the Angels from 2017-18. Follow her on Twitter.