Notes: 'Electric' Webb, prospect arrivals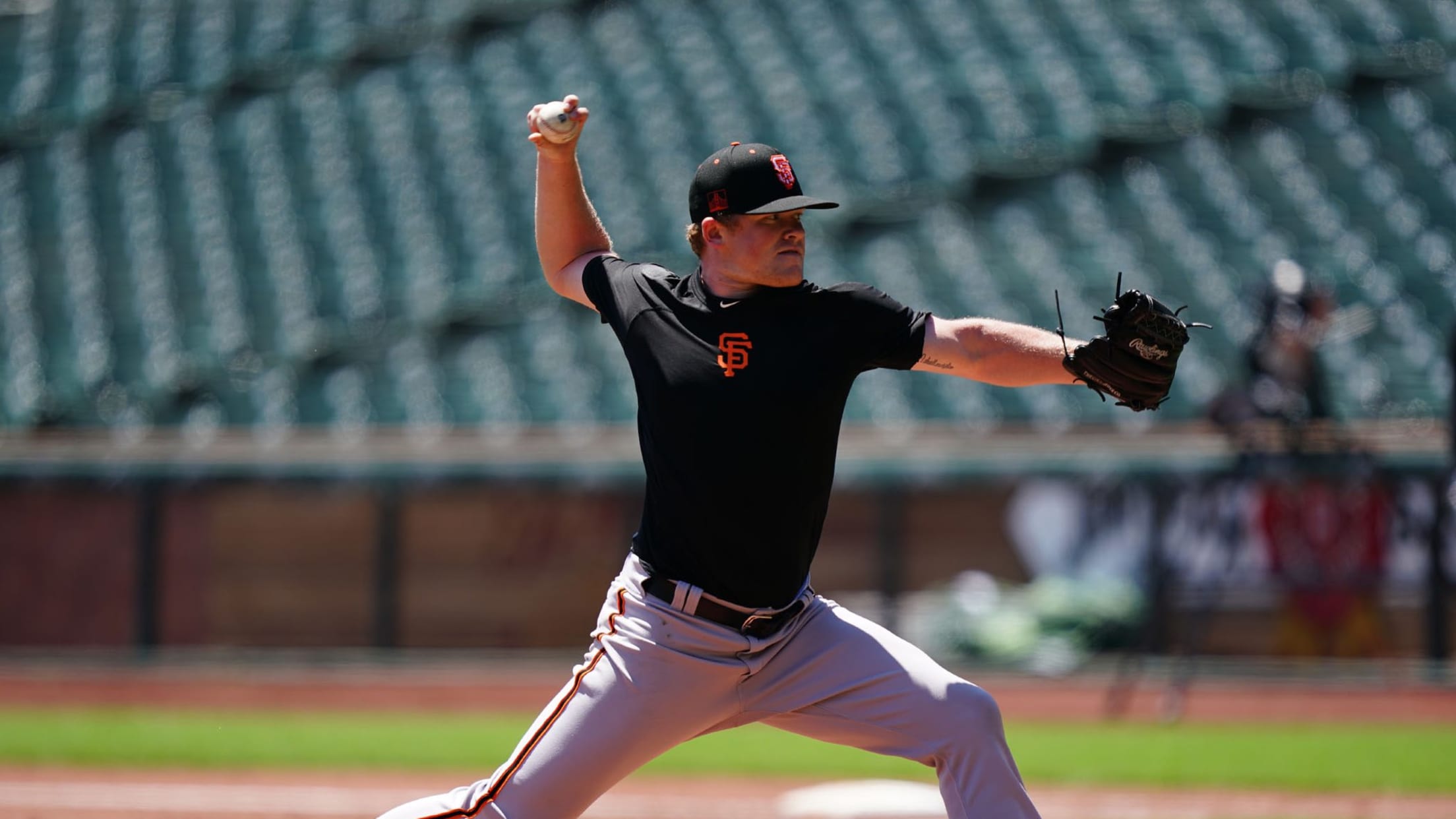 SAN FRANCISCO -- As Logan Webb readied to face Hunter Pence during the right-hander's first live batting-practice session of Giants Summer Camp on Saturday, the unexpected happened. Four sprinklers encircling the mound at Oracle Park went off, spewing water onto the infield grass and forcing a groundskeeper to rush in
SAN FRANCISCO -- As Logan Webb readied to face Hunter Pence during the right-hander's first live batting-practice session of Giants Summer Camp on Saturday, the unexpected happened.
Four sprinklers encircling the mound at Oracle Park went off, spewing water onto the infield grass and forcing a groundskeeper to rush in from the stands to access the shutoff valves behind the visitors' dugout.
The wayward sprinklers didn't dampen excitement about Webb's performance, though. He was one of four pitchers to throw on the main diamond during the Group 2 workout and faced Pence and Donovan Solano twice, racking up four strikeouts.
Manager Gabe Kapler said Webb delivered "the best live batting-practice session of the day." Catcher Buster Posey also offered high praise for the 23-year-old right-hander.
"I thought Webby, in particular, looked really, really good," Posey said. "His stuff was electric. It was, I thought, a tick or two up from the spring."
• Posey leaves door open to not playing in 2020
Back in March, Webb was viewed as a front-runner for the fifth spot in the Giants' rotation, particularly after working with director of pitching Brian Bannister to add a cutter to his arsenal. The only factor that seemed to keep Webb from being a lock for the Opening Day roster was that he was expected to be under an innings limit in 2020. Those workload concerns are now likely to be negligible in a 60-game season.
Kapler said Webb will now be in the running for a "bulk-innings role," meaning he could be used as a starter or as a reliever who pitches multiple innings behind another member of the rotation.
"Nothing is set in stone," Kapler said. "We're going to see how things develop as we go through the modified camp, but we see him in a role for us to take multiple innings. We'll try to build him up as much as possible to be able to lengthen him out. Obviously, that could be in a starting role, but it could also be coming out of the 'pen. We're stressing to all our pitchers, not just Logan, the mindset of being flexible but getting built up as much as possible."
Webb, who is ranked the club's No. 12 prospect by MLB Pipeline, debuted with the Giants last August and logged a 5.22 ERA over eight Major League starts.
You love to see it. #SFGiants pic.twitter.com/yAXKIR8j03

— SFGiants (@SFGiants) July 5, 2020
Four added to player pool
Two top infield prospects headlined the group of four players who were officially added to the Giants' player pool on Saturday. Third baseman Luis Toribio and shortstop Will Wilson, who are ranked by MLB Pipeline as the Giants' No. 7 and No. 10 prospects, respectively, were brought into the fold, along with right-hander Camilo Doval and catcher Chadwick Tromp.
The Giants now have 56 players in their pool, leaving four spots for future additions.
Doval was the most obscure member of the group, though Kapler said the Giants were happy to bring him into camp on Saturday and allow him to celebrate his 23rd birthday at Oracle Park.
"I'm sure it was a great present for him," Kapler said. "We loved having him in camp today. I think he had a few extra eyeballs on him because there was a lot of conversation about the opportunity to have him. He was lightning in Minor League camp, and I think that, in part, led to us getting excited about having him."
Kapler said Doval has a fastball-slider combination that he believes will play at the Major League level. Signed out of the Dominican Republic for $100,000 in 2015, Doval recorded a 3.83 ERA over 56 1/3 innings in 45 relief appearances for Class A Advanced San Jose in 2019.
"It's a really big arm," Kapler said. "His lower half kind of reminds me a little bit of [Phillies reliever] Seranthony Domínguez. The power in his lower half."
Maria Guardado covers the Giants for MLB.com. She previously covered the Angels from 2017-18. Follow her on Twitter.