All-Star Game returns Smith to 'special place'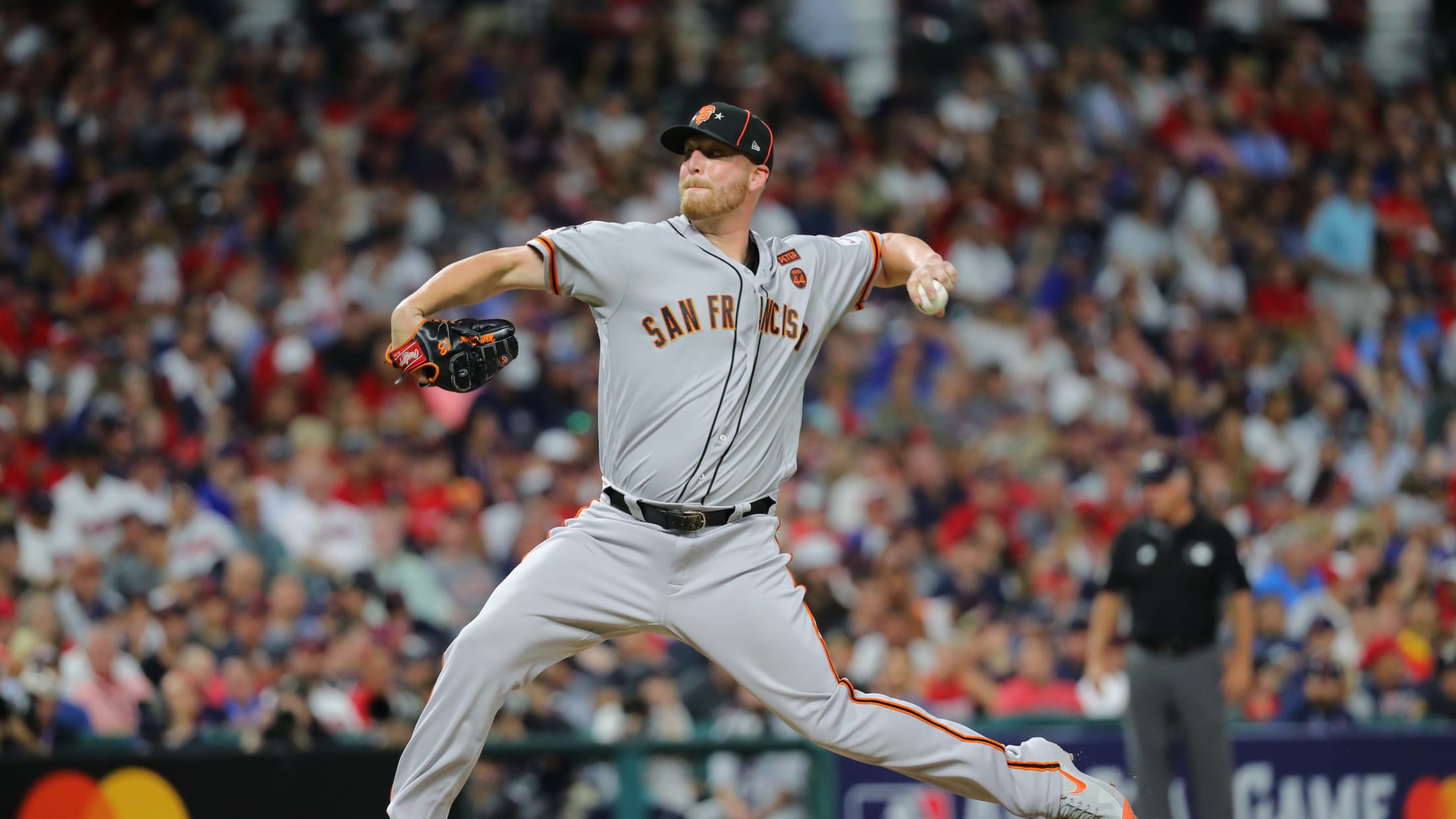 Despite spending the bulk of his career in the National League, Giants closer Will Smith has developed a special affinity for Cleveland. In 2012, he earned his first Major League win at Progressive Field while pitching for the Royals. Seven years later, the city proved to be the site of
Despite spending the bulk of his career in the National League, Giants closer Will Smith has developed a special affinity for Cleveland. In 2012, he earned his first Major League win at Progressive Field while pitching for the Royals.
Seven years later, the city proved to be the site of yet another key milestone for Smith, who made his first Midsummer Classic appearance Tuesday in the American League's 4-3 win over the NL at the 2019 All-Star Game presented by Mastercard.
"It's got a special place in my heart," Smith said.
Smith, the Giants' lone All-Star representative this year, relieved Brewers right-hander Brandon Woodruff with two outs in the bottom of the seventh, though his outing didn't begin on the best note. Smith surrendered a solo home run to Rangers slugger Joey Gallo on a first-pitch fastball, which extended the AL's lead to 4-1. It marked only the second homer he's allowed to a left-handed hitter this season.
Indians shortstop Francisco Lindor followed with a sharp grounder to the left side, but Brewers third baseman Mike Moustakas made an impressive stop and threw to first base for the final out, capping Smith's three-pitch appearance.
The NL pulled within one on Mets first baseman Pete Alonso's two-run single in the eighth, but Gallo's 111.5 mph blast ultimately helped the AL hold on for its seventh consecutive All-Star Game victory.
Despite the outcome, Smith still relished his first All-Star experience, taking advantage of the opportunity to have "baseball talks" with other notable players at the event. The festivities served as a bit of an early birthday present for Smith, who turns 30 on Wednesday.
"It's my first time doing it, and it's been awesome," Smith said before the game. "You don't spend much time with your family. It's a lot of running around and lot of stuff to do. You just take it minute by minute, enjoy the moment and everything you are doing."
A year after returning from Tommy John surgery, Smith has emerged as one of the most dominant relievers in the NL, going a perfect 23-for-23 in save opportunities while posting a 1.98 ERA with eight walks and 53 strikeouts over 36 1/3 innings for the Giants. Smith said his long road back from injury helped give him a newfound appreciation for the game and not dwell on his occasional missteps on the mound.
"After sitting out a full year, things just get put into perspective," Smith said Monday. "If you give up a run that day, it's not the end of the world. You play 162 games. I used to get so caught up on those little things. Now you just appreciate being healthy and having fun."
Maria Guardado covers the Giants for MLB.com. She previously covered the Angels from 2017-18. Follow her on Twitter.