Young arms pass test, kept Indians in race
Civale and Plesac give a talented rotation more depth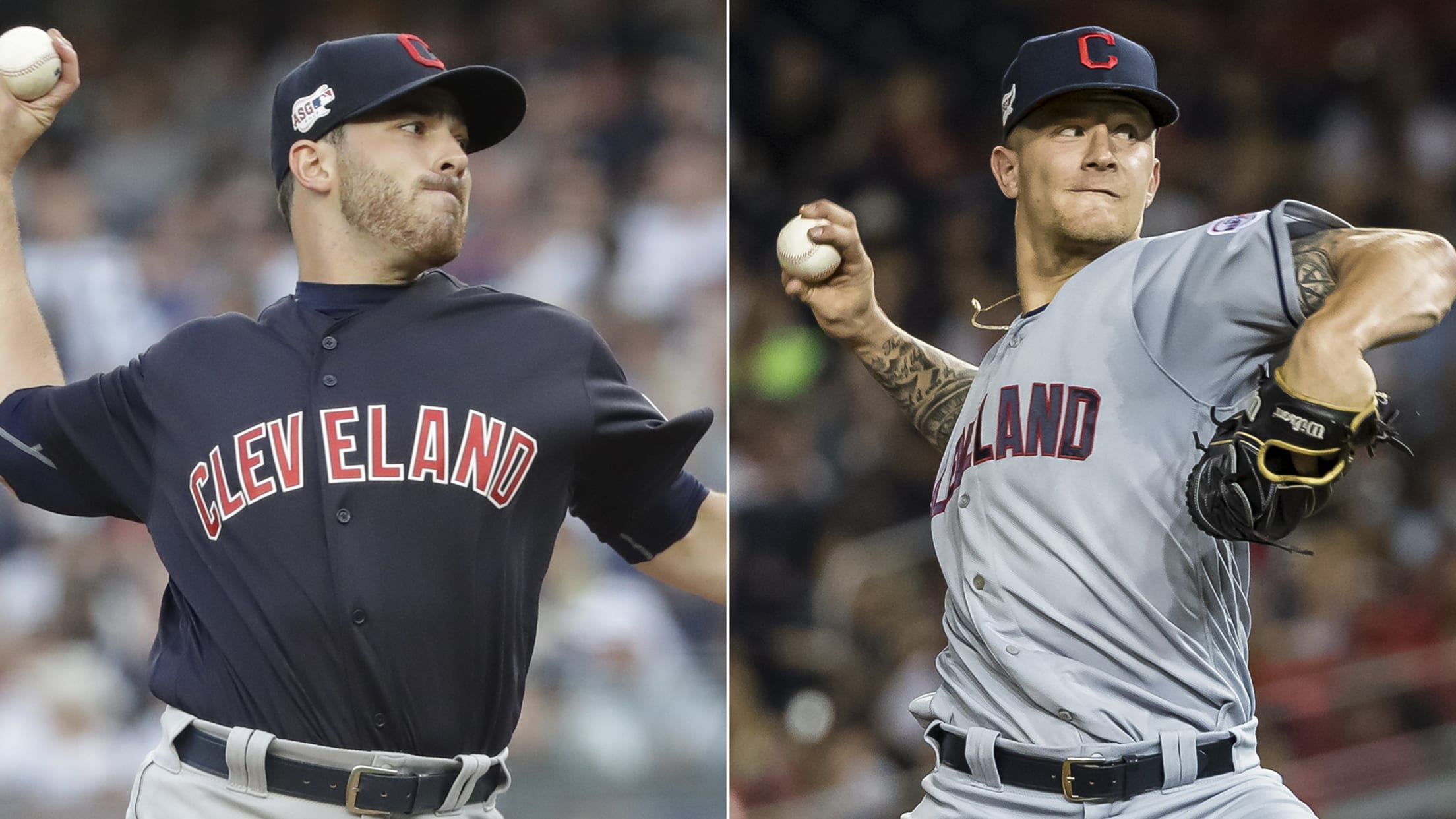 CLEVELAND -- The writing was on the wall. With all the roster turnover and the quiet winter the Indians endured last season, they knew their offense wasn't going to be their biggest strength in 2019. But with Corey Kluber, Trevor Bauer, Carlos Carrasco, Mike Clevinger and Shane Bieber taking the
CLEVELAND -- The writing was on the wall.
With all the roster turnover and the quiet winter the Indians endured last season, they knew their offense wasn't going to be their biggest strength in 2019. But with Corey Kluber, Trevor Bauer, Carlos Carrasco, Mike Clevinger and Shane Bieber taking the mound every night, the bats wouldn't need to push too many runs across to win, right? Well, it took two weeks for the Tribe to hit their first wall.
"We're always panicked about pitching depth," Indians general manager Mike Chernoff said. "And a year like this confirms why we should be panicked about it."
• Offseason checklist: Indians' needs and moves
Clevinger, Kluber and Carrasco all landed on the injured list at different points throughout the year and Bauer was traded at the end of July. No matter how many hurdles the starting staff had to overcome, the quality in the hurlers the team sent to the rubber never dipped -- even if it meant turning to two 24-year-olds who began the year at Double-A Akron: Zach Plesac and Aaron Civale.
"I mean, Civale and Plesac weren't even at Major League [Spring Training] camp," Indians manager Terry Francona said. "If you would've told me that we had a couple guys that are Double-A starters that were going to come carry a load, not make a spot start, but go every fifth day and then we could hang in there and that they would hang in there and in some cases, not just hang in there but thrive, that's pretty special to say about those guys."
What went right?
Plesac and Civale had enormous shoes to fill and both exceeded every expectation. Civale limited opponents to two earned runs or fewer in nine of his 10 big league starts, while Plesac posted a 3.81 ERA over 21 outings.
"Just getting here is a big step for me," Plesac said. "And then establishing myself as a player in this league, something I'm proud of."
The rookie right-handers gave the Indians a chance to fight until the final week of the season for a spot in the playoffs after starting the year 29-30. They've also given their organization a reason to be excited for the future by giving it a glimpse of the potential the rotation has for years to come.
"You never know how a guy's going to transition to the big leagues," Chernoff said. "We saw some guys that weren't really on the radar quite yet be able to handle it. ... Yes, we do feel really good about that foundation of depth we have."
What went wrong?
They both ran into the same problem: They ran out of gas. In his last five starts of the year, Plesac pitched to a 5.08 ERA even with a shutout factored in. It didn't hit Civale until his very last start on Sept. 26, when he allowed a career-high four runs in his shortest outing of the year (3 1/3 innings). It was the first time that the two 2016 draftees pitched deep into September, but fatigue wasn't limited to just the Tribe's rookies. Admittedly, the majority of the roster was plagued with the same issue.
"I wanted them to know how much we appreciated what they did and also remind them what we did wasn't quite good enough," Francona said of his end-of-the-year meeting with his team. "Now saying that, as far as our team goes, they fought until they were literally out of game. I think at the end, we were just out of gas."
• Indians offseason FAQ: Who's in, out for 2020
Best moment
Plesac's defining moment came quickly. After making just three starts in Triple-A, the 24-year-old got the call on May 28 to make his Major League debut at Fenway Park. If he didn't pitch well, he was likely getting sent back to Columbus. Instead, he allowed one run on four hits in 5 1/3 innings that not only secured his spot in the rotation for the rest of the season, but also prompted opposing starter David Price to leave a congratulatory note in the young hurler's locker.
Civale became a permanent fixture around the Tribe's clubhouse in August and went on a magical run that ended on Sept. 18, his second-to-last start of the year. He permitted one run in 7 2/3 frames, which was the ninth straight start that he had allowed two earned runs or fewer. That became the longest such streak by an Indians player since earned runs became an official stat.
"They kept us in the race," Bieber said. "They definitely pulled more than their own weight and kept us in the race for so long. They had a big part to do with that. A lot of guys did, but them two specifically coming from Double-A, they stepped it up big."
2020 outlook
Here's the tough part. If the Indians do not trade Kluber over the offseason, the rotation will consist of him, Carrasco, Clevinger and Bieber, leaving only one open spot. Plesac and Civale are definitely the favorites to earn the job with Jefry Rodriguez, Adam Plutko and Logan Allen also in the mix.
The rookie pair had unbelievable first seasons, but one could very likely begin 2020 back in Triple-A. Plesac had more experience last year, making 21 starts, but Civale had just one poor outing (his final one) of 10 starts. The decisions and conversations will be tough as the Indians' coaching staff evaluates the talent during Spring Training, but the team now has more security, knowing it has more-than-capable replacement arms if injuries become a problem again.
"There's a lot to be excited for next year," Bieber said. "The sky's the limit and as long as we can stay healthy and deal with adversity and make the most of everything and roll with the punches next year just like we did this year, I think we'll be in a good spot."