Shaw's struggles continue in loss to Royals
Setup man yields decisive HR, but Francona isn't looking to replace him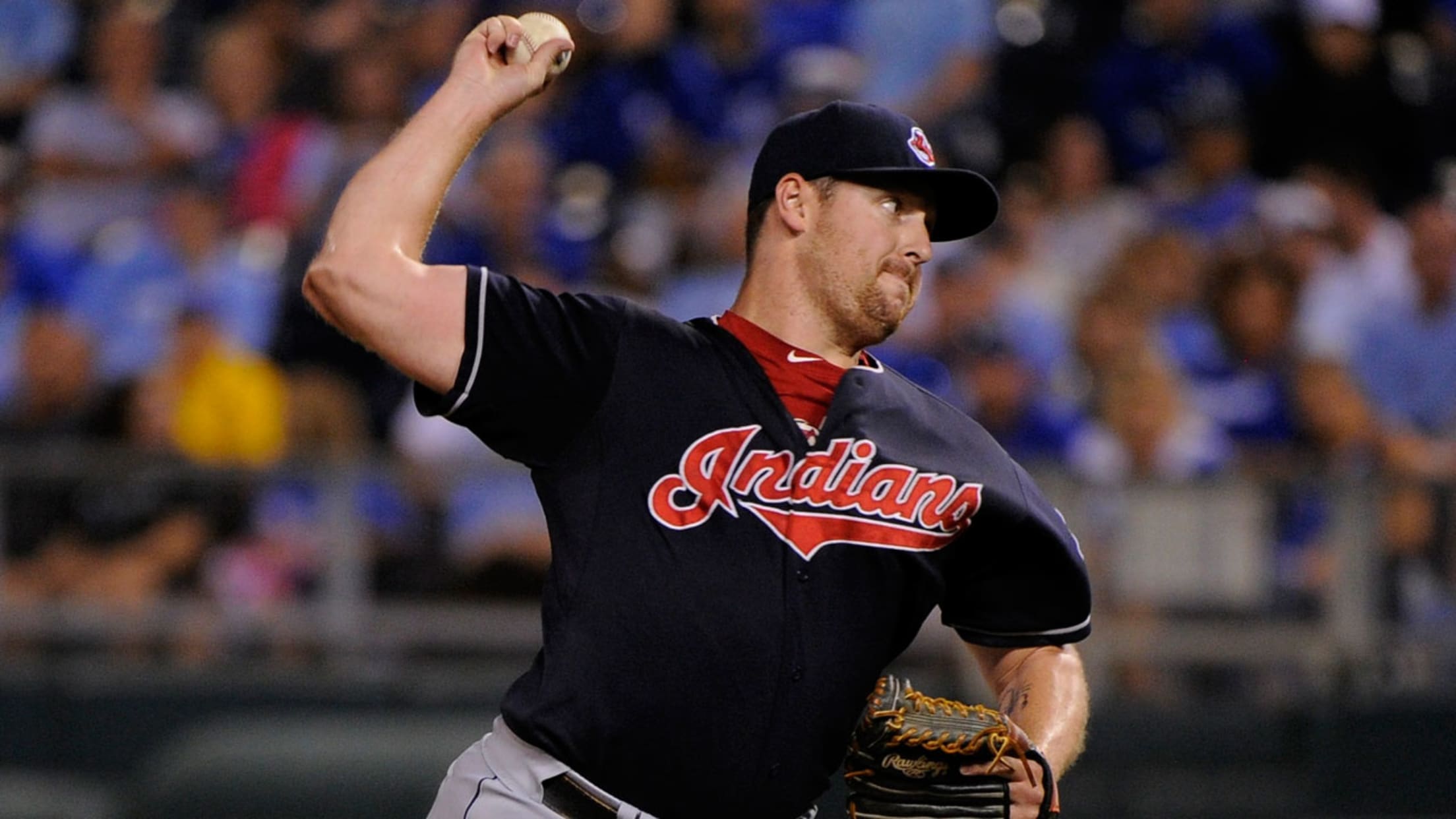 Indians reliever Bryan Shaw now has a 5.68 ERA through his 30 appearances. (Getty)
KANSAS CITY -- Indians setup man Bryan Shaw made his pitch and got the ground ball he was looking for against Eric Hosmer. Kansas City's first baseman chopped it to the left side of the infield, where third baseman Jose Ramirez gloved the ball in the shift for what looked
KANSAS CITY -- Indians setup man Bryan Shaw made his pitch and got the ground ball he was looking for against Eric Hosmer. Kansas City's first baseman chopped it to the left side of the infield, where third baseman Jose Ramirez gloved the ball in the shift for what looked like a routine out in the eighth inning.
That prospect was erased when Ramirez lost the ball on the transfer and set a meltdown in motion during a 3-2 loss on Tuesday night at Kauffman Stadium. Two batters later, Shaw gave up a towering two-out, two-run homer to Salvador Perez -- the latest setback in the reliever's turbulent season.
Indians manager Terry Francona, however, still is not looking for alternatives for the eighth inning.
"I don't want an alternative," Francona said. "That would not be a smart move on my part. He's been a good pitcher for us and his stuff's good. We can't run away from guys when they have a tough week. That doesn't make sense to me."
Prior to the homer by Perez, who entered the night 1-for-12 in his career against Shaw, the right-hander's tough week included a run allowed in each of his previous two appearances. Shaw gave up a broken-bat, walk-off single to Yunel Escobar on Saturday in Anaheim and surrendered an eighth-inning homer to Robinson Cano on Thursday in Seattle.
Shaw now has a 5.68 ERA to go along with a career-worst 2.5 homers allowed per nine innings through his 30 appearances. That performance comes after Shaw turned in a 2.76 ERA in 154 appearances across the past two seasons combined.
Francona is quick to note that Shaw's overall numbers are misleading, though. After allowing nine runs within his first four games this season, Shaw breezed through his next 23 appearances, posting a 1.35 ERA and .200 opponents' average in 20 innings in that span. That strong stretch came prior to the outings in Seattle, Anaheim and Kansas City.
"His stuff's been really good," Francona said.
Shaw's career-high 94.5-mph average on his cutter is a good example.
"I just think he's made more mistakes than we're accustomed to seeing," Francona said. "It's led to runs at times. He had a nice run of, I don't know, 20-something innings. But, the last three. It's not always one thing. I remember there was a bloop. There's factors. I think the one recurring thing when he has a tough time is he's fallen behind in the count."
Shaw fell behind, 2-0, to four of the five Royals hitters he faced. The exception was Perez, who ambushed a first-pitch fastball for the decisive home run. Shaw induced a full-count flyout to Alcides Escobar, a full-count grounder from Hosmer, struck out Lorenzo Cain with a full count and generated a groundout on a 2-1 count against Kendrys Morales.
The ground ball by Hosmer, and subsequent misplay by Ramirez, changed the inning.
"It was a grounder that wasn't that easy," Ramirez said. "I tried to throw it and I couldn't."
"It was a tough play," Shaw agreed. "He came in. He fielded it cleanly. The transfer, I think he tried to rush a little bit. Like I said, I don't know how much time he had -- I didn't see [where Hosmer was]. But, it just looked like he tried to rush a little bit, tried to get it over there, get the out, and it just came out."
Hosmer was credit with a single, but the play could have easily been ruled an error.
"That's a good pitch," Francona said. "We probably need to make that play."
What happened next was on Shaw's shoulders.
"It's very frustrating," Shaw said. "[Indians starter Josh Tomlin] kept us right where we needed to be all game. He pitched a good game. He got us the opportunity to get the win. He got us a chance to win the ballgame. Obviously, I didn't hold up doing my job."