Third-round pick Halpin signs with Tribe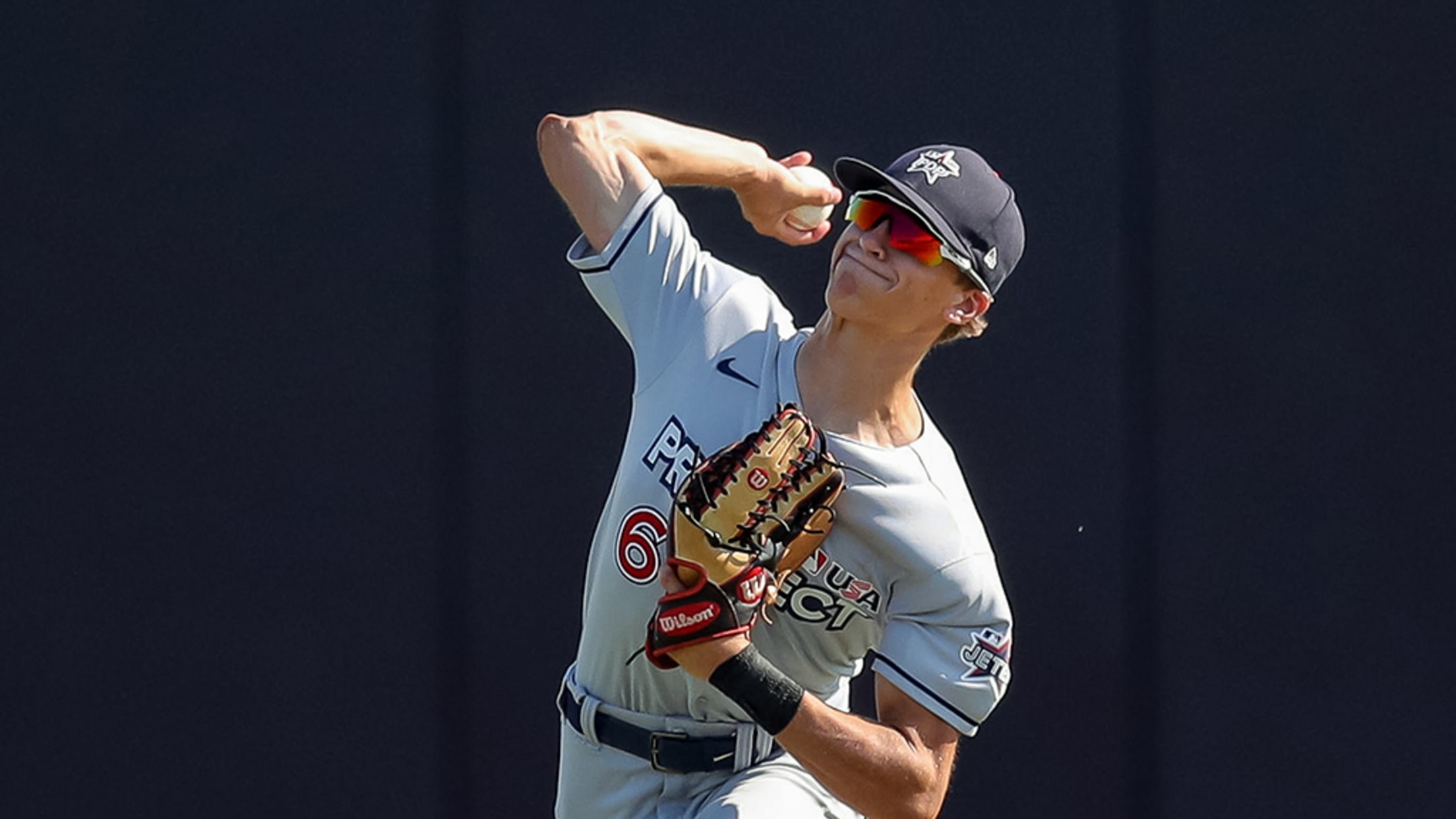 CLEVELAND -- And then there was one. The Indians have now come to terms with five of their six 2020 MLB Draft picks after signing third-rounder Petey Halpin from Mira Costa High School (Calif.) and fourth-rounder Milan Tolentino from Santa Margarita High School (Calif.) on Friday. According to MLB Pipeline's
CLEVELAND -- And then there was one.
The Indians have now come to terms with five of their six 2020 MLB Draft picks after signing third-rounder Petey Halpin from Mira Costa High School (Calif.) and fourth-rounder Milan Tolentino from Santa Margarita High School (Calif.) on Friday. According to MLB Pipeline's Jim Callis, Halpin signed for $1.525 million, while his slot value was listed at $610,800. Competitive Balance Round A pick Tanner Burns is the final Draft pick who has yet to agree to terms.
• Indians Draft Tracker: Every 2020 pick
Saving on first-rounder Carson Tucker, who signed for $930,000 less than his $2.93 million slot value, was a big help in being able to lock in another prep star. Halpin flew a little more under the radar in his area with Mets' first-round outfielder Pete Crow-Armstrong also coming out of California.
"I think he's really underrated," MLB Pipeline's Jonathan Mayo said. "Everyone talks about Pete Crow-Armstrong, and he's a great player and belonged in the first round, but there's some scouts who don't think that Halpin is really that far behind Crow-Armstrong in terms of ability."
Halpin's scouting report currently ranks hitting over power, but MLB Pipeline believes he's shown he has the ability to drive the ball and was launching balls out of Angels Stadium in the fall. His best tools are his arm strength and speed.
"Petey's got the speed, the athleticism and certainly the instincts and plenty of arm strength to stay in center field," Indians amateur scouting director Scott Barnsby said. "Offensively, it's just an advanced feel for the barrel. He continues to develop physically, so we feel there's going to be some power there down the road. He's an extreme competitor. Plays with energy. He's really just fearless on the field. Another guy that we're really excited to add."
Halpin had previously committed to the University of Texas. As a high schooler taken in the third round, he wasn't as much of a guarantee to sign with the Tribe as Tucker. But it's clear just how much the Indians wanted to lock in the young outfielder with their financial flexibility in exceeding his slot value.
"[Baseball is] the place where I have the most fun," Halpin said on MLB Network on Draft night. "I can hang out with my friends and not have any worries about anything else. I will be smiling the entire game. I like to play controlled, but at the same time, quick, moving around fast and causing havoc."
Tolentino is the son of former big leaguer and current Angels Spanish radio broadcaster José Tolentino. He has a swing that's been compared to Johnny Damon and is a tough out with an opposite-field approach. He was the starting shortstop for Team USA last year and hit .286 with a .733 OPS and four RBIs in nine games.
"Really just an impressive all-around player," Barnsby said. "He's got instincts. He's got well-above-average feel for the game. It's a left-handed bat. Really consistent approach at the plate. Not only is he able to recognize pitches, but he's got a really impressive ability to put the bat on the ball. Uses the whole field. Starting to show some more power."
The experts at MLB Pipeline expect Tolentino's offensive numbers to define what kind of overall prospect he will become because they have very little doubt in his ability at shortstop. Regarded as one of the most natural defenders in this year's Draft class, Tolentino's scouting report on MLB Pipeline lists his 60-grade fielding ability and 60-grade arm strength.
"Defensively, just really fundamentally sound," Barnsby said. "Sure-handed defender. Just an outstanding internal clock. A lot of fun to watch him out on the field."