Each team's best player who never won a title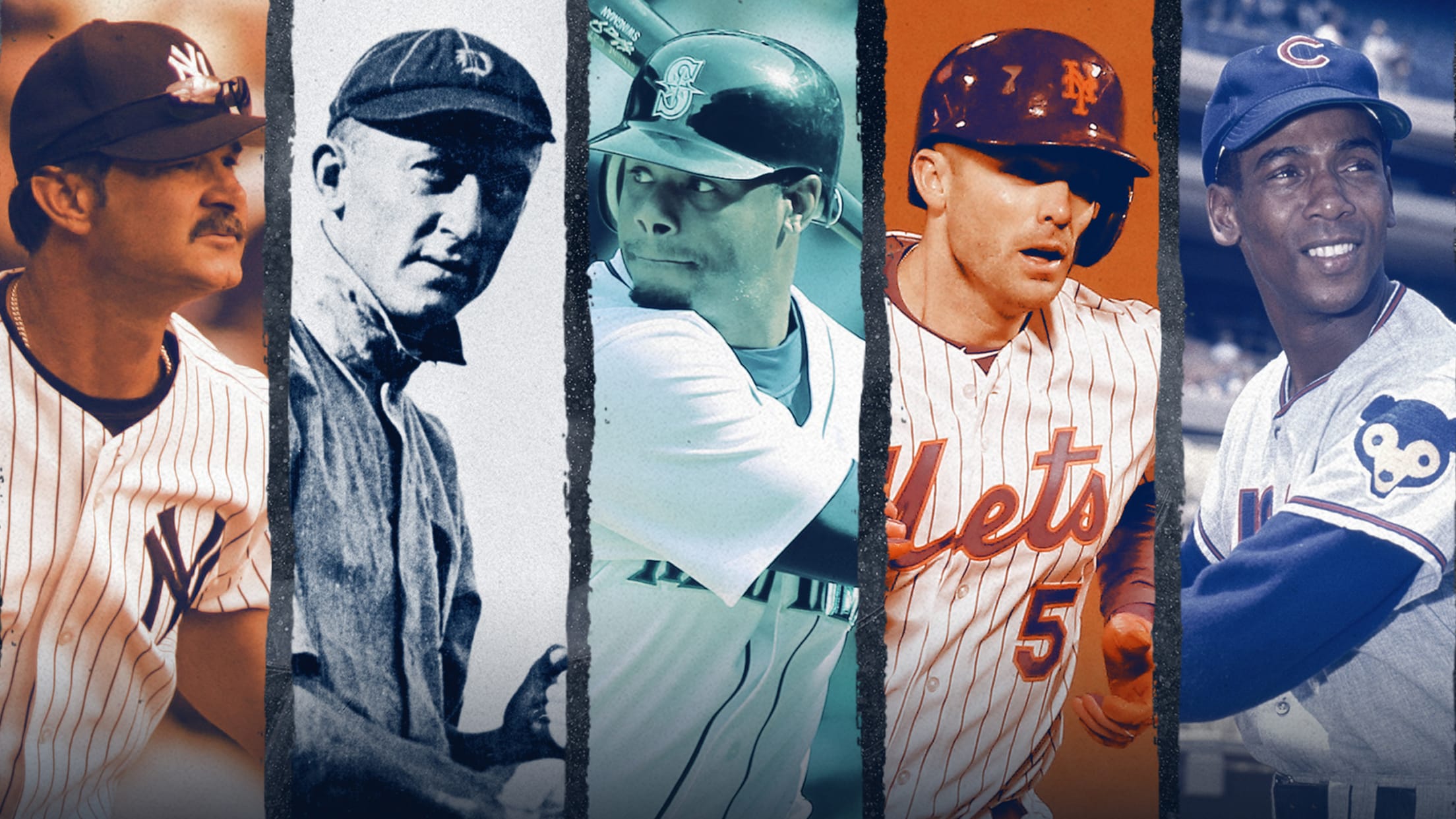 The World Series begins Tuesday, and this World Series is full of great players, including potential Hall of Fame players, who have never won a championship before. That's the goal of any player, to win a title, which is why the truly great players always try to make sure they
The World Series begins Tuesday, and this World Series is full of great players, including potential Hall of Fame players, who have never won a championship before. That's the goal of any player, to win a title, which is why the truly great players always try to make sure they get one before they retire. You can be one of the greatest players of all time, but if you don't get that World Series trophy, your career can't help but feel a little bit incomplete.
So today we look at the best player in franchise history for every team who never ended up getting a World Series title. We're not talking about the best player to only briefly play for that franchise: We mean player who had the best career with that particular team who never won a title anywhere, with that team or elsewhere. (It's why Mark McGwire isn't the Cardinals' pick; he never won one there, but he won one in Oakland; it's also why Phil Niekro wouldn't be, say, the Yankees' pick, since he only played there briefly despite never winning one ever.) Here's the best not to get one.
Note: Years listed are the years the player spent with that club. Asterisk(*) denotes a Hall of Famer.
AMERICAN LEAGUE EAST
Blue Jays -- Roy Halladay*, RHP (1998-2009): Apologies to the great and underappreciated Dave Stieb, but Halladay's a Hall of Famer who only made the postseason twice, both with Philadelphia. He didn't win a title … but he did get to throw a no-hitter.
Orioles -- George Sisler*, 1B (1915-27): He's counted, of course, as a member of the St. Louis Browns, which is why he has a statue outside Busch Stadium but not outside Camden Yards. If you're going with just Orioles … the answer here might be Brady Anderson? Adam Jones? The Orioles haven't won a ton of World Series titles (three), but their icons have all been a part of at least one of them.
Rays -- Evan Longoria, 3B (2008-17): The best Ray ever, by far, to this point … and the Giants look rather far from winning one for him.
Red Sox -- Ted Williams*, RF (1939-60): Teddy Ballgame was American League MVP in 1946, the only year he reached the World Series, but he went 5-for-25 in the seven-game loss to the Cardinals.
Yankees -- Don Mattingly, 1B (1982-95): Poor Mattingly happened to be the best player on the Yankees during the exact wrong era to be the best player on the Yankees.
AMERICAN LEAGUE CENTRAL
Indians -- Nap Lajoie*, 2B (1902-14): To be fair, Nap played six years before there actually was a World Series. His teams only finished better than third place once, but they went ahead and named the team after him anyway. (Yes, Lajoie was so popular that the club switched its name from the Bronchos to the Naps after his first year there. It changed to the Indians in 1915, the season after Lajoie retired.)
Royals -- Amos Otis, CF (1970-83): Otis just missed out, leaving the Royals in 1983, two years before they finally got one. His Royals won a pennant but lost to the Phillies in six in '80.
Tigers -- Ty Cobb*, CF (1905-28): The Tigers made the World Series every year from 1907-09, but they lost all three. Cobb's lifetime batting average was .366, but in the World Series, it was .262.
Twins -- Rod Carew*, 1B/2B (1967-78): Carew first appeared in the postseason in 1969 with the Twins, and last appeared in '82 with the Angels. But he never won a postseason series, and thus never reached the World Series.
White Sox -- Luke Appling*, SS (1930-50): He played for the White Sox from 1930-50, and they had only six winning seasons during that time.
AMERICAN LEAGUE WEST
Angels -- Mike Trout, CF (2012-present): Will he end up retiring atop a dubious list like this? Let's get the first postseason game victory out of the way first.
Astros -- Jeff Bagwell*, 1B (1991-2005): Bagwell was 37 when he finally made it to the Series … he went 1-for-8 in a sweep. You could argue Craig Biggio here, but Bagwell had a great peak (won an MVP in 1994) and also had 14.4 more career WAR (per Baseball-Reference) than his longtime teammate.
Athletics -- Eric Chavez, 3B (1998-2010): Every great era of A's history ended in a championship … except for Chavez's. Matt Chapman may take over his spot soon.
Mariners -- Ken Griffey Jr.*, OF (1989-1999): The Kid's lone postseason series win was that one against the Yankees back in 1995. Edgar Martinez played more years with Seattle, so you could make an argument for him, but he did not have anywhere the cultural impact, and does trail Griffey in career WAR in a Mariners uniform (68.4 to 70.6). If you're curious, Ichiro's career WAR with Seattle is 56.3.
Rangers -- Adrián Beltré, 3B (2011-18): You could go with Rafael Palmeiro here, but it's far more fun to go with the great Beltré.
NATIONAL LEAGUE EAST
Braves -- Phil Niekro*, RHP (1966-83, '87): The knuckleballer wouldn't make his first postseason appearance until he was 30, and then wouldn't make another one until he was 43.
Marlins -- Giancarlo Stanton, OF (2010-17): The best player in Marlins history of course never got to a postseason game until he left town.
Mets -- David Wright, 3B (2004-18): Of all the sad things about the end of his career, that he never won a title with the Mets might be the saddest. His home run in Game 3 of the 2015 World Series remains one of the more delightful moments in recent Mets history.
Nationals -- Ryan Zimmerman, 3B (2005-present): At least for now, anyway, it's Zimmerman. If you include the years the franchise was in Montreal, the answer is Andre Dawson. (Remember, Tim Raines won two rings with the Yankees late in his career.)
Phillies -- Robin Roberts*, RHP, 1948-61): Fourteen years in Philadelphia, seven straight All-Star Game appearances … but only one sad World Series loss.
NATIONAL LEAGUE CENTRAL
Brewers -- Robin Yount*, SS/CF (1974-93): Yount hit .414 in his one World Series appearance, but it just wasn't quite enough to beat the 1982 Cardinals.
Cardinals -- Ted Simmons, C (1968-80): The perpetually underappreciated catcher, who has a much better Hall of Fame case than he is credited for having, never made it to the postseason in St. Louis, but he did play against them in the 1982 World Series (and lost).
Cubs -- Ernie Banks*, SS/1B (1953-71): Obviously, there are many Cubs greats to choose from here, and if you wanted to go with Ron Santo, Billy Williams or Ryne Sandberg you could. But it is wrong that the man they called Mr. Cub never got to play a postseason game.
Pirates -- Barry Bonds, OF (1986-92): Of all the unbelievable things that Bonds did in his career, that he is on this list twice might be among the most remarkable. He went to the playoffs in his final three years in Pittsburgh, losing in the National League Championship Series all three times, the final one in excruciating fashion.
Reds -- Joey Votto, 1B (2007-present): According to Baseball-Reference's WAR, the only four players in Reds history better than him on the Reds are Pete Rose, Johnny Bench, Barry Larkin and Frank Robinson. That's right, he's even ahead of Joe Morgan.
NATIONAL LEAGUE WEST
D-backs -- Paul Goldschmidt, 1B (2011-18): Probably the second-best-ever D-back, behind Randy Johnson.
Dodgers -- Clayton Kershaw, LHP (2008-present): He passed Don Drysdale this year for the highest WAR in Dodgers history, an incredible stat that sort of passed by in 2019 without anyone noticing. Not that it made him feel any better in October.
Giants -- Barry Bonds, OF (1993-2007): That Bonds, maybe the best baseball player of the last 50 years, never got a World Series ring is the ultimate example of how unpredictable, even random, baseball can be. Silver lining: After developing a reputation early in his career for being an October "choker," he was phenomenal in the 2002 postseason, when the Giants lost to the Angels in the World Series, hitting an obscene .471/.700/1.294 in the Fall Classic.
Padres -- Tony Gwynn*, OF (1982-2001): You can't blame Gwynn for the two Padres World Series losses: He hit .371 in his two World Series appearances, spaced 14 years apart.
Rockies -- Todd Helton, 1B (1997-2013): Someday Nolan Arenado may pass him as the best player in Rockies history … something that looks more likely than Arenado reaching the Series once like Helton did.