Be amazed at these jaw-dropping outfield throws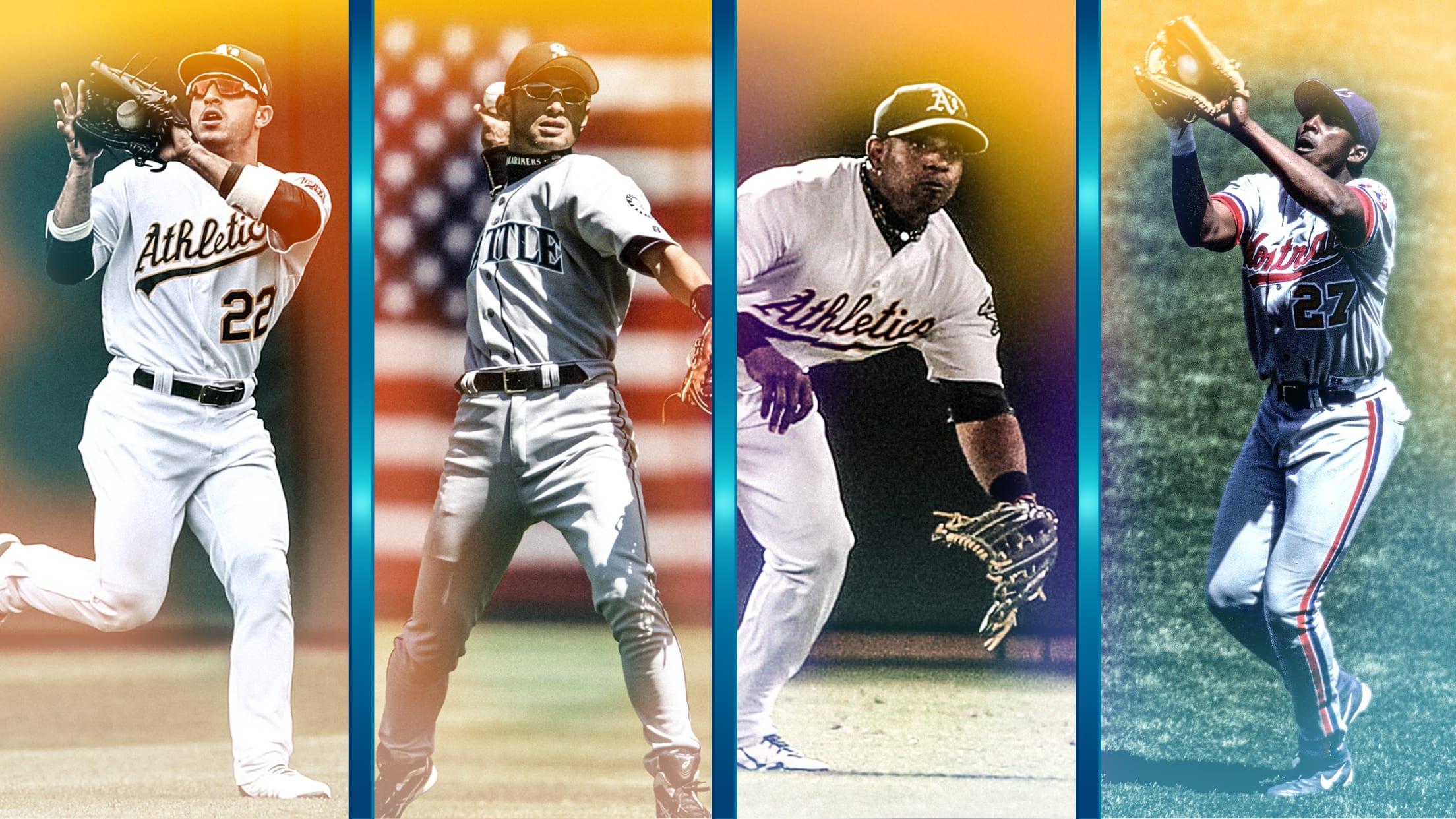 There are few things in baseball that are more satisfying to watch than a laser throw from the far reaches of the outfield. The problem, of course, is that outfielders with legendary arms tend to see their opportunities to throw out runners decrease over time, as teams start to avoid
There are few things in baseball that are more satisfying to watch than a laser throw from the far reaches of the outfield.
The problem, of course, is that outfielders with legendary arms tend to see their opportunities to throw out runners decrease over time, as teams start to avoid testing them. Before that happens, however, these players usually have chances to build their reputations, leading to jaw-dropping plays such as the ones below.
These are the greatest outfield throws in recent big league memory.
With respect to Bo, Puig, Guillen, Winfield and more … which outfield throw is the best of all-time?

(MLB x @BarbasolShave)

— MLB (@MLB) June 9, 2019
Ramon Laureano, A's
Aug. 11, 2018, at Angels
Laureano has earned the nickname "Laser Ramon" for his incredible outfield assists, and this is the throw that put him on the map. After ranging to left-center field to reel in Justin Upton's fly ball, Laureano came to a stop on the warning track and unleashed a stunning 321-foot throw -- longer than a standard football field, goal line to goal line -- that reached first baseman Mark Canha on the fly to double off Eric Young Jr.
Ichiro Suzuki, Mariners
April 11, 2001, at A's
It didn't take long for the legend of Ichiro to grow. In his first eight Major League games, the Mariners outfielder delivered 13 hits, a .371 average, one homer and a throw that showed North American baseball fans what type of cannon he possessed. Terrence Long made the mistake of trying to go from first to third on Ramon Hernandez's single and was thrown out after Ichiro delivered a frozen rope from right field.
Yoenis Cespedes, A's
June 10, 2014, at Angels
Laureano wasn't the first A's outfielder to turn heads with an unbelievable throw at Angel Stadium, as Cespedes did it nearly four years earlier. Although Cespedes initially misplayed Mike Trout's double down the left-field line and had to chase after the ball, he recovered it and fired a strike to the plate on the fly to nail Howie Kendrick. Cespedes' timely heave kept the game tied at 1-1 in the bottom of the eighth inning, though the Angels would eventually win in 14.
Vladimir Guerrero, Expos
June 3, 1997, at Mets
There were multiple reasons why Guerrero was one of the most entertaining superstars of his generation, starting with his willingness to swing at -- and ability to crush -- pitches that were well outside the strike zone. Another big part of his allure was his rocket right arm, which he showed off when he made a one-hop throw from the right-field corner to nab the Mets' Todd Hundley at the plate during his 1997 rookie season.
Best of the rest
There have been plenty of stellar submissions in this category over the years. Here are some more awe-inspiring outfield throws.
Yasiel Puig, Dodgers
April 22, 2016, at Rockies
After his leap came up short and Trevor Story's fly ball bounced off the right-field wall, Puig picked it up in front of the warning track and made an on-the-money throw to third base from more than 300 feet away, with Justin Turner catching the ball in front of the bag as Story slid into the tag. Watch >
Aaron Hicks, Yankees
April 20, 2016, vs. A's
Hicks still holds the Statcast record for the fastest throw ever tracked at 105.5 mph, a mark he reached when he nabbed Danny Valencia at the plate following Yonder Alonso's fly ball to medium-depth left field. Watch >
Jose Guillen, Pirates
July 27, 1998, at Rockies
Like Puig in 2016, Guillen stunned Rockies fans at Coors Field with a sensational throw from just in front of the warning track in right field after a fly ball eluded his leaping try and bounced off the wall. While the exact distance is unknown because Statcast didn't exist back then, Guillen's throw was caught chest high by third baseman Keith Osik and beat Neifi Perez to the bag by multiple steps. Watch >
Bo Jackson, Royals
June 5, 1989, at Mariners
Jackson, an amazing two-sport athlete who played in the NFL as well as MLB, enjoyed his best pro baseball season in 1989, when he earned his only All-Star nod and finished 10th in the American League MVP Award voting. One of Jackson's most memorable plays during that special season came when he cut down the speedy Harold Reynolds at the plate with a ridiculous throw from deep left field. Watch >