Rookie relievers stepping up for Mariners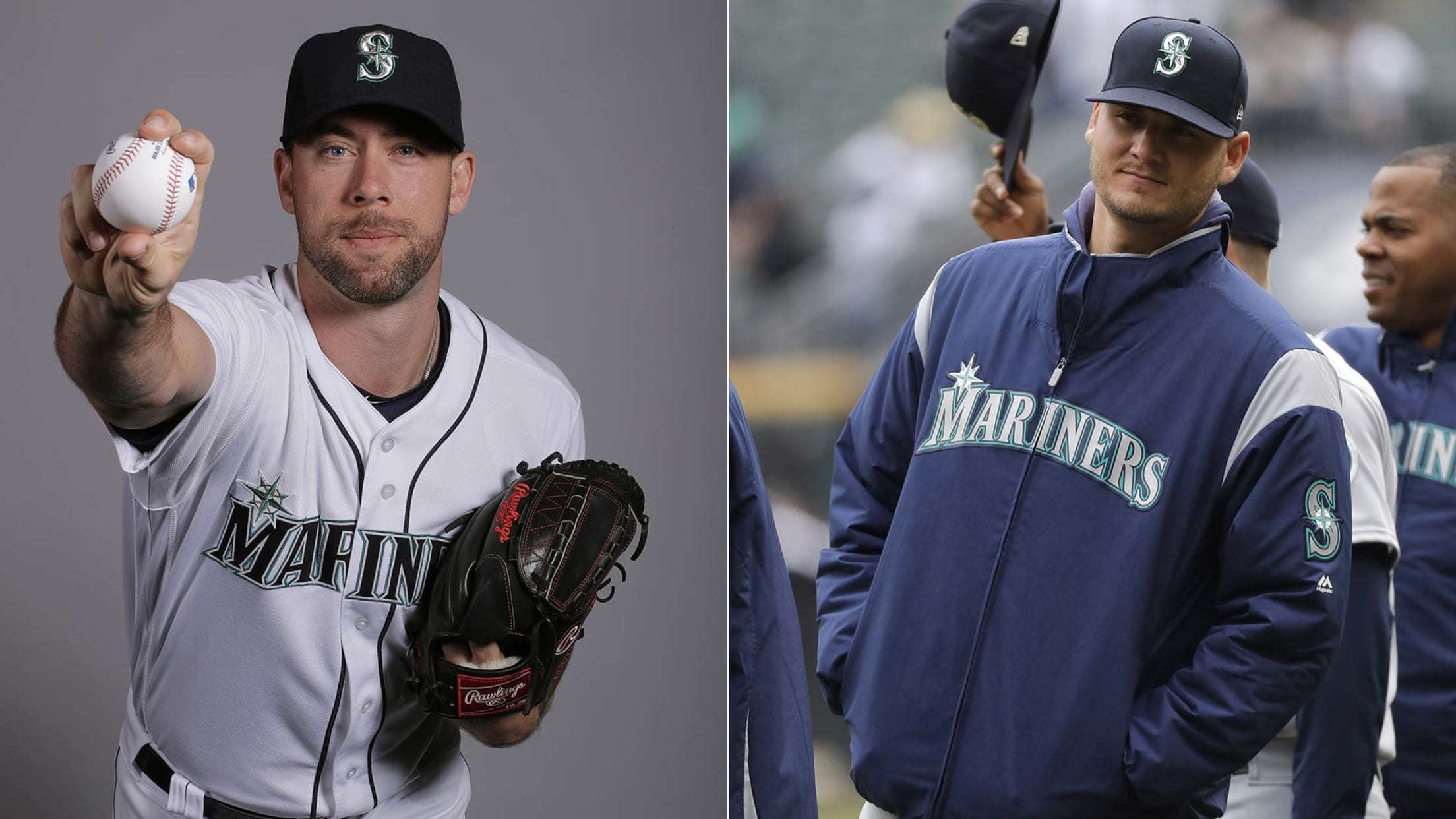 SEATTLE -- You could have won a lot of money a month ago betting that Brandon Brennan would be the winning pitcher and Connor Sadzeck would earn the save in a victory that put the Mariners' record at 13-2 on the season. But that's the way things have been rolling
SEATTLE -- You could have won a lot of money a month ago betting that Brandon Brennan would be the winning pitcher and Connor Sadzeck would earn the save in a victory that put the Mariners' record at 13-2 on the season.
But that's the way things have been rolling recently for a Seattle club that has received unprecedented production from its offense, and timely contributions from a largely unknown bullpen.
Brennan, acquired in the Rule 5 Draft, has been a solidifying force in the revamped relief crew, and on Thursday he struck out three in the ninth inning -- working around a throwing error on himself -- to earn his first MLB win. That milestone came on the heels of a Daniel Vogelbach homer that put the Mariners ahead in the 10th in a 7-6 victory in Kansas City.
That set up Sadzeck for his first career save, a heady moment for the towering 6-foot-7 right-hander, who was acquired by trade from Texas 10 days earlier after being designated for assignment.
The rookie duo was thrust into prominent roles because Anthony Swarzak had pitched the previous two days, and lefty Roenis Elias also was off for the day after throwing four innings over the previous three games. But as has seemingly become the routine for this Mariners club, Brennan and Sadzeck stepped up and the beat went on.
"I'm so grateful for the opportunity to be part of not just a big league ballclub, but a winning big league ballclub, and one that is turning a lot of heads," said Sadzeck, who has given up just one hit and one walk with four strikeouts over four innings in his first three outings. "It's been awesome to contribute to that."
The Mariners are intrigued by the potential of the imposing 240-pounder with mid-90s heat and a developing slider. Sadzeck's struggles in Texas revolved around command, but the Mariners believe if he leans more on his slider to set up the fastball, they might have something.
He went heavy in early counts with the slider in his save situation on Thursday. Against red-hot Royals leadoff man Whit Merrifield, he threw four straight sliders and then struck him out for the final out on a 97.6 mph fastball.
"A lot of us get a little stubborn with the fastball and you feel you have to establish it and get ahead, so you keep going to it," he said. "This is just a different way of thinking. If I can throw another pitch for a strike, why wouldn't I? My strike percentage is much higher on my slider than my fastball. You go out there and say, 'OK, I can throw my slider for a strike, so let's get ahead.' It frees up the fastball a little bit."
Brennan takes a different approach as he features a sinker-changeup combination that has proven very effective. The Mariners took him in the Rule 5 Draft because they felt the changeup was a unique weapon, and he's done nothing to disappoint, having allowed just five hits with two walks and 10 strikeouts in 9 2/3 scoreless innings to start his big league career.
And now he has a big league win on his resume after being thrown into the ninth-inning situation.
"I just tried to keep my same mentality, regardless of whether I come in the second, eighth, 10th, 11th, whatever inning they want to throw me in," Brennan said. "I still have to focus hitter-by-hitter and pitch-by-pitch."
Even Brennan acknowledges, however, that he didn't imagine being a late-inning option for a big league team after pitching primarily at the Double-A level last year in the White Sox organization -- his seventh season in the Minors.
"I wasn't really expecting to be that guy," he said. "But here I am and I wouldn't change it for the world."
More help on the way
Manager Scott Servais said Sam Tuivailala is perhaps a month or so away from returning to the Majors as he continues working back from surgery to repair a ruptured Achilles tendon. Tuivailala was acquired from the Cardinals last July 27 and was expected to be a big piece in the Mariners' bullpen, but hurt his Achilles in his fifth appearance.
The 26-year-old continues rehabbing in Arizona and is close to throwing live batting practice, according to Servais.
"Once you do that once or twice, then you're ready to go out on a rehab assignment," Servais said. "It's all positive in how he's progressing. He'd be another great arm if he gets in our bullpen. I don't have a timeline for that, it could be mid-to-late May."
The Mariners are also awaiting the return of hard-throwing right-hander Gerson Bautista, who strained his right pectoral muscle in a Cactus League game last month and is still recovering.
Servais said Bautista's return has been slowed by a recent setback, but he's back to where he could throw off the bullpen mound in the next few days and begin progressing in his throwing program again.