Commissioner Manfred visits T-Mobile Park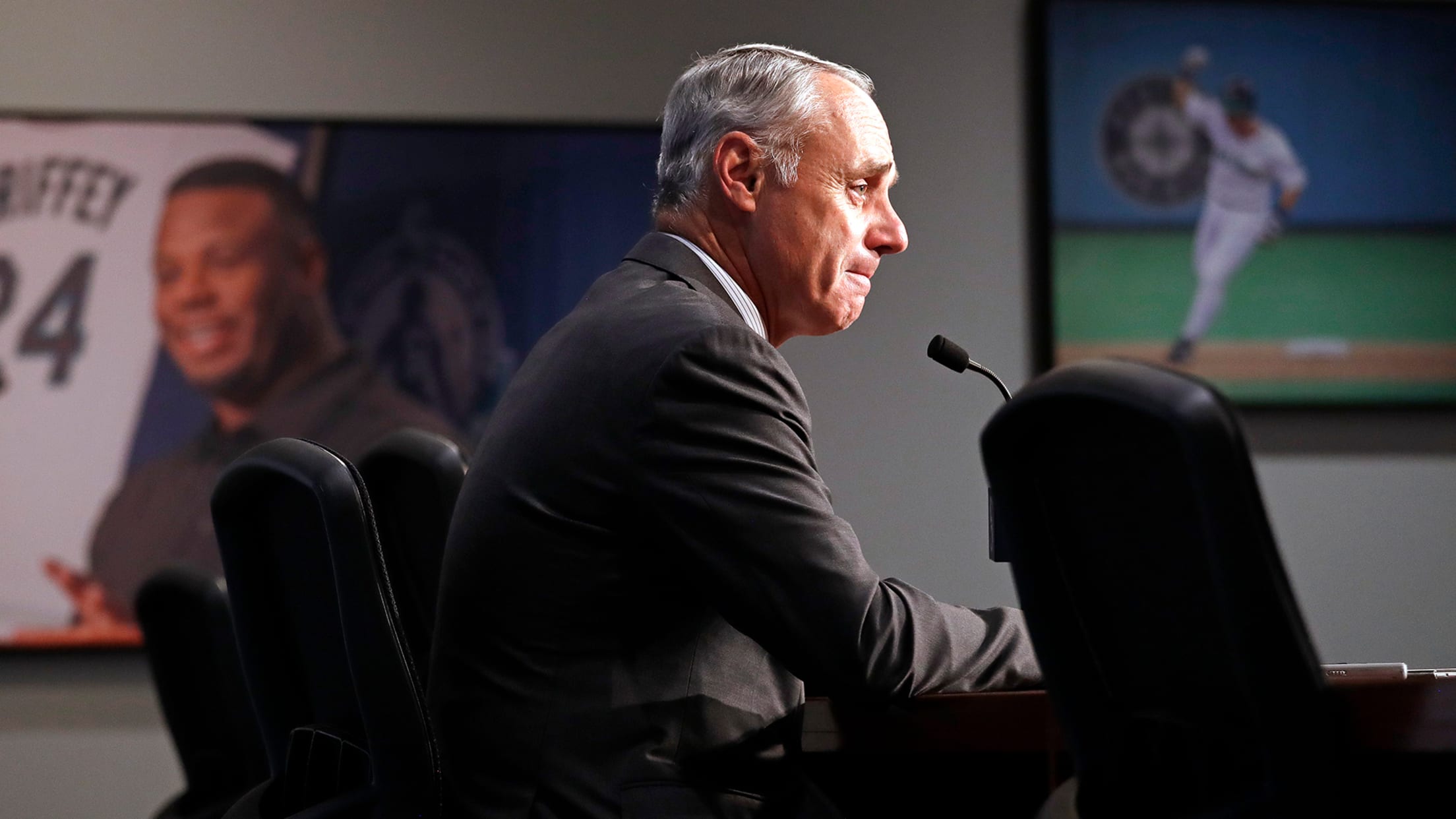 SEATTLE -- The last time Seattle hosted the All-Star Game, the Mariners were in the midst of a historic season, and T-Mobile Park (then called Safeco Field) was one of the Majors' newest ballparks. Could Seattle be in store for hosting the Midsummer Classic again? Quite possibly, according to MLB
SEATTLE -- The last time Seattle hosted the All-Star Game, the Mariners were in the midst of a historic season, and T-Mobile Park (then called Safeco Field) was one of the Majors' newest ballparks.
Could Seattle be in store for hosting the Midsummer Classic again? Quite possibly, according to MLB Commissioner Rob Manfred, but the club hasn't formally placed a bid, he said.
Speaking at T-Mobile Park on Tuesday as part of a scheduled visit with the Mariners, their front-office staff and the state champion Garfield High School softball team, Manfred said that Seattle could receive strong consideration should the club pursue an All-Star Game bid in the near future. T-Mobile Park hasn't hosted an All-Star Game since 2001, which came less than two years after the park opened in July 1999
"Once you're in -- let me pick a random number -- 18-plus-year category since you've had a game, when the club comes forward to make a bid, they would be in the category that would get active consideration," Manfred said. "Obviously we don't like to go to markets too close together because we have 30 that we're trying to serve. But once it's been -- like I said, let me pick a number, 18 years or so -- it's time that that consideration can be active.
SunTrust Park in Atlanta, which opened in '17, will host the ASG in '21, and Citizens Bank Park in Philadelphia will host in '26 as part of the 250th anniversary of the signing of the Declaration of Independence. Neither venue has hosted an All-Star Game before. MLB hasn't named any other future ASG venues.
"It's just a standard bid process," Manfred said. "The club comes forward, picks a year or years that they're interested in, submits a bid that demonstrates the availability of the relevant facilities that would include hotels, convention centers. Obviously, the ballpark itself. We have not received a bid from Seattle as of yet."
The '01 All-Star Game was played while the Mariners were en route to a 116-win season, an MLB record that hasn't been matched.