Inbox: How will Vogelbach's future play out?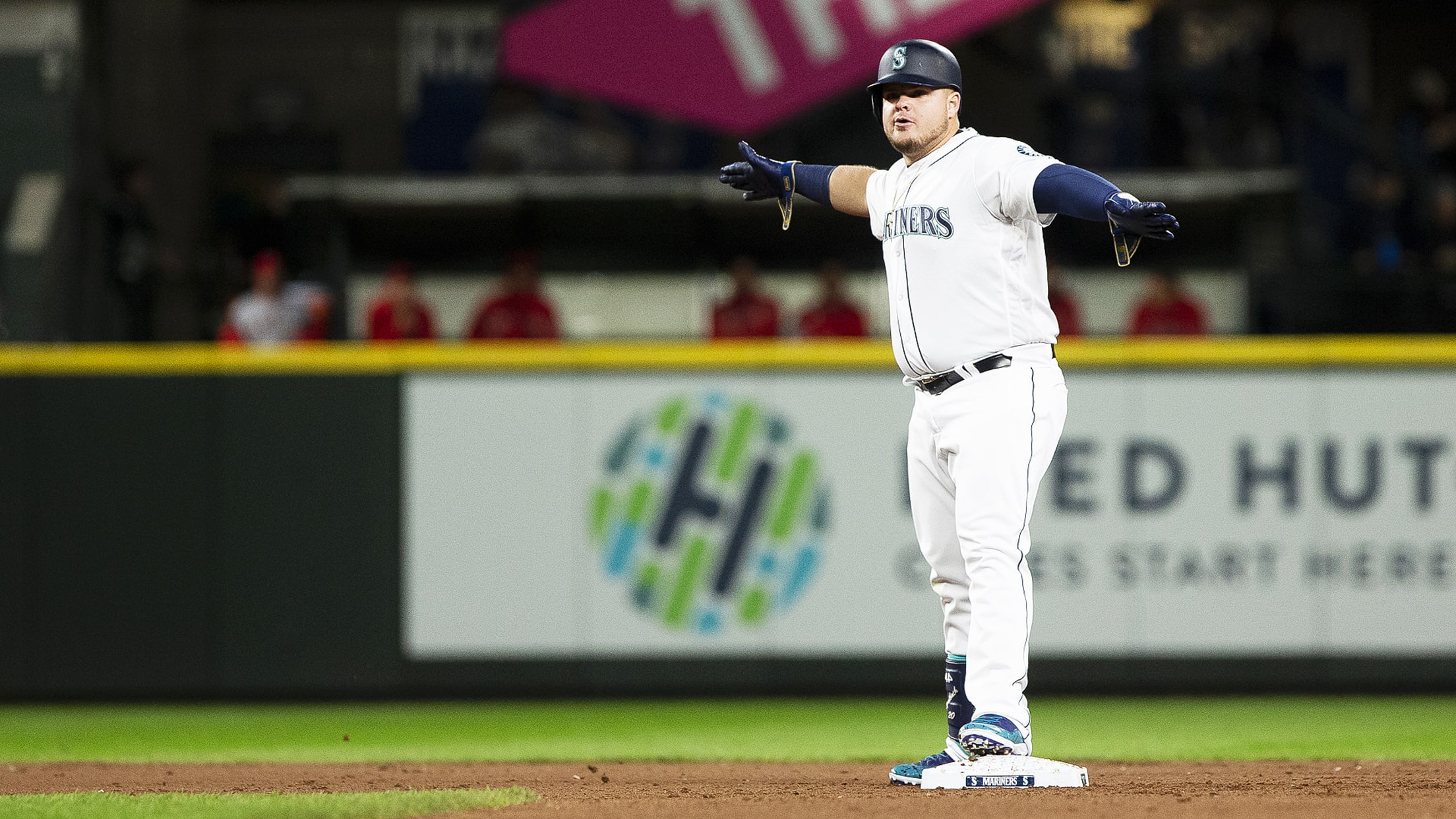 What is one word you would use to describe the Mariners season thus far? -- Ryan H., Prosser, Wash. Given the low expectations following the departure of so many core players, it's hard to go with anything besides "surprising" as they head into Monday's off-day with the best record in
What is one word you would use to describe the Mariners season thus far?
-- Ryan H., Prosser, Wash.
Given the low expectations following the departure of so many core players, it's hard to go with anything besides "surprising" as they head into Monday's off-day with the best record in baseball and a Major League record for the most home runs in the first 25 games of a season.
Do you think Daniel Vogelbach has worked his way into future plans for the Mariners or is he a guy that could also be moved?
-- Dakoda H., Silverdale, Wash.
Vogelbach has been the poster boy for the surprising start and has definitely forged his way into the future plans by firmly grasping his first extended opportunity. At 26 years old and with five years of team control remaining, he fits perfectly into the window of opportunity that Jerry Dipoto is aiming for as his developing prospects arrive to coincide with the maturation of some of the young core establishing itself with the big-league club.
With Nelson Cruz's departure, this is Vogelbach's season to show if he can be the full-time designated hitter. And so far, he's been remarkable. It's not just the eight homers and .327 batting average in 18 games, but also the whopping .472 on-base average with 15 walks to go with his 18 hits. There is no reason to trade Vogelbach. He appears to be exactly the type of young, cost-controlled, developing player the Mariners want to build around.
Do you think Justus Sheffield will get called up from Tacoma soon?
-- Janae P., Keizer, Ore.
I suspect Seattle's top pitching prospect will get his first shot as soon as this weekend when the Mariners likely will give Yusei Kikuchi his first "one-inning" start to control his workload. Triple-A Tacoma used reliever Matt Tenuta as an "opener" on Monday, then brought Sheffield in behind him for three innings instead of his normal start.
I'm guessing that was a practice run for Sheffield before being used in similar fashion behind Kikuchi, which is a nice way to break in the promising 22-year-old. He'll eventually get a full-time starting role, but for now the Mariners are bringing him along slowly, and he'll likely go back to Tacoma after backing up Kikuchi until Seattle has a permanent rotation opening.
Is the organization feeling any pressure to promote pitching from Double-A and below given the struggles of the Rainiers pitching staff and Mariners bullpen? Are there any relievers in the system we should familiarize ourselves with that may be moved up aggressively to fill some of the above holes?
-- Anthony G., Chicago
This is definitely the club's biggest current challenge. Keep an eye on Art Warren, who is off to a good start as the closer for Double-A Arkansas after an injury-plagued 2018 that dropped him off the radar a bit. I've also heard good reports on Nolan Hoffman, a fifth-round pick out of Texas A&M last June who is throwing well at Class A West Virginia.
There are also two intriguing 28-year-old relievers – Parker Markel and Aaron Northcraft – who were just promoted to Tacoma after pitching extremely well at Arkansas. Both signed as Minor League free agents over the offseason after not pitching pro ball last year, or the last two year's in Northcraft's case.
Northcraft, a former Braves prospect, has given up just one run on five hits with five strikeouts in 8 2/3 innings. Markel, who was pitching independent league ball last year in Sioux City, Iowa, has been off the charts. With an upper-90s fastball, he's racked up a whopping 21 strikeouts with just two hits and two walks in 8 2/3 scoreless innings.
Do you have an update on Ichiro Suzuki? Does he have an official role with the Mariners? Do you know what his plans are or the club's plans are for the rest of the season?
-- Gilbert M., Austin, Texas
All I've heard is that Ichiro is back in Japan finishing up some business. When he returns, he's expected to do some advisory work with the big league club as well as the Minor League teams in Everett and Tacoma.
At this point, there is no word yet of a public retirement ceremony at T-Mobile Park, as apparently he doesn't want to detract from what the team is doing at this time.
In the coming seasons, how do you see the outfield positions turning out? Mallex Smith, Mitch Haniger and Domingo Santana are a pretty strong unit, while Kyle Lewis, Jarred Kelenic and Julio Rodriguez are some strong upcoming players. They all can't play at once.
-- Derek H., Moses Lake, Wash.
Having too many good players is never a bad problem to have and these things usually have a way of sorting themselves out. For starters, Kelenic and Rodriguez are just teenagers playing Class A ball and likely two years away even in the most-optimistic scenario. And Lewis needs to stay healthy and establish himself at Double-A ball before even thinking about his next step.
As we've learned time and again, having depth at any position is huge as unexpected things happen every year.
Does it make sense to hang on to Edwin Encarnacion to year's end even with a shot at the playoffs? Barring injuries, when Kyle Seager comes back Ryon Healy can cover first and Edwin's value will be lost at year's end.
-- Butch W., Tumwater, Wash.
I think moving any of the veterans on expiring contracts will come down to what kind of offers the Mariners get in return. They don't have to trade Encarnacion if the team remains in the postseason hunt, so unless they get an enticing prospect in return, Dipoto could just let this surprising start play out and see what happens.