Hernandez ready for Wednesday return
Mariners' ace strikes out seven over 5 2/3 innings in final rehab stint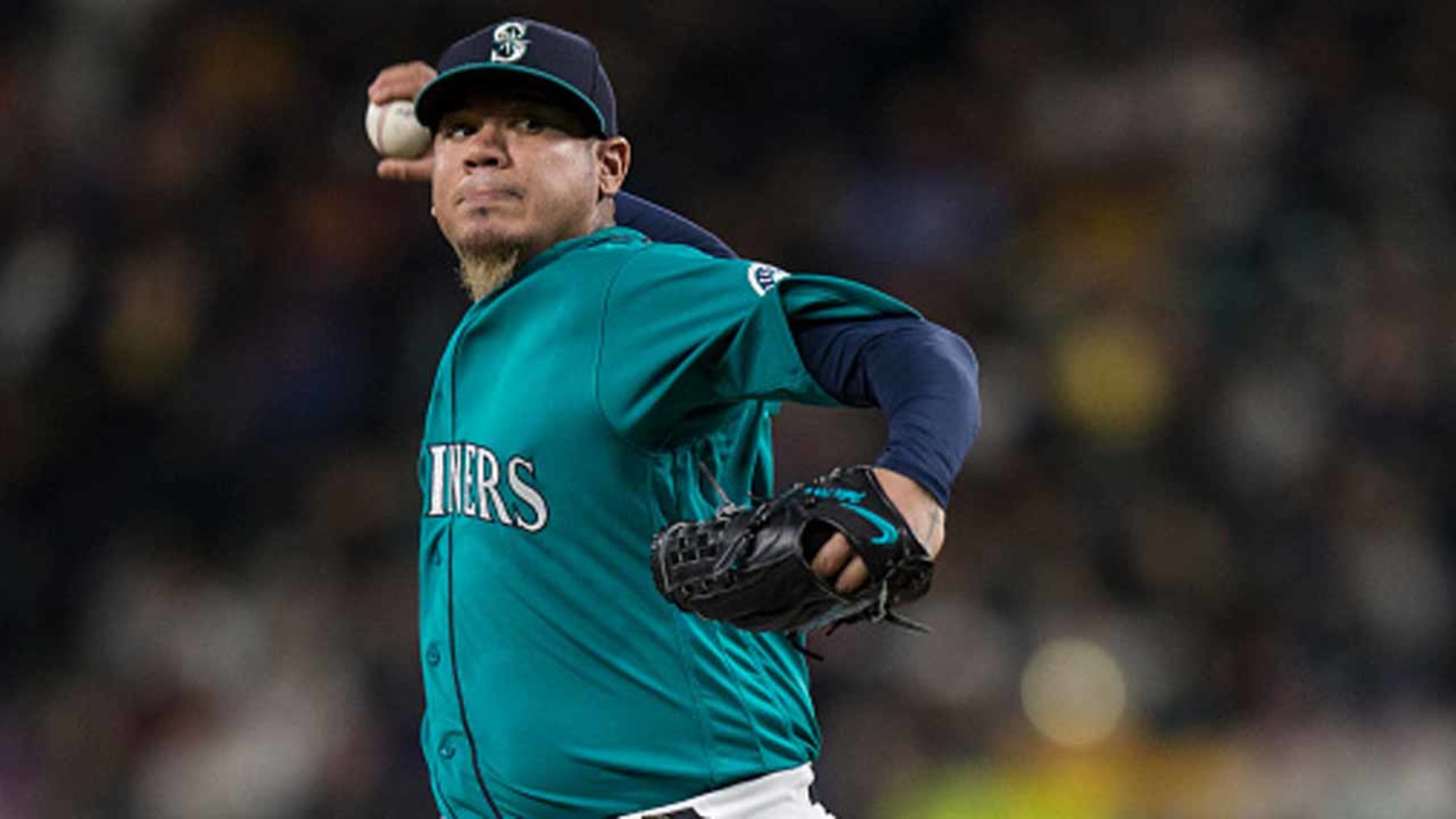 Mariners ace Felix Hernandez, who has been on the disabled list since May 27, is scheduled to return to the Seattle rotation on Wednesday against the White Sox. He pitched 5 2/3 innings, allowing one run and five hits, in a Triple-A rehab stint Friday night. (Photo by Stephen Brashear/Getty Images) (Stephen Brashear/Getty Images)
TACOMA, Wash. -- The last time Félix Hernández took the mound for the Tacoma Rainiers at Cheney Stadium, the date was July 30, 2005. His Triple-A teammates included Shin-Soo Choo, Chris Snelling and Greg Dobbs. He dominated Omaha with four no-hit innings, striking out seven and making his Major League
TACOMA, Wash. -- The last time Félix Hernández took the mound for the Tacoma Rainiers at Cheney Stadium, the date was July 30, 2005. His Triple-A teammates included Shin-Soo Choo, Chris Snelling and Greg Dobbs. He dominated Omaha with four no-hit innings, striking out seven and making his Major League debut four days later in Detroit.
Hernandez was a 19-year-old wunderkind from Venezuela back then, the man who would be King. He had a boundless future with the Mariners. He had pizazz on the mound. He had an overflowing head full of long, curly hair.
Eleven years later, he's older, wiser and a lot better. And despite the fact that he hasn't pitched for the Mariners since May 28, five days after straining his right calf, Hernandez entered the game Friday confident that he'd be making his last rehab outing before rejoining the Mariners on July 20 vs. the White Sox at Safeco Field.
He did not provide any reason for doubt that he'll be right on target, going 5 2/3 innings against Colorado Springs, the Triple-A affiliate of the Milwaukee Brewers. He gave up one run on five hits, including a solo home run by Manny Piña, and struck out seven batters (six of them swinging) while walking one.
Hernandez's fastball was popping catcher Mike Zunino's glove at 91-92 mph for most of his outing, with the occasional changeups and curveballs painting the zone more often than not. Of Hernandez's 75 pitches, 52 were strikes.
"I felt really, really good," Hernandez said. "It was a better mound [than in his previous rehab outing in Everett], better mechanics. Everything was good. Everything was working tonight. I'm ready to go."
The kid who electrified Tacoma for such a brief time all those years ago came back as a former Cy Young Award winner, author of the last perfect game pitched in the Major Leagues and a long-since-crowned member of Seattle sports royalty.
Since he left Tacoma for The Show, Cheney has been remodeled in such a dramatic way that Hernandez said he almost didn't recognize it.
"There have been a lot of changes in the clubhouse and the stadium," Hernandez said. "It's way different now. That's 11 years ago."
And while this trip back in time might have been only a brief stopover on Hernandez's road back to Seattle, the fans couldn't get enough of the returning hero.
The sellout crowd of 7,296 hoisted red giveaway K cards with a crown atop the Rainiers R that read, "We R Felix" while wearing similarly designed T-shirts. They posed for selfies in the food court next to a likeness of the long-locked teenager, forever honored at Cheney for his historic contribution to the franchise. And when Hernandez was taken out after getting the second out of the sixth inning, having reached his prescribed pitch count, they gave him a standing ovation as he tipped his Rainiers cap.
"I'm happy," Hernandez said. "I'm happy to be back and happy to come back with the team and help them to win and get ready to go."
Hernandez said he is good friends with Pina, so it made sense that he was pulled from the game with his buddy waiting at the plate as the next batter up. He wasn't going to give him the opportunity to capitalize on a mistake again.
Otherwise, Hernandez said he improved from his Everett outing in two major areas.
"My mechanics and throwing a lot of strikes," Hernandez said. "That's the key for me.
"When I'm down in the zone and throwing a lot of strikes, I get a lot of people out."