Inbox: What is Vogelbach's future in Seattle?
Beat reporter Greg Johns answers questions from Mariners fans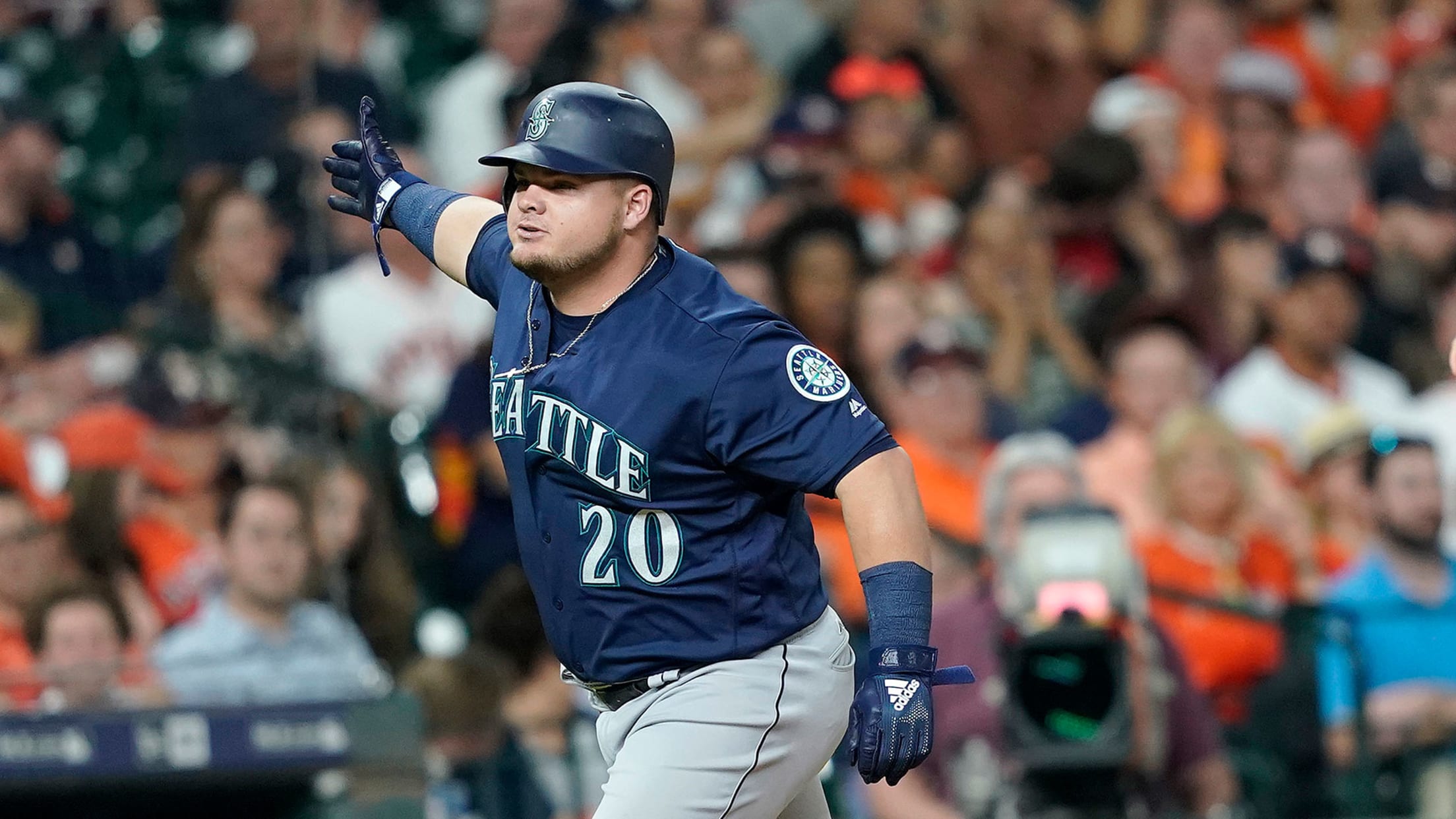 I read that Daniel Vogelbach is out of Minor League options. What are the Mariners' plans with him this spring? -- Mason L., Portland, Ore.The big man will again come to camp with a chance to compete for a job at designated hitter and first base. And yes, this time
I read that Daniel Vogelbach is out of Minor League options. What are the Mariners' plans with him this spring?
-- Mason L., Portland, Ore.
The big man will again come to camp with a chance to compete for a job at designated hitter and first base. And yes, this time Vogelbach is out of options, which means if he's sent down to Triple-A Tacoma, he'll need to clear waivers in order to stay in the organization.
General manager Jerry Dipoto would still like to see what Vogelbach can do given an extensive run of at-bats at the Major League level, as he's clearly shown the ability to hit at Triple-A, as well as putting together a monster Cactus League performance last spring.
:: Submit a question to the Mariners Inbox ::
To date, that hasn't translated to success with the Mariners for Vogelbach, though he did hit a couple of prodigious homers last season, including a game-winning pinch-hit grand slam to beat the Astros in mid-September. So there remains some curiosity about the 26-year-old, and if the Mariners can trade Edwin Encarnacion, I wouldn't be surprised to see Vogelbach get a lengthy look at DH to see if he still might be part of the youth movement that Dipoto envisions going forward.
Can Jay Bruce be an everyday first baseman? He has a so-so defensive record based on 36 career games at the position. If he's still on the club in the spring (assuming Encarnacion isn't and Vogelbach is a strict DH, if he's on the team), where does Bruce fit?
-- Alan H., Seattle
Bruce has been a right fielder most of his career and was a three-time All-Star at the position with the Reds, but he did play 21 games at first for the Mets last year after returning from a right hip injury that hindered much of his season.
After coming to Seattle as part of the Robinson Cano/Edwin Diaz deal, the Mariners plan to get Bruce some at-bats in left field, though young slugger Domingo Santana will be the primary guy there. But Bruce also will see some time at first base, where he'd be a potential platoon partner with Ryon Healy, as well as getting some at-bats at DH.
The big question will be to see if Bruce can produce enough at the plate to reinvigorate his trade value, given he doesn't really fit in Dipoto's long-term plans, with two years and $28 million remaining on his deal.
With the Mariners' youth movement, will Dipoto look to move Encarnacion? If so, when should we look for a possible trade?
-- Ryan H., Olympia, Wash.
Sure, Encarnacion is almost certain to be dealt at some point, given he's owed $20 million for this season, plus a $5 million buyout for next year. Like Bruce, he was acquired primarily as salary relief, as Dipoto took on short-term contracts while getting out from under lengthy deals for Cano and Jean Segura. But the 36-year-old remains an accomplished hitter and the Mariners aren't going to just give him away.
If Dipoto doesn't get a reasonable offer in the coming weeks -- either a decent prospect or a Competitive Balance Draft pick -- there are worse things than going into the season with a DH who hit 32 homers and drove in 107 runs last year, and who has the most homers in MLB since 2012 (263). As with Bruce, the Mariners could then see if Encarnacion's trade stock rises when contending teams need a veteran slugger down the stretch.
Now that we have signed Yusei Kikuchi, what type of pitcher is he?
-- Derek C., Sedro Woolley, Wash.
Unlike a lot of Japanese pitchers, Kikuchi is a power lefty, with a fastball that clocks anywhere from 92-98 mph and generally sits around 94. While he'll wear Hisashi Iwakuma's No. 18 jersey, he'll bring more heat and strikeout potential than the savvy Kuma. Whether he has similar success will depend on if he can command his four-pitch arsenal and keep hitters off balance as well as Iwakuma did.
• Kikuchi excited for opportunity with Mariners | Club plans to limit lefty's innings in 2019
The 27-year-old also has a very good slider, along with a decent curve and changeup. Given the way Seattle's ballpark generally favors left-handed pitchers, Kikuchi should be a nice fit for the Mariners if he stays healthy and lives up to advance billing.
With our growing crop of young talented outfielders, is there even a remote chance we will see Eric Filia in a Mariners uniform in the next two or so years? I mean, look at that strikeout-to-walk ratio. You just can't coach that.
-- Bryson H., Tumwater, Wash.
Filia is an interesting case and he has been invited to Major League Spring Training for the first time next month. The 26-year-old out of UCLA has been an on-base machine in the lower Minors and the Arizona Fall League. Though his average dropped to .274 when promoted to Double-A Arkansas last year, he posted a .371 OBP with 30 strikeouts and 44 walks in 345 plate appearances.
The Mariners were very intrigued by Filia a year ago and he remains their No. 22 prospect per MLB Pipeline, but he didn't help himself by earning a 50-game suspension in 2018 for a second failed drug test. He also didn't show much power, with two homers and a .348 slugging percentage in 79 games at Arkansas, but his command of the strike zone and his bat-to-ball skills are so exceptional that he's definitely one to keep an eye on.