Mariners coaching trio to work remotely in '20
Hitting, first-base, bullpen coaches will limit exposure due to high-risk status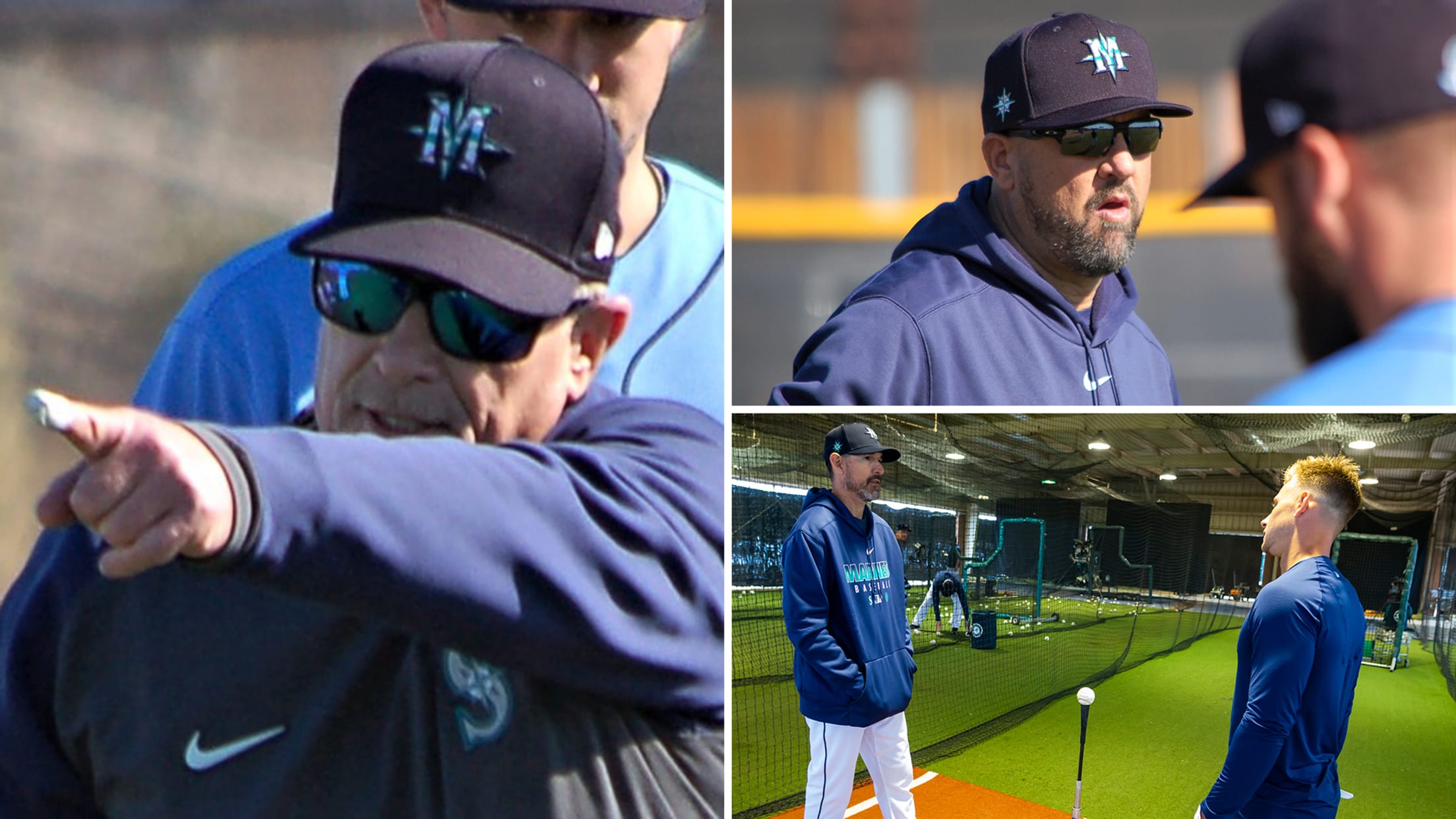 SEATTLE -- With the health and well-being of their staff the top priority, the Mariners have made several changes to their coaching plans for the upcoming season as the club took the field together on Friday for the first time in 3 1/2 months. Hitting coach Tim Laker, first-base/infield coach
SEATTLE -- With the health and well-being of their staff the top priority, the Mariners have made several changes to their coaching plans for the upcoming season as the club took the field together on Friday for the first time in 3 1/2 months.
Hitting coach Tim Laker, first-base/infield coach Perry Hill and bullpen coach Brian DeLunas will all work remotely instead of being with the team in order to reduce their risk of exposure to COVID-19. None of the three are sick, but all fall in the high-risk category for various reasons.
• Mariners FAQ: Details on the upcoming season
Manager Scott Servais said Minor League field coordinator Tony Arnerich will also work remotely instead of doing his normal duties, and he will also work with all the catchers in the system.
"We're going to miss seeing those guys every day and having them on the field," Servais said. "It's tough not having those guys around. They mean a great deal to our team, our players, our clubhouse environment. They still will be working and watching a ton of video in contact with the coaches that are here.
"It's a decision made by a combination of MLB, the organization and doctors involved. It's a tough one, but it's different times and we have to react differently. We'll go forward with the group we have."
• 3 Mariners storylines as Summer Camp arrives
The Mariners opened a three-week Summer Camp on Friday in preparation for a 60-game regular season beginning on July 23 or 24.
The rest of Servais' Major League staff remains intact, with bench coach Jared Sandberg, pitching coach Pete Woodworth, third-base coach Manny Acta, assistant hitting coach Jarret DeHart, field coordinator Carson Vitale, bullpen catcher Fleming Báez and batting-practice pitcher Nasusel Cabrera.
Hill has been a highly regarded infield coach for 25 years in Major League Baseball and joined Servais' staff last year after six seasons with the Marlins. At 68, he is the only coach older than 51 in the group.
DeLunas, 45, had just rejoined the Mariners' on-field coaching staff this spring after spending last season as the club's director of pitching development and strategies. He initially was hired by Servais as bullpen coach in 2018. DeLunas has spoken publicly about his personal health challenges, as he's dealt with serious kidney issues in recent years.
• FAQ: All you need to know about 2020 season
Laker, 50, is also in his second season with Seattle after working for two years as an assistant hitting coach with the D-backs. He also has had some past health issues that raise his risk level.
The three coaches will retain their current titles and continue working online with players and fellow coaches from their homes -- just as they have during the 3 1/2-month shutdown -- while now also receiving video from the workouts to help with that process.
Servais said Joe Thurston, who was going to be Double-A Arkansas' hitting coach, will be filling in for Hill as the first-base coach. DeHart and roving hitting coordinator Hugh Quattlebaum will handle hitting-coach duties in place of Laker.
Trent Blank, who had been the "pitching strategist coordinator," will be the bullpen coach in place of DeLunas.
DeHart has moved rapidly up the ranks with the Mariners as a 25-year-old who graduated from Tulane in 2017 after playing the final two seasons of his college baseball career as an outfielder for the Green Wave. He worked as a private hitting instructor in '17-18 before he was hired as the hitting coach of the Mariners' Arizona Rookie League club in '18.
DeHart worked as a roving hitting instructor throughout the Mariners' system last year before he was promoted to the Major League staff this year to work with Laker as the assistant hitting instructor.
Vitale, 31, could also take on an increased role as he is another who has moved quickly through the Mariners' system and is also in his first season on the big league staff. The former catcher spent the past two years as Seattle's Minor League field coordinator before being promoted to that same position on the Major League staff this spring.
The Mariners also will have 12 other coaches from their system working with the club during Summer Camp, including Mariners Hall of Fame catcher Dan Wilson, director of player development Andy McKay and former Mariners infielder Kristopher Negrón.
Wilson has helped out with the catchers as a special assistant for the past seven years; McKay was a long-time coach at Sacramento City College and Negrón, 33, was hired as an assistant to McKay after retiring as a player this year and was already helping as a coach in Spring Training earlier this year.
The following members of the Mariners' Minor League coaching staff or high performance department will also be helping out as Summer Camp coaches: Louis Boyd (Class A Short-Season Everett manager), Connor Dawson (hitting strategist), Rob Marcello (Triple-A Tacoma pitching coach), Cesar Nicolas (Latin American field coordinator), Ari Ronick (Everett pitching coach) and Max Weiner (roving pitching coordinator).