3 observations from the Mariners' first half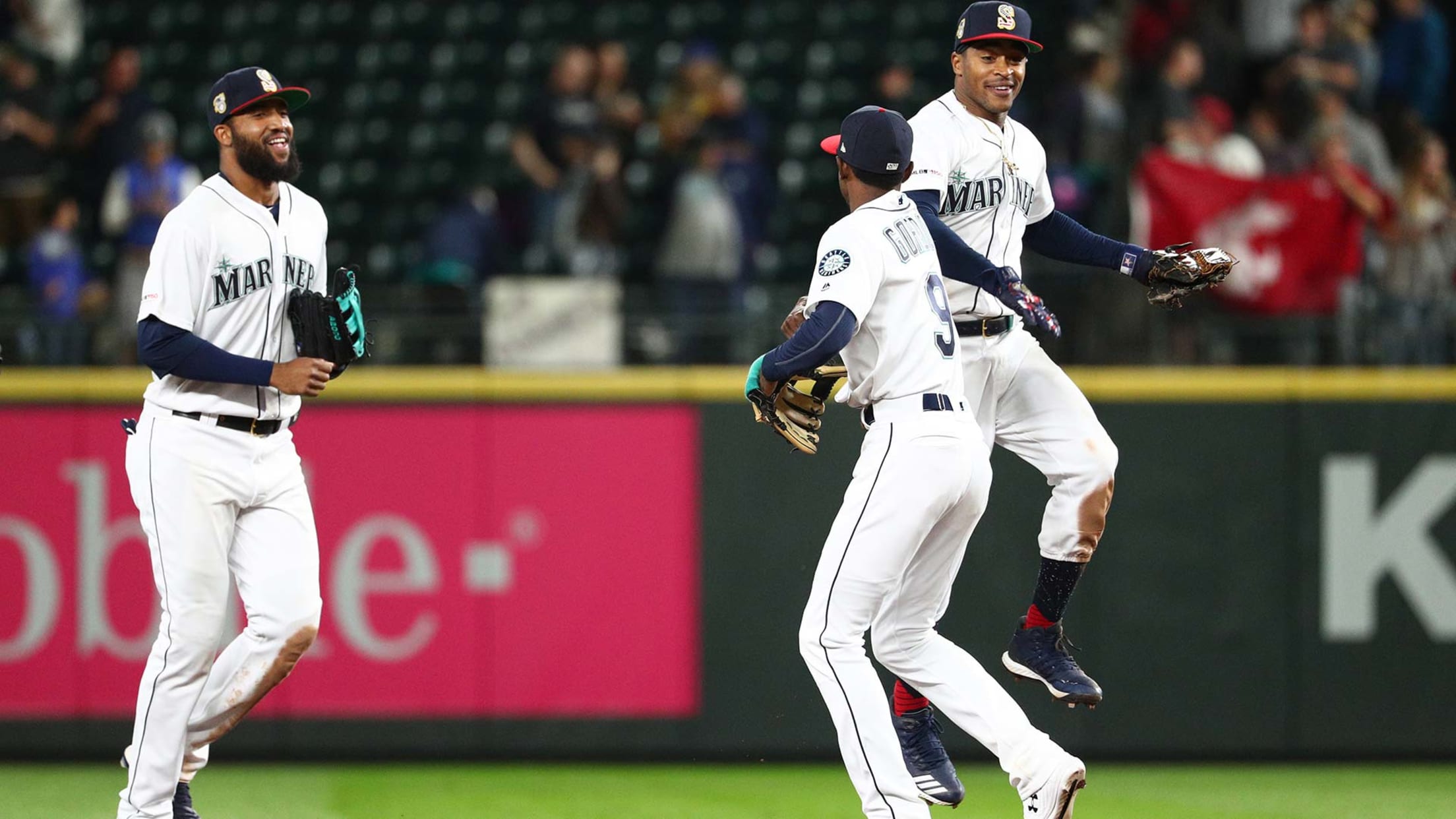 SEATTLE -- The Mariners' first half came to an end with Sunday's 7-4 loss to the A's in a game that largely reflected the team's initial three and a half months. More home runs, not enough pitching or defense and another setback dropping the club further into the American League
SEATTLE -- The Mariners' first half came to an end with Sunday's 7-4 loss to the A's in a game that largely reflected the team's initial three and a half months. More home runs, not enough pitching or defense and another setback dropping the club further into the American League West cellar.
The Mariners hit the All-Star break at 39-55, having lost eight of their last 10. They've gone 26-53 since the surprising 13-2 start and now sit 20 games back of first-place Houston. In short, it hasn't been pretty, but there has been progress in places.
Here are three observations on the first half:
1, The home run derby hasn't stopped
The Mariners started the season by setting an MLB record with home runs in their first 20 games. And while their early pace was slowed by the trades of Edwin Encarnacion (21 homers) and Jay Bruce (14 homers) and an injury to Mitch Haniger (15 homers), they've still hit the third-most homers in MLB history by the All-Star break with 160.
Long balls are flying everywhere this year, but the Mariners are second only to the Twins -- who've hit 166 -- and they've set another MLB record by either hitting a home run or giving up a home run in each of their first 94 games. The old record was 69.
Without Encarnacion and Bruce, All-Star bound Daniel Vogelbach has emerged as the leading blaster with 21 while Domingo Santana has cranked out 18.
Catcher Omar Narvaez smacked his 13th and 14th homers of the season on Sunday, breaking Mike Zunino's record for the most by a catcher in the first half in franchise history.
The flip side, of course, is that the Mariners have allowed nearly as many homers as they've hit, as their 155 dingers given up ranks second behind only the Orioles. In other words, if you like seeing home runs, the Mariners deliver.
2, The defense rests (or at least has gotten better)
While left fielder Dylan Moore committed an error on Sunday that led to an unearned run, the defense in general has been much better over the last six weeks since J.P. Crawford took over at shortstop and Kyle Seager returned at third base.
The loss of Haniger hurt the outfield defense but Santana has been much better in right field than left, and Mallex Smith rediscovered his confidence and glove in center. So while the Mariners aren't going to win any Gold Gloves, they have at least begun playing decent defense and greatly reduced the number of unearned runs and errors that was putting a burden on the pitching staff.
"Looking at the whole picture, it was crazy how we got here," manager Scott Servais said of the first half. "It was very high and very low. But we've kind of stabilized things a little bit. I think we've played pretty decent baseball the last 20-30 games. Our defense has gotten much better. I like where we're at. I think our catching has come a long way. I certainly like what I see from Crawford. Mallex has rebounded, Domingo has done much better in right field."
3, Turnover isn't just a basketball term
In addition to leading the Majors in errors by a wide margin, they also are running away with the roster turnover category. Which isn't a good thing either.
When newly acquired right-hander Matt Wisler made his debut in relief on Sunday, he became the 35th pitcher and 53rd player used by the Mariners this season. Both of those are the most by any team prior to the All-Star break since the All-Star Game began back in 1933, breaking their own record of 31 pitchers in 2017. The 2018 Angels and '14 Rangers had the previous record for overall players used by the break with 50.
That roster churn is partly due to injuries and partially a result of the team's search for bullpen help. Wisler is the 23rd reliever used this season, which doesn't even count the two position players and the two starters who've also made appearances in relief.
Servais acknowledged the challenge of the roster flux, but said it's part of the learning process that goes with the rebuilding plans.
"You're trying to give guys opportunities and there's a certain window for that opportunity," he said. "You say, 'OK, it's not going to work for this guy, let's move on to the next.' The one thing you have to offer is at-bats and innings. At the end of the day, we want to find out about as many people as we can this season. You may see some guys in different positions or roles. Let's find out if this guy can pitch with traffic and the game on the line. The only way to do it is to give them a chance."