Mariners making most of unorthodox situation
Unbeaten in the regular season, Seattle to play exhibition set before home opener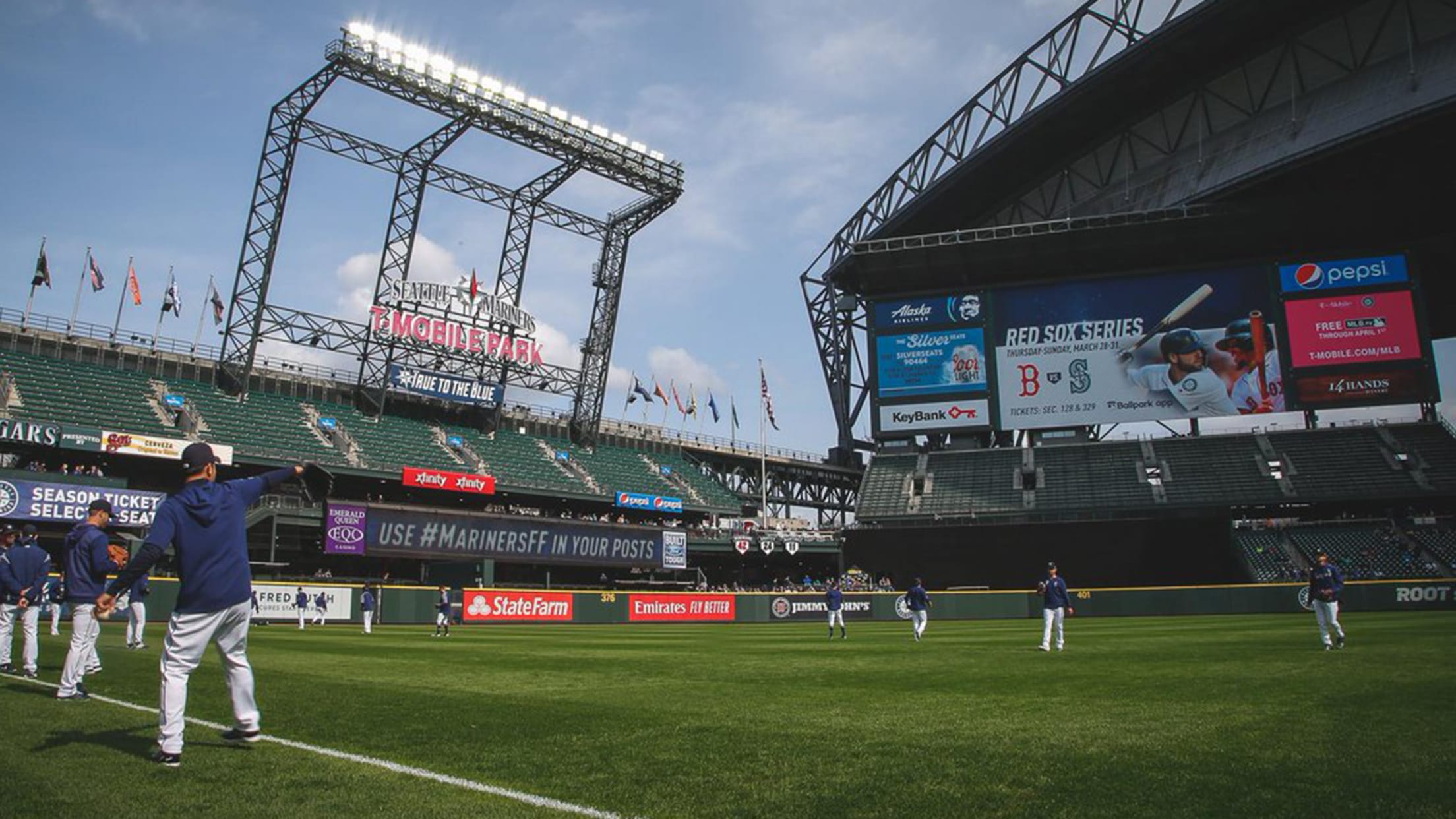 SEATTLE -- The Mariners' road trip to Japan last week -- culminating with a two-game sweep over the A's -- came with a notable side effect: Before the regular season resumes at 4:10 p.m. PT on Thursday, Seattle must first play its Spring Training finale with an exhibition set against
SEATTLE -- The Mariners' road trip to Japan last week -- culminating with a two-game sweep over the A's -- came with a notable side effect: Before the regular season resumes at 4:10 p.m. PT on Thursday, Seattle must first play its Spring Training finale with an exhibition set against the Padres on Monday at T-Mobile Park.
While it does give the Mariners a chance to stay sharp ahead of their home opener on Thursday, it will be somewhat unusual for the players.
"I'll have to tell you [how it feels] tomorrow, because I really have no clue," said infielder Ryon Healy, who went 3-for-9 with a homer and three RBIs against Oakland in Japan. "This is really my first go-around with flipping the switch on, then flipping it back off, then flipping it on. For me, it's almost like I have to continue thinking it's the regular season. Even though the unis are powder blue [for Spring Training], it's tough to flip that switch on and off."
Mike Leake (10-10, 4.36 ERA in 2018) is slated to start against the Padres on Monday night, while Wade LeBlanc (9-5, 3.72 in '18) will start on Tuesday afternoon. Felix Hernandez is scheduled to pitch a simulated game on Wednesday to set up the Mariners' rotation ahead of their home opener.
"This is a regular-season approach," LeBlanc said. "It's not an exhibition approach because I've got the Boston Red Sox five days from Tuesday."
While San Diego figures to be a National League West contender in 2019, Mariners manager Scott Servais said that the opponent is entirely secondary as the team puts the final punctuation to its preseason.
"We could be playing anybody; we could be playing the Tokyo Giants," Servais said prior to a FanFest workout at T-Mobile Park on Sunday. "We play the Padres during the season, and they've got a good ballclub as well. They made a lot of additions, obviously with [Manny] Machado, but the big thing is to get our work in."
Servais said the team would add a handful of prospects and non-roster players to the squad for the set against the Padres, including infielders Evan White and Tim Lopes, outfielders Kyle Lewis and Jake Fraley, catchers Kristopher Negron and Austin Nola and pitchers David McKay, Matt Tenuta and Robinson Leyer.
The extra players will help keep the regulars fresh ahead of Thursday's home opener against the Red Sox, but it will also give these invitees a dose of the big league setting.
Of particular interest to Mariners fans will be to see prospects such as White (No. 4 in Seattle's system per MLB Pipeline) and Lewis (No. 7), who are long-term prospects with the club.
"It's a different vibe around it [than Spring Training] when you walk into a Major League stadium, it has a different feel about it," Servais said. "The players who benefit most from this might be the young guys we brought up from Arizona who have never been on this field before or worked out here before.
"We'll play those guys a lot in these exhibition games, with the Lewises and Fraleys and Whites and those types of guys. Good experience for them."
Malle❌ marks the spot.#MarinersFF pic.twitter.com/xTQvpJy8lQ

— Seattle Mariners (@Mariners) March 24, 2019
It will also allow the Mariners a chance to give outfielder Mallex Smith some extended work. Smith, whom Seattle acquired from Tampa Bay in the offseason for catcher Mike Zunino, has been recovering from a muscle strain in his right throwing elbow.
"We'll start our regular crew, four innings, maybe a little bit more," Servais said of his plan for Monday. "Mallex Smith will be the exception, will probably play Mallex a little bit more to build him up. He's been hitting a lot, he hasn't played a ton of defense. But we'll get Mallex 5-6 innings, play him a little bit more on Tuesday."