Mariners proud to honor Jackie Robinson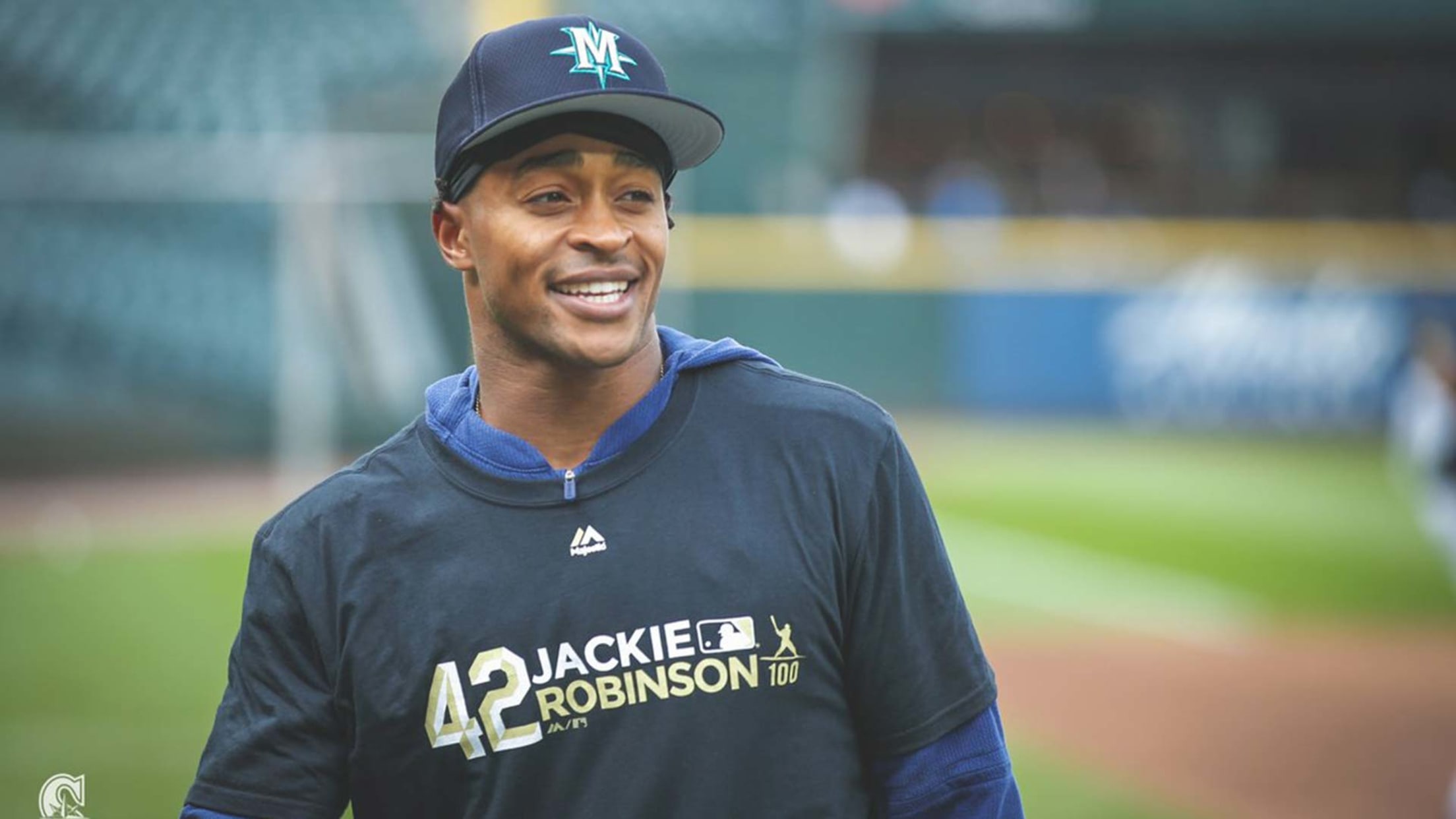 SEATTLE -- For Mallex Smith, wearing the No. 42 jersey in honor of Jackie Robinson has always been special. But on Monday, the Mariners' center fielder had a chance to don the No. 42 and play the same position as Ken Griffey Jr., the man who first inspired Major League
SEATTLE -- For Mallex Smith, wearing the No. 42 jersey in honor of Jackie Robinson has always been special. But on Monday, the Mariners' center fielder had a chance to don the No. 42 and play the same position as Ken Griffey Jr., the man who first inspired Major League Baseball's decision to have every player and coach wear Robinson's retired number.
Griffey asked for permission to flip his No. 24 to Robinson's No. 42 on Jackie Robinson Day in 1997, then suggested to former Commissioner Bud Selig that all players wear that number in future celebrations. Selig liked the idea so much that Griffey's plan went into place in 1999, and the event has now become an annual tradition.
One legend on another.

Junior will always remember what Jackie did for the game. #Jackie42 pic.twitter.com/mHdM8Bw1V6

— Seattle Mariners (@Mariners) April 16, 2019
"This is a day to be grateful," Smith said, sitting in the Mariners' clubhouse where the No. 42 jersey hung neatly at every player's locker prior to Monday's series opener with the Indians. "Every day is a day to be grateful, but to be able to wear this 42 is just, wow. It's a blessing. It's hard to put into words. Every year it's just as humbling."
Mariners shortstop Tim Beckham, who visited the Negro Leagues Baseball Museum with teammates Smith and Dee Gordon when the Mariners were in Kansas City last week, reminded again of the role Robinson and so many others played in changing perceptions and opportunities.
"What he went through and endured for this sport, and for us and for minorities, and to go about it in the professional manner that he did speaks a lot about his character and what he wanted his legacy to be," Beckham said. "It was bigger than baseball. It wasn't just about Jackie. The fact we're able to play this game and express our personalities and stuff like that, Jackie brought a lot of that to the game. I'm just happy to be a part of this."
Even though his dad was a Major League pitcher, Gordon grew up playing basketball in Avon Park, Fla., and didn't get into baseball until he was 16. He said he's one of the few MLB players who didn't come up through the travel-ball system, which he notes is too expensive for many inner-city kids.
But the Mariners have a number of prominent black prospects coming up -- including Justus Sheffield, Kyle Lewis, Justin Dunn and Shed Long -- as well as three African-American players in their starting lineup on Monday.
"Just looking across the dugout and seeing a lot of brothers playing the game, it's special," Beckham said.
Beckham was raised in Griffin, Ga., and at one point quit playing baseball to focus on other sports, but got back into the game in high school and wound up being the No. 1 overall pick in the 2008 MLB Draft.
"When I grew up, a lot of my friends weren't really playing baseball," he said. "My brothers played baseball and my dad got us into it. He was a very big baseball fan. He'd talk about guys playing with the Braves way back in the day. It means a lot to me just to be able to put on the uniform, and especially on a day like this, when we're honoring Jackie Robinson as a special human being."
All Mariners players autographed a No. 42 jersey that will be auctioned off on MLB.com to benefit the Jackie Robinson Foundation. Jerseys worn in Monday's game will also be available at an upcoming Mariners Care Silent Auction on Saturday to benefit the team's nonprofit foundation.
Swanson to start Wednesday
Mariners manager Scott Servais confirmed on Monday that rookie right-hander Erik Swanson, the club's No. 9 prospect per MLB Pipeline, will start Wednesday's 3:40 p.m. PT game in place of the injured Wade LeBlanc.
Swanson pitched two innings out of the bullpen on Thursday in Kansas City, but hasn't started a game since Triple-A Tacoma's Opening Day on April 4.
"He threw a little side session after the game [Sunday]," Servais said. "He got his work in and will be ready to go. He should be fine. He's pretty level, doesn't get too excited one way or the other. We'll fire him out there and hope he gives us a real competitive five-to-six innings and go from there with our bullpen."