Motter continues power surge vs. Reds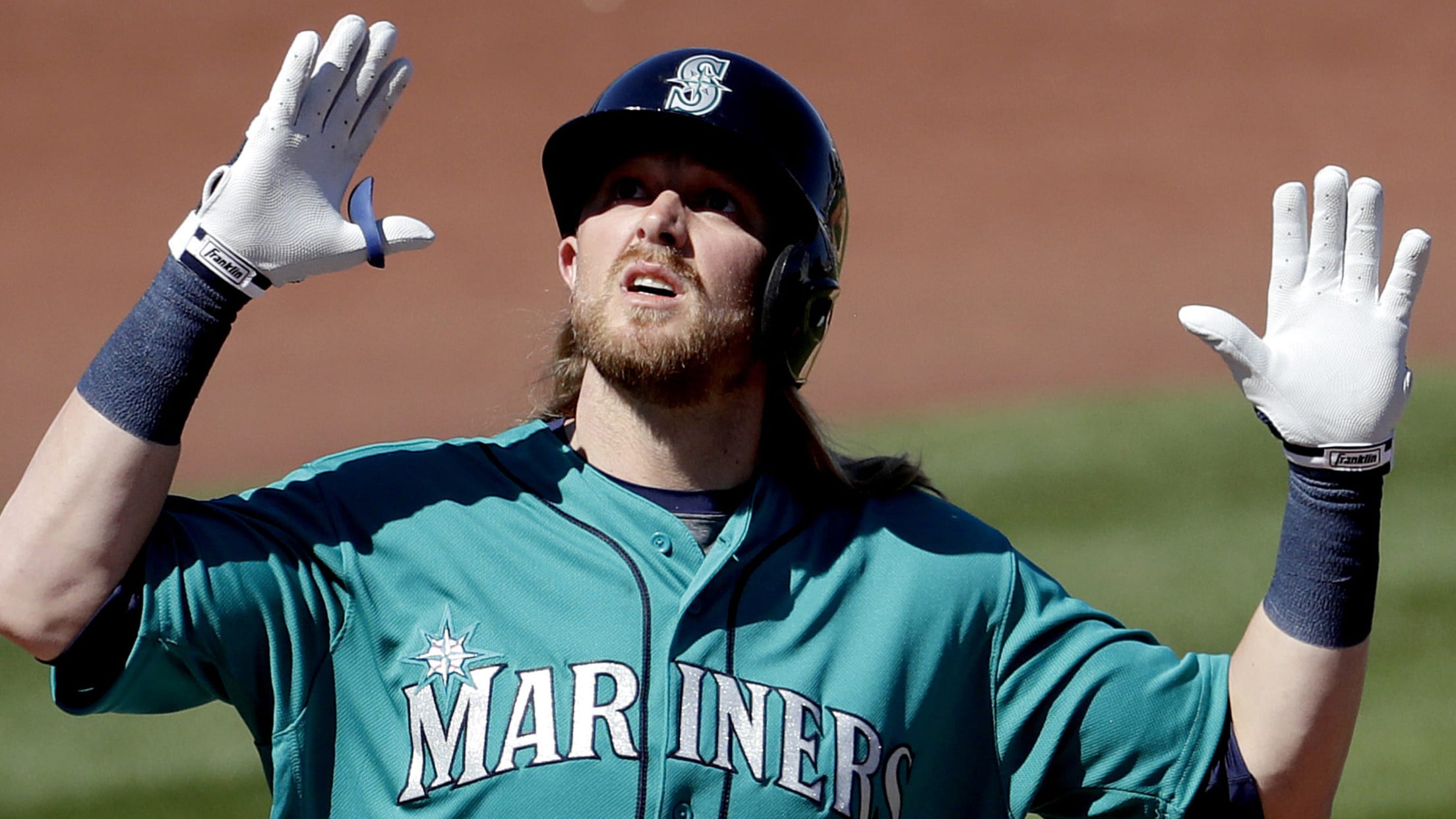 Taylor Motter homered for the second time in as many days, giving him three this spring for the Mariners. (AP) (Matt York/AP)
GOODYEAR, Ariz. -- Scoring twice in the top of the eighth inning, the Mariners emerged with a 7-6 victory over the Reds on Sunday at Goodyear Ballpark.It was a 5-5 game in the eighth when Reds Minor League camp pitcher Lucas Benenati began the inning by allowing back-to-back hits that
GOODYEAR, Ariz. -- Scoring twice in the top of the eighth inning, the Mariners emerged with a 7-6 victory over the Reds on Sunday at Goodyear Ballpark.
It was a 5-5 game in the eighth when Reds Minor League camp pitcher Lucas Benenati began the inning by allowing back-to-back hits that led to Carlos Ruiz's sacrifice fly for the go-ahead run. Ian Miller chipped in a RBI single to add a second run.
Chad Wallach got the Reds close with a home run in the ninth inning.
Back from his time pitching for the gold-medal winning Team USA in the World Baseball Classic, Mariners lefty Drew Smyly made his first Cactus League start and worked four innings. Smyly allowed five earned runs on six hits -- including three home runs -- with four walks and one strikeout.
"I couldn't throw two pitches in the same spot the whole day," said Smyly. "It was frustrating. But games like that are probably good in Spring Training. It helps you bear down and compete in those long innings when you need to pitch. I had to do that today it seemed like every inning. Not how I wanted it to be, but I learned some things and will go on to the next one."
The Reds' first batter, Jose Peraza, led off with a homer to left field against Smyly, with Desmond Jennings beginning the bottom of the second with a homer to left-center field. Two batters later, Reds pitcher Rookie Davis slugged a first pitch from Smyly for a long homer to left field.
Davis, who is trying to earn a rotation spot in the big leagues for Cincinnati, had a mixed day on the mound. The right-hander had seven strikeouts in 4 2/3 innings but gave up five runs (three earned) with six hits and one walk. The outing raised his spring ERA from 3.27 to 4.02 after five games.
"I feel like I've gone out and competed every time," Davis said. "That's been a huge emphasis of mine, to enjoy it, to compete and I feel like I've set myself up in the best position possible. Today, it was just one of those days where you have to fight. You've got to battle through it."
Seattle took a 2-1 lead in the second inning when Taylor Motter hit a first-pitch, two-run homer to left-center field -- part of his 2-for-4 game. It was Motter's second home run in the past two days and third of the spring. Davis endured two-out trouble when three runs in the fourth inning with Ruiz hitting a double, followed by two blooped RBI singles by Ben Gamel and Tyler Smith and Guilleromo Heredia reaching on third baseman Hernan Iribanrren's throwing error that plated another run.
Reds bench candidate Ryan Raburn exited the game after four innings with a left hip contusion. Raburn, who started at first base, was hurt diving back to the bag on a pickoff when he was a base runner in the third inning.
Mariners Up Next:Yovani Gallardo starts Monday against the Padres in Peoria in a 1:10 p.m. PT game that will be broadcast live on MLB Network. Closer Edwin Diaz is expected to make his second straight appearance and James Pazos, a rookie lefty competing for a roster spot, will also be among the scheduled relievers.
Reds Up Next: Following two days of split-squad games, the Reds will be one bunch again when facing the Giants at 4:05 p.m. ET in Scottsdale. Cody Reed will get his last opportunity to make a bid for the rotation. The left-handed Reed has a 3.24 ERA through his five games, including three starts.
Watch every out-of-market regular-season game live on MLB.TV.