Rising stars are out: Mariners camp sparkles
Glimpse of bright future as top prospects make themselves heard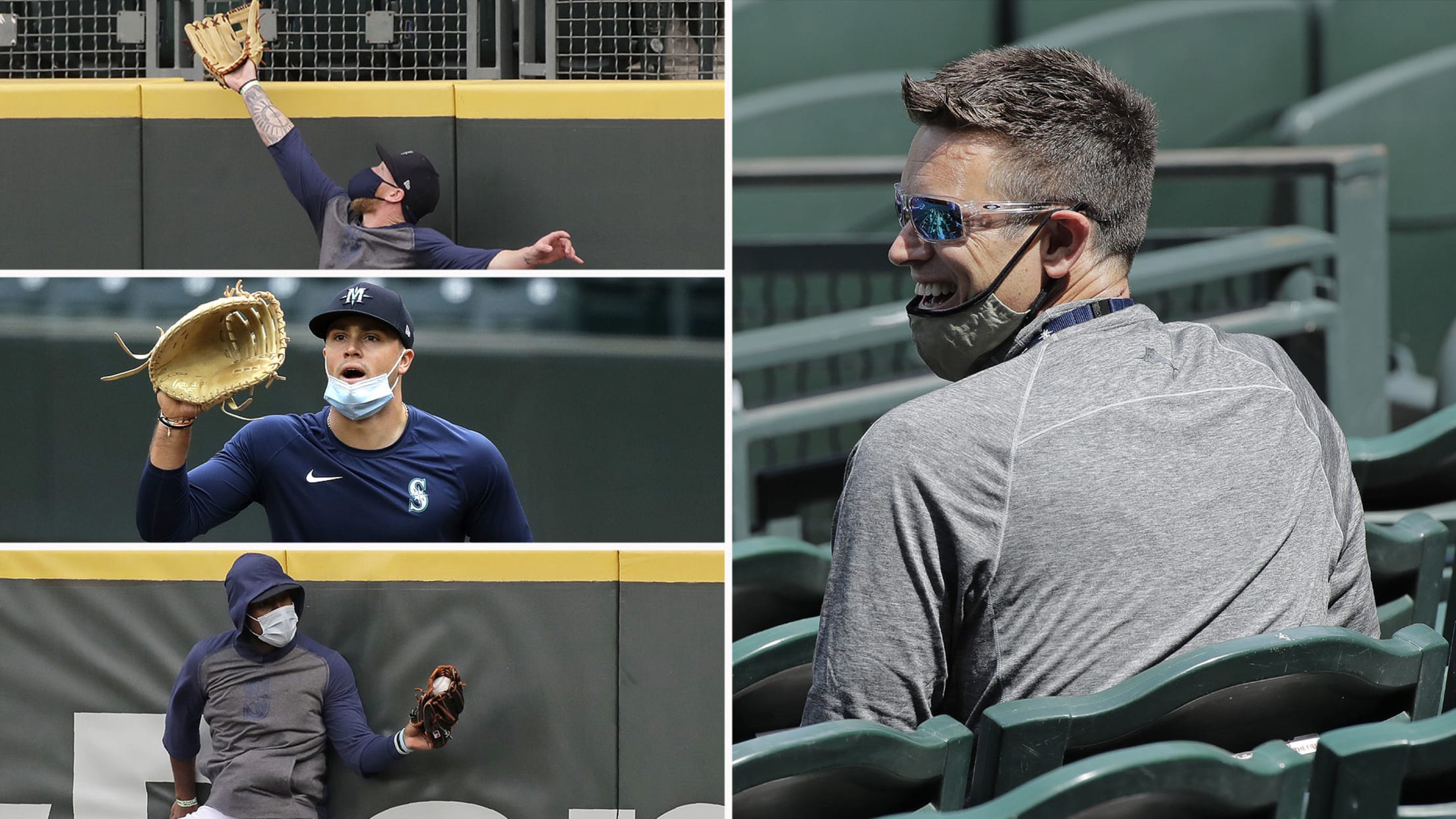 SEATTLE -- Six days into Summer Camp for the Mariners, one thing jumps out. The kids are gonna play. Not just this season, when rookies Kyle Lewis, Jake Fraley and Evan White all figure to make the Opening Day lineup and fellow rookies Justus Sheffield and Justin Dunn will be
SEATTLE -- Six days into Summer Camp for the Mariners, one thing jumps out. The kids are gonna play.
Not just this season, when rookies Kyle Lewis, Jake Fraley and Evan White all figure to make the Opening Day lineup and fellow rookies Justus Sheffield and Justin Dunn will be part of the starting rotation. We're talking down the road, as well, when Jarred Kelenic, Logan Gilbert, Noelvi Marte and other promising prospects matriculate to the Majors.
• Sheffield, Dunn to kick off intrasquad games
That young group has been making itself heard already at Mariners camp, where the 60-man player pool includes 23 of the team's Top 30 Prospects, by far the biggest youth contingent in any MLB camp.
When you know, you know. 💥@KLew_5 | #SummerCamp pic.twitter.com/5d1w4yaThY

— Seattle Mariners (@Mariners) July 8, 2020
Much of that group isn't expected to get any Major League time this season, instead soaking up as much experience as possible among the extra pool of players that will work out and play intrasquad games in Tacoma, Wash., once the regular season begins.
But their presence is unmistakable at T-Mobile Park in the first week. Kelenic, the No. 11 overall prospect in baseball per MLB Pipeline, cracked a loud home run off fellow prospect Ljay Newsome in a live batting practice session on Tuesday, hitting the Hit It Here Café in right field.
"He's a really talented young guy without a whole lot of fear," manager Scott Servais said. "Every time he's on the field he wants to show people how good he is and how good he can be."
General manager Jerry Dipoto talks glowingly of Kelenic's abilities and acknowledged the challenge is to remain patient and not rush the 20-year-old before he's ready.
"He's an exceptionally gifted player and so advanced," Dipoto said. "When you see him in this environment, he fits. You see him out there and it looks like he belongs. Then you have to remind yourself he's still 20 years old and has yet to pile up 100 plate appearances above A-ball.
"We do want to be aware of what is best for his development and not hold him back artificially, but as aggressive as I want to be -- and I understand we're standing in the place where Ken Griffey did his business for so many years -- that's an exceptional track. And we don't think it's necessarily prudent to plan on that. We're just going to let the days tell us what the right thing is to do."
Top Mariners prospect Jarred Kelenic launching one into the cheap seats on his final swing of BP. pic.twitter.com/3WEOrWzr8L

— Greg Johns (@GregJohnsMLB) July 7, 2020
The 18-year-old Marte has similarly opened eyes with his mere physical presence and power while working at shortstop. Though listed at the initial 6-foot-1, 181 pounds the Mariners signed him at, Dipoto estimates he's now around 6-foot-3, 195 pounds and still filling out.
"Every time he hits a ball and smokes it and it's a 340-foot rope that hits off a back wall in the bullpen, I think to myself, 'He's 18 years old,'" Dipoto said. "As we looked at this 2020 Draft class, it was an exceptionally gifted Draft. I think he fits in the top 10 picks in any Draft, including this one, just on physical talent. It's really exciting to think about how quickly he could develop.
"And I'll tell you what. I know the pundits have generally been 50-50 on whether he stays at shortstop or not. He looks like a shortstop to me. He's got fantastic actions. We know he's got arm strength. And it's hard to believe at that physical size, but on the scouting scale he's a 65 or 70 runner [out of 80]. He can really run. He's a gifted player. I could come up with a number of different comps from around the world, but it's probably not very fair to toss one at an 18 year old. We're really excited for what he looks like and how far he's come."
Here's 18-year old SS prospect Noelvi Marte taking BP ... pic.twitter.com/cMPPgK1dqs

— Greg Johns (@GregJohnsMLB) July 7, 2020
Julio Rodriguez , another rising teenage star at 19, is one of a handful of players who hasn't joined the camp yet, but as the No. 18 overall prospect in baseball he'll further flesh out that young pool when he arrives.
On the pitching side, Gilbert -- the Mariners' first-round pick in 2018 -- was already having an outstanding spring at the Major League camp before things were shut down in March. He's now joined by the two latest first-rounders -- George Kirby and Emerson Hancock -- as the future arms begin lining up.
"Emerson came in right from a college program and has not done more than flat-ground work for three months, but he walked right in and looks the part," Dipoto said. "The delivery is as easy as it gets. He threw a touch-and-feel yesterday that was by his estimation about 75-80 percent. And he was sitting at 95 mph the whole time. So that was exciting. I said, 'What does it look like at 100 percent?'"
These are the rising stars the Mariners are waiting on. And while they might not arrive this season in the Majors, the chance to have that young nucleus begin the journey together this spring could bode well for the future.
"In such a unique situation as we're all in right now," Dipoto said, "this is one of the real silver linings -- what this could do for the development of a young group like we have."