Healy feeling better, but still nursing sore groin
Moore fills in at third; Elias pain-free after return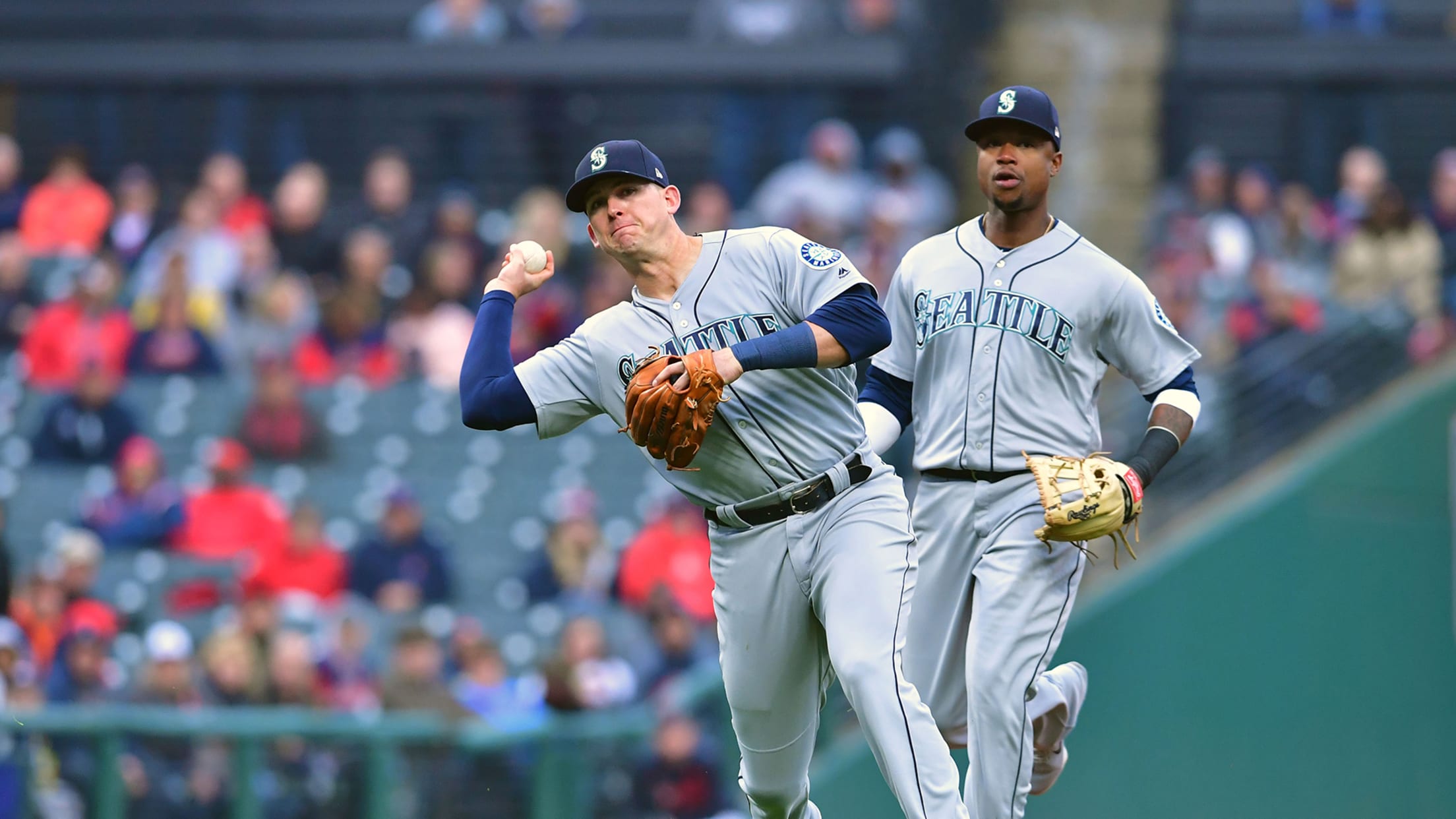 CLEVELAND -- Mariners manager Scott Servais was forced to tweak his lineup Sunday for the finale of Seattle's three-game series against the Indians. Third baseman Ryon Healy did not start for the second consecutive game with groin tightness, while first baseman Edwin Encarnacion was shifted to designated hitter because of
CLEVELAND -- Mariners manager Scott Servais was forced to tweak his lineup Sunday for the finale of Seattle's three-game series against the Indians.
Third baseman Ryon Healy did not start for the second consecutive game with groin tightness, while first baseman Edwin Encarnacion was shifted to designated hitter because of a sore shoulder. Encarnacion belted a two-run homer in the fourth.
"Things are going to happen over the course of a season with injuries," Servais said. "Since neither of these are anything major, it gives us a chance to get some other guys time, which isn't a bad thing. It helps keep everybody fresh."
Healy, who was hurt while running to first base in the fifth inning Friday, told his skipper that he felt better, but was given an additional afternoon off. The American League co-leader in doubles with 13 entering Sunday, was available off the bench if needed.
Dylan Moore filled in for Healy at third base for the second day in a row. The 26-year-old rookie, who has played five positions this season, went 2-for-3 with a solo homer on Saturday.
"Dylan is getting more comfortable out there and it's showing," Servais said. "He did a nice job for us yesterday and he catches the ball wherever we put him. We're going to keep running him out there at a number of spots."
Encarnacion was slated to play first before reporting to Progressive Field with a sore shoulder that he blamed on sleeping the wrong way at the Mariners' downtown hotel. He stayed in the lineup, batting cleanup, but flipped positions with regular DH Daniel Vogelbach.
"We're just sliding Vogey over there," Servais said. "Not a big deal at all."
Good news
Left-hander Roenis Elias reported no soreness in his pitching elbow after returning to action on Saturday with 1 2/3 innings of one-run relief. He had been sidelined since April 26.
Elias has excelled as a setup man and closer this year, posting a 2-0 record with four saves and a 2.45 ERA in 15 appearances.
"He fills so many roles for us in the bullpen, we have to be careful not to run him out there too much," Servais said. "This is such a good Cleveland lineup for him to be a weapon against, though, which makes it tempting to use him."