Several Mariners wary of Hurricane Irma
A handful of players have homes and family in Florida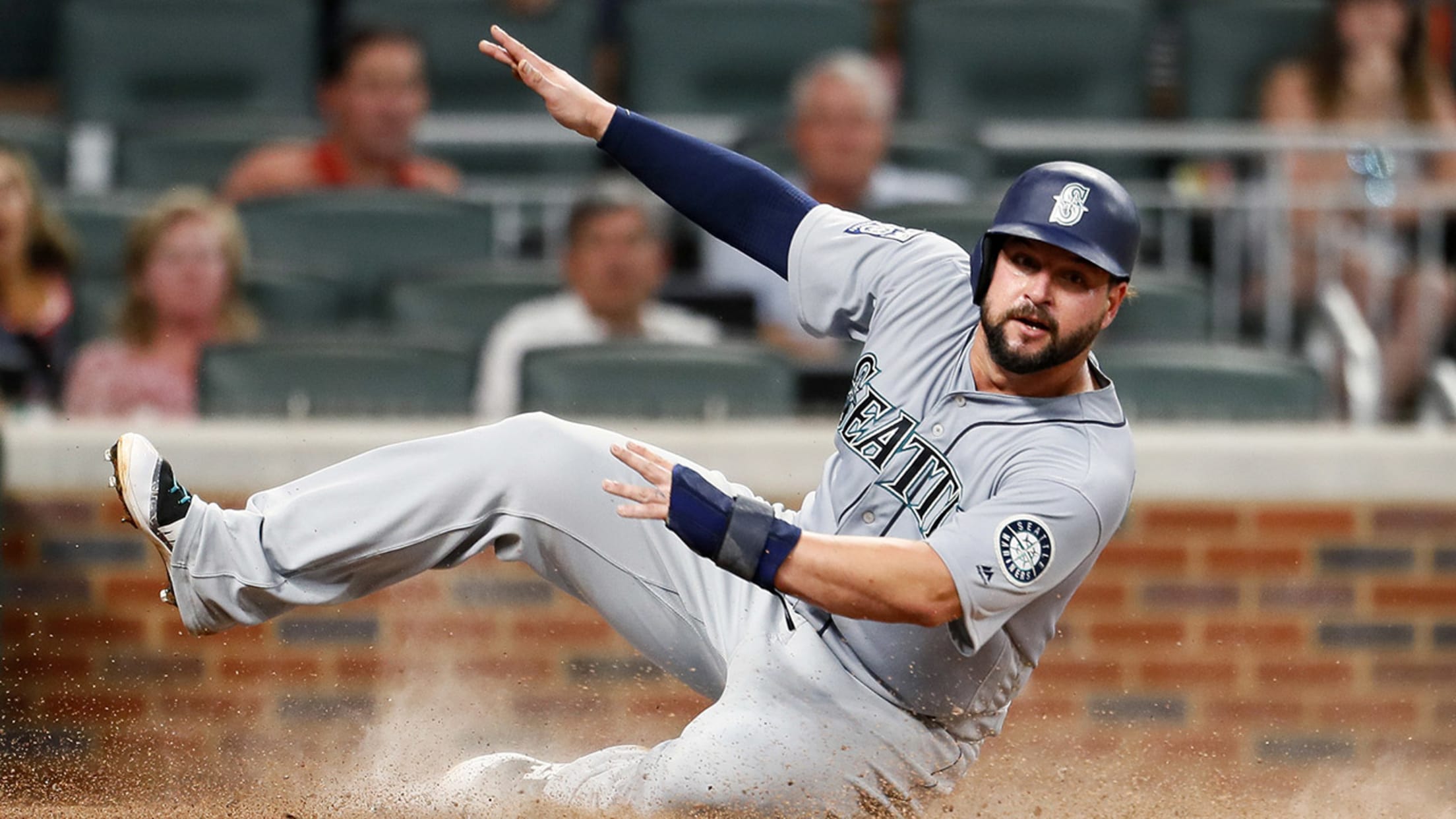 Mariners first baseman Yonder Alonso was one of several players with ties to Florida who were keeping track of Hurricane Irma. (AP) (Todd Kirkland/AP)
SEATTLE -- Televisions in the Mariners' clubhouse are almost always tuned into sports or are showing video of the upcoming opponent prior to a game. But on Friday afternoon, several hours before the Mariners faced the Angels, Yonder Alonso, Danny Valencia and Ben Gamel watched CNN's coverage of Hurricane Irma.The
SEATTLE -- Televisions in the Mariners' clubhouse are almost always tuned into sports or are showing video of the upcoming opponent prior to a game. But on Friday afternoon, several hours before the Mariners faced the Angels, Yonder Alonso, Danny Valencia and Ben Gamel watched CNN's coverage of Hurricane Irma.
The three are among a large contingent of Mariners with Florida roots and homes that sit in the path of the Category 4 storm that is closing in on the U.S. mainland and expected to wreak havoc upon its arrival this weekend.
Alonso was born in Cuba, but defected with his family to Miami when he was 9. He grew up in the city, played at the University of Miami with Valencia and wore "Mr. 305" as his nickname over Players Weekend as a tribute to his area code in Miami.
"It's tough," said the veteran first baseman, who was acquired by Seattle from the A's last month. "Everybody is worried and nervous. We're just praying and hoping for the best. It's tough, but my family has been in contact and they're prepared and ready for it. All we can do now is just pray."
Alonso said he encouraged his parents to leave Miami, but they've chosen to stay and ride it out.
"They feel like they're going to be OK," he said. "They've been through some hurricanes, but obviously not of this magnitude, so we're just hoping for the best."
Felix Hernandez has a house in Miami, but his family is with him in Seattle. Others aren't so fortunate. Utility man Taylor Motter's parents are in West Palm Beach, which is on the east coast just north of Fort Lauderdale, and were told to evacuate and have moved temporarily to his cousin's house in a safer area.
"It's a tough time to deal with," Motter said. "You stay in touch with family members. The best thing I've heard is it kicked west a little bit so it doesn't look like the eye is going to be coming right over Palm Beach anymore. But it hurts some other guys in this locker room.
"We've got guys here that live in Fort Myers and Tampa. And I'm looking to buy a house in Tampa right now, so it's not an ideal situation. You're just looking at the [hurricane[ tracker every day, every second, keeping in touch with family and seeing what they're doing to hopefully be safe and prepared."
Mike Zunino, Daniel Vogelbach and new reliever Ryan Garton are also from Florida.
Their teammates from the Caribbean islands can certainly relate. Robinson Cano and Nelson Cruz said their families and property avoided serious damage in the Dominican Republic when Irma skirted to the north this week.
Closer Edwin Diaz had to wait through an anxious Wednesday night while the storm battered his native Puerto Rico before his parents drove 50 minutes the following morning to find a phone connection to let him and his brother in Seattle know they were fine.
"I was scared that night with no communication," Diaz said. "So I was pretty happy when they called. Now, the Florida guys have to deal with it. It's tough for us, being here with our families over there. It's really scary. They said it was pretty intense, but they were in a safe area."
Location is key for all involved. Gamel said his family is in Jacksonville, which is far enough north that he's hoping it should avoid the worst.
"Obviously, you wish it wouldn't happen," Gamel said. "But you just say your prayers and hope for the best."