Mariners have decision to make on Kikuchi
Club plans for Japanese rookie to make abbreviated start soon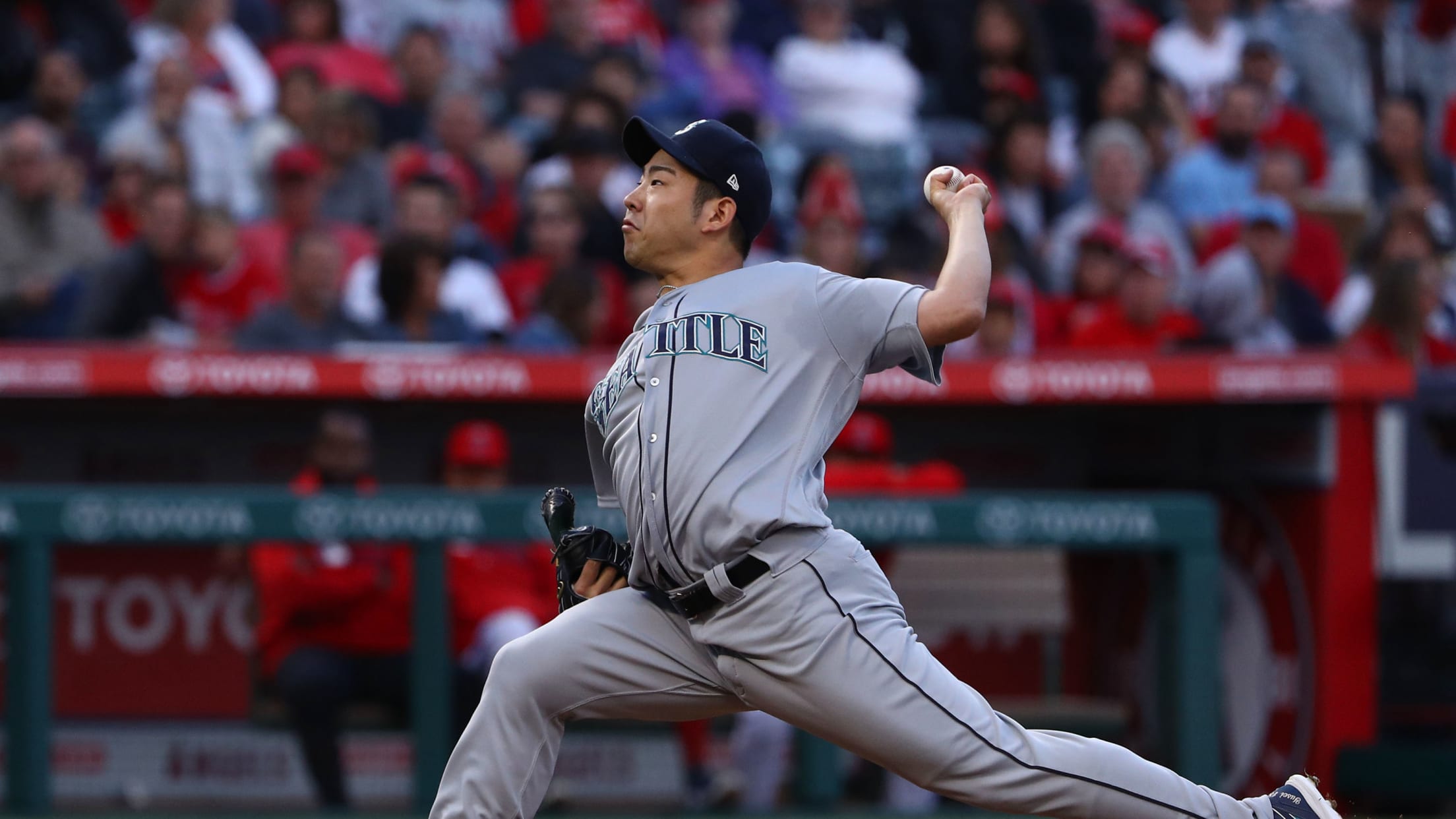 ANAHEIM -- Limiting Yusei Kikuchi's innings with planned short starts once a month surely seemed like an easier proposition when the Mariners were talking about a "stepback" season, but that doesn't mean Seattle will abandon that plan now that the club is off to a surprisingly strong start. When Kikuchi
ANAHEIM -- Limiting Yusei Kikuchi's innings with planned short starts once a month surely seemed like an easier proposition when the Mariners were talking about a "stepback" season, but that doesn't mean Seattle will abandon that plan now that the club is off to a surprisingly strong start.
When Kikuchi signed with Seattle, general manager Jerry Dipoto made it clear that the 27-year-old would be handled carefully in his first season in the Majors.
In an effort to avoid the frequent arm issues that have plagued Japanese starters when they move to MLB and are asked to pitch more often than their once-a-week norm, Kikuchi will be limited to one-inning starts about every six outings.
That means Kikuchi will soon have his first abbreviated stint, having gone 1-1 with a 4.68 ERA in his first six starts. The lefty picked up his first win in Saturday's 6-5 decision over the Angels, despite perhaps his worst outing of the season as he gave up 10 hits and four runs in five frames.
"I think he's adjusted pretty well," manager Scott Servais said. "Again, we're playing for the long play here. It's not just what it looks like in April and May. Hopefully he's in a really good spot when we get to August and September. That's the goal."
Servais said Sunday that a decision would be needed "pretty soon" on Kikuchi's next start, which is scheduled for Friday against the Rangers when the Mariners are back home at T-Mobile Park.
"We'll see how he feels today," Servais said. "We have an off-day tomorrow and his next turn rolls around in the next homestand, I think the second game when we get back against Texas. We have some time."
The Mariners will likely call up a starter from Triple-A Tacoma to fill the innings behind Kikuchi's shortened starts. With Seattle fighting for first place with the Astros in the American League West, Servais acknowledged that it's not an easy plan.
"It takes a lot of discipline," he said. "We know it's out there. We've been very public about it. I think the reason we've been public about it is so we do stay disciplined. Be real. That's why you do those things, so you hold yourself accountable. We, as an organization, want to do what's best for him."
Kikuchi isn't going to fight the Mariners' decision.
"As a competitor, you want to pitch one more pitch, one more out, one more inning," he said through interpreter Justin Novak. "But what the coaches say and what the GM says is going to go. I'm going to do whatever I need to do. If it's one inning, I'm going to go out there at 100 percent and pitch that inning."
"He may not be a big fan of it, when it's all said and done," said Servais. "But we have to go through it and see how he handles it and if it is effective and does help him out."
Helping out the UMPS CARE auction
Autographed baseballs signed by Ichiro Suzuki and Felix Hernandez are among the more than 400 items available at an online auction underway for the 11th Annual UMPS CARE Charities fundraiser.
The auction goes through 7 p.m. PT on Monday, April 29 and provides financial help for a number of youth programs for critically ill-children, at-risk youth and military families. For more information or to make a bid, visit here.
Worth noting
• Outfielder Jay Bruce wasn't in the lineup Sunday due to a sore quadricep muscle, though Servais indicated it was a minor issue and that Bruce was available off the bench if needed.
• Right-handed reliever Chasen Bradford threw a 30-pitch live batting practice session prior to Sunday's game and could come off the 10-day injured list as soon as Tuesday when the Mariners open a two-game series with the Padres in San Diego. Bradford has been sidelined since April 9 with right shoulder inflammation.