Ichiro Weekend
It's time to immortalize #51 into Seattle sports history as the 10th member of the Mariners Hall of Fame, joining Alvin Davis, Dave Niehaus, Jay Buhner, Edgar Martinez, Randy Johnson, Dan Wilson, Ken Griffey Jr., Lou Piniella and Jamie Moyer. As a ten-time All-Star & Gold Glove winner, three-time Silver Slugger, and 2001 Rookie of the Year & MVP award winner, Ichiro left a lasting impact on this organization and the game of baseball. We're dedicating an entire weekend to celebrating him and these achievements!
Join us August 26-28 for the weekend-long celebration beginning Friday night with a postgame fireworks show and a pregame induction ceremony on Saturday. Enjoy roundtable panels of former players as they talk all things Ichiro, continuous highlights of his legendary career, and much, much more!
The August 27 game is sold out!
Ichiro's Accolades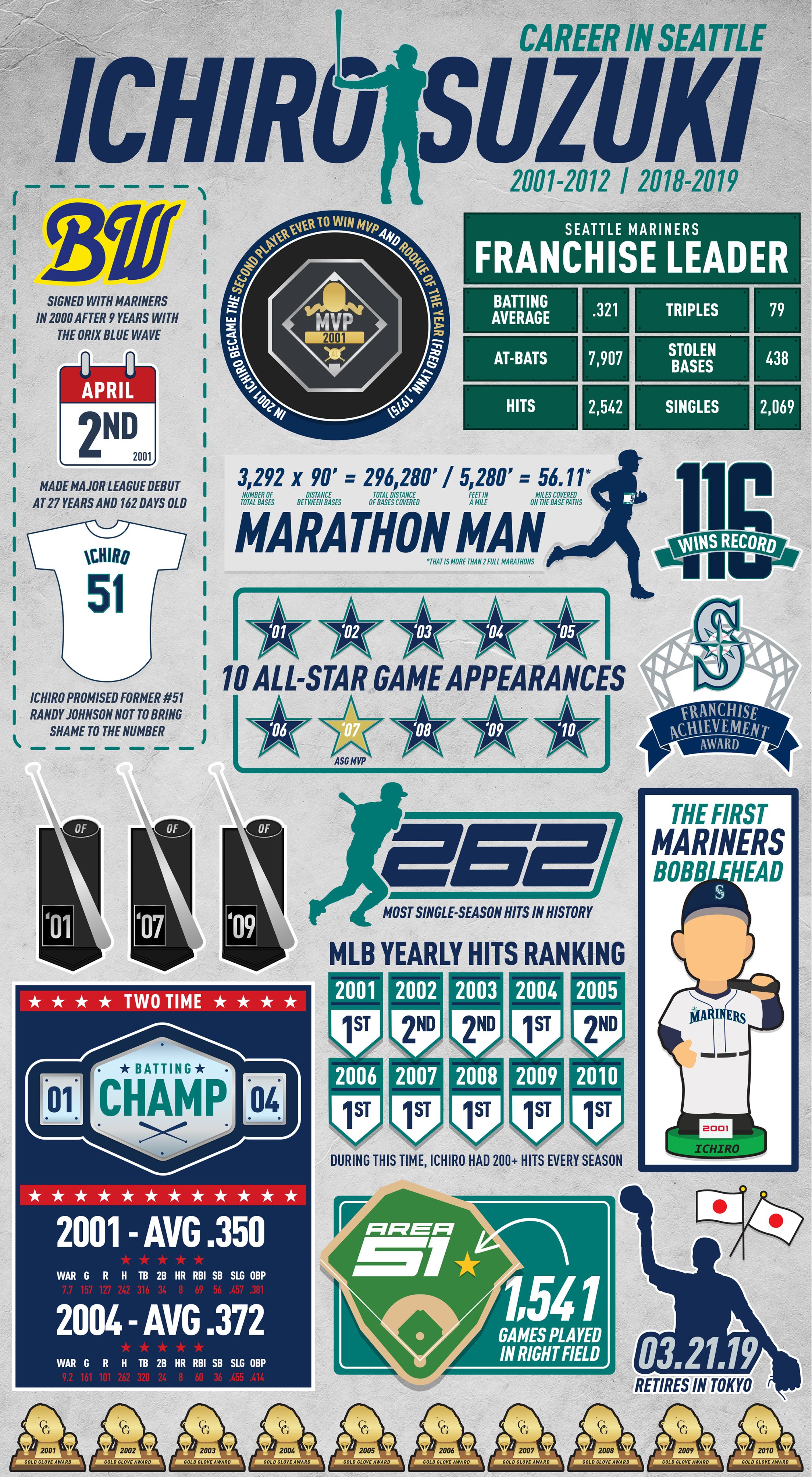 10 consecutive Gold Gloves;
10 consecutive All-Star Game appearances including MVP of the 2007 game in San Francisco, where he went 3-for-3 with the first inside-the-park home run in All-Star Game history;
2001-2010, he recorded at least 200 hits each season, a Major League record;
In 2004, he recorded a Major League single-season record 262 hits, surpassing the record of 257, set in 1920 by George Sisler;
Three Silver Slugger Awards (2001, 2007, 2009) and two American League batting titles (2001, 2004);
American League stolen base leader (2001);
Recorded his 3,000th Major League hit on August 7, 2016 (a triple), becoming one of 31 players to reach that milestone.
Ichiro remains among the Mariners all-time leaders in several categories:

1st in hits (2,542), batting (.322), at-bats (7,907), triples (79), and stolen bases (438);
2nd in games (1,861) and runs (1,181);
3rd in doubles (295) and total bases (3,292).