Granderson, Marlins honor Jackie Robinson Day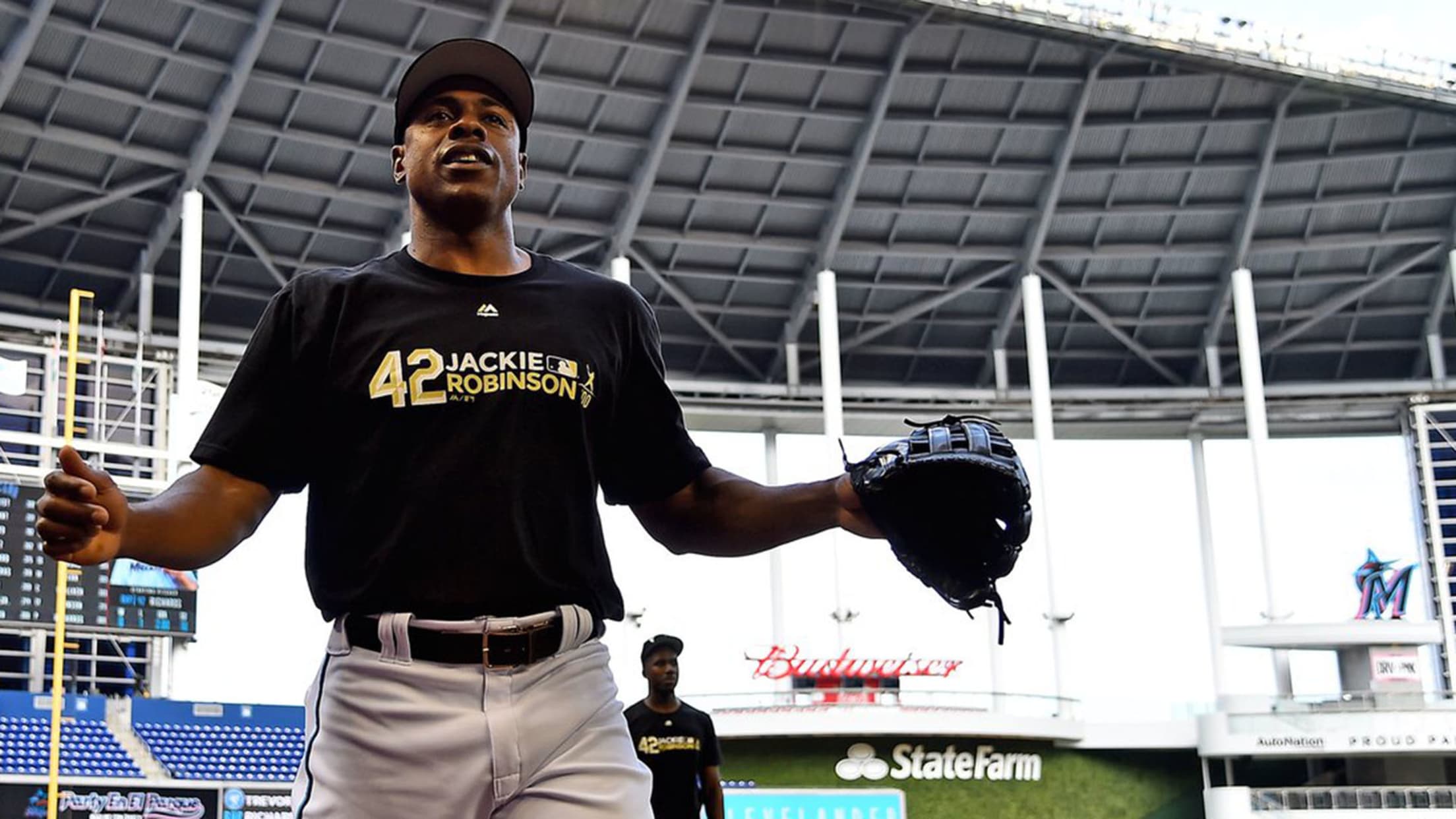 MIAMI -- Before taking the field on Monday night, Marlins left fielder Curtis Granderson took a few moments to high-five and shake the hands of 42 specially invited guests at Marlins Park. Granderson completed his warmups for Miami's game with the Cubs, and as he headed to the dugout, he
MIAMI -- Before taking the field on Monday night, Marlins left fielder Curtis Granderson took a few moments to high-five and shake the hands of 42 specially invited guests at Marlins Park.
Granderson completed his warmups for Miami's game with the Cubs, and as he headed to the dugout, he individually touched the 42 invited kids who took part in the Marlins' Jackie Robinson Day tribute. His Grand Kids Foundation paid tribute to the 72nd anniversary of the day Robinson broke MLB's color barrier while with the Brooklyn Dodgers in 1947.
"It's really cool," Granderson said. "This is the first time I've actually had the chance to bring some kids out on Jackie Robinson Day.
"Getting the chance to represent Jackie, we had 42 kids out. All while we get a chance to wear No. 42, and they get T-shirts with 42 on their backs. It's a really cool day."
League-wide, MLB has recognized April 15 as Jackie Robinson Day since 2004. All players on the Cubs and Marlins wore No. 42 for the day, and making this year even more memorable is the fact Robinson would have turned 100 in January.
"Here I am, 38 years old, trying to learn more and more about him," Granderson said. "The fact this would have been his 100th birthday is absolutely amazing."
The 42 young people were from the Boys & Girls Clubs of Miami-Dade County. The group watched batting practice from the field, and also took part in a one-hour Jackie Robinson's Nine Values Panel.
The panel included Marlins president of baseball operations Michael Hill and former Marlins catcher Charles Johnson, a standout from the organization's 1997 World Series title team.
Marlins chief executive officer Derek Jeter introduced the panel, and each shared what Robinson's legacy has meant to them.
"It was 1947, so the civil rights movement really hadn't started, and he's breaking the color barrier," Hill said.
Jackie Robinson's Nine Values were Courage, Determination, Teamwork, Integrity, Persistence, Citizenship, Justice, Commitment and Excellence. In Hill's office at Marlins Park hangs a photo of Robinson and Martin Luther King Jr.
"That's really what's so humbling, when you think about it," Hill said.
Marlins manager Don Mattingly previously coached and managed the Dodgers, and Jackie Robinson Day brings back memories of his days in Los Angeles.
"Just a great day, baseball-wise," Mattingly said. "Breaking barriers. I think it's something we do need to recognize. Obviously, previously being in L.A. for a few years gives you a little different feel for it."
To Granderson, sporting Robinson's number on his back is an annual reminder of what the Hall of Famer's legacy truly means.
"The big thing is to realize that he wasn't just a baseball player," Granderson said. "He was a man. He was husband. He was a father. He was a four-sport athlete. He did a lot for this game, and for the civil rights movement, in general. To allow us to have this conversation, that we are on the field with all these people from around the world."