Mattingly 'in a pretty good spot' as future looms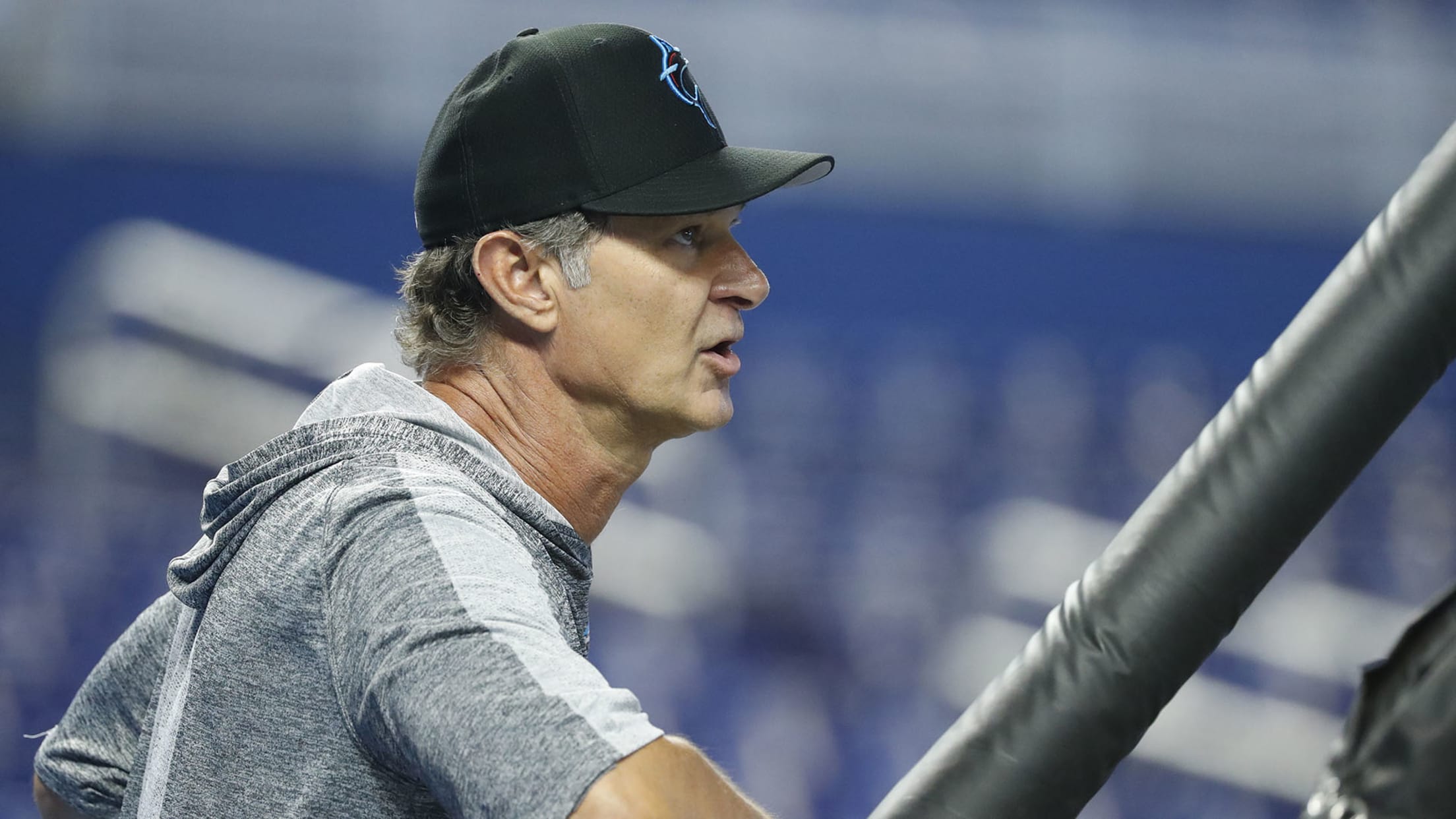 MIAMI -- With less than three weeks remaining in a disappointing season, the Marlins have many organizational decisions to make. One of the most pressing is the future of manager Don Mattingly, who is in the final year of his contract. On Monday, Mattlingly was asked about his situation, and
MIAMI -- With less than three weeks remaining in a disappointing season, the Marlins have many organizational decisions to make. One of the most pressing is the future of manager Don Mattingly, who is in the final year of his contract.
On Monday, Mattlingly was asked about his situation, and if anything is new.
"Not really," he said. "I'm in a pretty good spot, in my mind. Honestly, I have to make a choice, too."
The Marlins are winding down a rough second year of their building process. With 20 games remaining ahead of Monday's series opener against the Brewers, they are 51-91 and face a realistic possibility of losing more than 100 games for the third time in franchise history.
A year ago, the club finished 63-98. And in his four seasons with the organization, Mattingly's record is 270-356.
"You don't quite know where next year, too, is going," Mattingly said.
Recently, chief executive officer Derek Jeter noted he hopes to address Mattingly's situation near the end of the season, or shortly after the regular season ends on Sept. 29.
"We've talked about getting together," Mattingly said. "I assume we'll get together quickly, because they've got to do a whole staff. It will depend on which direction they want to go."
When Mattingly was hired in 2016, the organization was positioned to contend with a roster that included proven outfielders Giancarlo Stanton, Christian Yelich and Marcell Ozuna. The rotation was headed by Jose Fernandez, the ace of the staff and an All-Star. But in late September, Fernandez was killed in a boating accident, which eventually factored into the decision to build for the future.
In 2017, Stanton won the National League Most Valuable Player Award, but the club finished 77-85.
After that season, the new ownership group -- headed by Bruce Sherman and Jeter -- went into a building mode.
"I do like the thought of young guys getting better," Mattingly said. "Growing this organization is really what I was thinking when I first came here. That's still something that I want."
Diaz keeps tabs on Yelich
Not only was Isan Diaz part of the blockbuster trade with the Brewers for Yelich, the Marlins' rookie second baseman admires the reigning National League MVP's game.
"I always follow Yeli, and how he's doing," Diaz said. "You want to follow a guy like Christian Yelich, the guy is a stud. Tremendous hitter."
Being part of the big trade, Diaz understands he will always be linked to Yelich, who is making a case as a repeat MVP winner.
"Obviously, it's always there," Diaz said. "It never disappears. I think it's just part of not really paying attention to it, and be yourself, and do what you've got to do."
The Brewers are an organization that Diaz always will feel grateful to.
"Obviously, I always want to thank them for the opportunity they gave me," the rookie said. "Now, it's all about going out there to compete."
Praise for Monte
Another major piece for the Marlins in the Yelich deal is outfield prospect Monte Harrison, who was tracking towards being a September callup before breaking his right wrist.
Ranked by MLB Pipeline as Miami's No. 6 prospect, and 84th on the Top 100 list, Harrison finished his season at Triple-A New Orleans hitting .274/.357/.451 with nine home runs and 20 stolen bases.
"I like the way Monte plays," Mattingly said. "That's easy to say. He plays with juice, and he's always trying to make plays in the outfield. He's trying to steal a bag. He's trying to go first to third. He's trying to hit the ball hard. And we've seen improvement. That's the biggest thing."