Nola wins Fall League's Dernell Stenson Sportsmanship Award
Marlins prospect honored for unselfishness, hard work, leadership with Mesa Solar Sox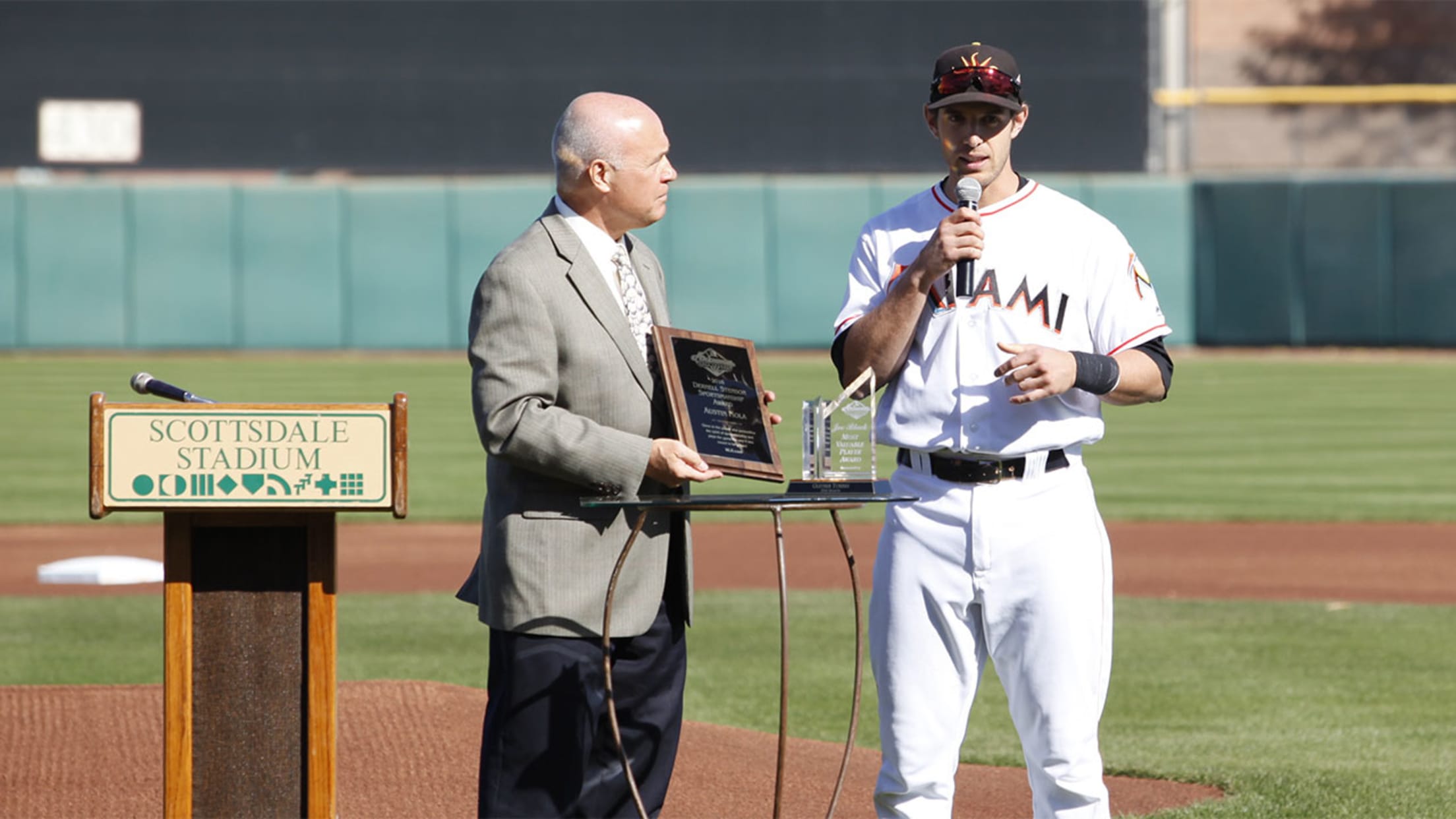 Austin Nola receives the 2016 Stenson Sportsmanship Award from AFL Director Steve Cobb. (Jason Wise)
Just before his Mesa Solar Sox played in the Arizona Fall League championship game Saturday, infielder Austin Nola was named the recipient of the Dernell Stenson Sportsmanship Award, presented annually to the AFL player who best exemplifies unselfishness, hard work and leadership.Nola was nominated by Solar Sox manager Ryan Christenson
Just before his Mesa Solar Sox played in the Arizona Fall League championship game Saturday, infielder Austin Nola was named the recipient of the Dernell Stenson Sportsmanship Award, presented annually to the AFL player who best exemplifies unselfishness, hard work and leadership.
Nola was nominated by Solar Sox manager Ryan Christenson after coming into the Arizona Fall League as a taxi squad player, playing only once a week.
:: 2016 Arizona Fall League championship game coverage ::
"It was the culmination of what he did every day, he was the same guy every day coming in, whether he was in the lineup or not in the lineup," Christenson said. "He just came in and did his work and was there for the team and everybody on the team kind of gravitated to him."
The Stenson Sportsmanship Award was created in 2004 in memory of former AFL player Dernell Stenson, who was killed the previous year during the Fall League season. The award is presented annually to the player who best exemplifies Stenson's persona in the clubhouse: unselfishness, hard work and leadership.
"Super honored, because I've been around a lot of great people in this dugout and I'm sure on other teams they had guys who were just as deserving," Nola said. "To be part of that tradition ... I've heard what a wonderful player he was and just a great guy."
Nola said he tries to follow in the footsteps of players who put their whole heart into the game, like Stenson in 2003 or José Fernández, who was briefly Nola's teammate on the Double-A Jacksonville Suns in 2015.
Fernandez was killed in a boating accident in September, and the Marlins organization has been mourning the loss of the 24-year-old pitcher since.
"It's hard. I feel like I can't even be put into that category with what they've set before us. I just try to follow their example, especially the way Jose played the game, the way he went about life every day," Nola said. "I remember playing him in ping pong and the life he put into a ping pong game, of how much that meant to him and how competitive he was. I learned a lot from that, the way he played the game."
Nola played in eight games during the Arizona Fall League, making appearances behind the plate for the first time since high school while also filling in at first, second and third base. He batted .273 during the six-week AFL campaign after spending the regular season playing for Triple-A New Orleans. He has been in the Marlins organization since being drafted in 2012, and he was promoted to the club's 40-man roster on Friday.
Christenson emphasized the importance of just having guys like Nola in the clubhouse, let alone on the field.
"He's a little bit of an older guy as far as Triple-A experience, so to have him around some of the younger talent on the team and just to show them what it means to be professional and come to work every day no matter what the situation you're in was a great plus," Christenson said. "This went beyond what I heard about him coming into this season and what kind of guy he was, so he was very deserving of the award, and I'd take him on my team any day."
As the newest recipient of the Stenson Sportsmanship Award, Nola said he just wants to be remembered as a great and unselfish teammate.
Below is the complete list of Stenson award winners:
• 2016 -- Austin Nola (Marlins), C, Mesa Solar Sox
• 2015 -- Yadiel Rivera (Brewers), SS, Surprise Saguaros
• 2014 -- Patrick Kivlehan (Mariners), 3B, Surprise Saguaros
• 2013 -- Garin Cecchini (Red Sox), 3B, Surprise Saguaros
• 2012 -- Cole Kimball (Nationals), RHP, Salt River Rafters
• 2011 -- Kevin Mattison (Marlins), OF, Surprise Saguaros
• 2010 -- Steve Lombardozzi (Nationals), IF, Scottsdale Scorpions
• 2009 -- Russ Mitchell (Dodgers), 1B, Peoria Javelinas
• 2008 -- Jason Donald (Phillies), IF, Mesa Solar Sox
• 2007 -- Sam Fuld (Cubs), OF, Mesa Solar Sox
• 2006 -- Kevin Frandsen (Giants), IF, Scottsdale Scorpions
• 2005 -- Andre Ethier (Athletics), OF, Phoenix Desert Dogs
• 2004 -- Mark Teahen (Royals), 3B, Phoenix Desert Dogs
Trisha Garcia is a sports journalism graduate student at Arizona State University. This story is part of a partnership between MLB.com and ASU's Walter Cronkite School of Journalism and Mass Communication. You can follow her on Twitter @trishaanicole