Inbox: What is Realmuto worth in a trade?
Beat reporter Joe Frisaro answers questions from fans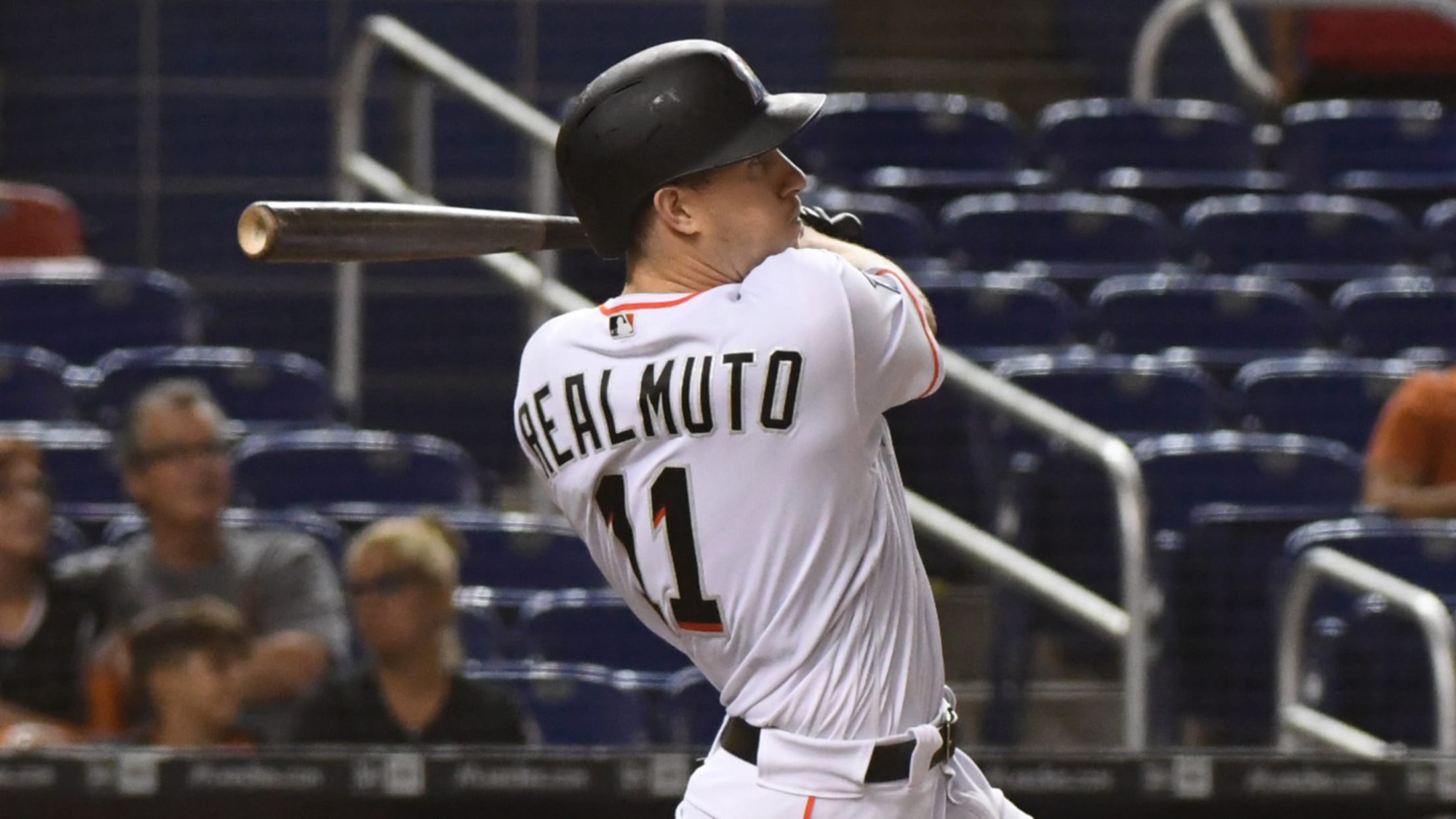 MIAMI, FL - SEPTEMBER 4: J.T. Realmuto #11 of the Miami Marlins hits a home run in the eighth inning against the Philadelphia Phillies at Marlins Park on September 4, 2018 in Miami, Florida. (Photo by Eric Espada/Getty Images) (Eric Espada/Getty Images)
What is a realistic haul for J.T. Realmuto? -- @Ernie_PerezThe comments by Realmuto's agent, Jeff Berry of CAA, this week certainly created a trade-rumor firestorm. How the Marlins respond is the next step, and I believe we will get more clarity next week at the General Managers Meetings.I would also
What is a realistic haul for J.T. Realmuto?
-- @Ernie_Perez
The comments by Realmuto's agent, Jeff Berry of CAA, this week certainly created a trade-rumor firestorm. How the Marlins respond is the next step, and I believe we will get more clarity next week at the General Managers Meetings.
I would also caution fans to not draw any automatic conclusions, because this saga likely will have plenty of twists and turns. Remember, the All-Star catcher is entering his second season of arbitration and isn't a free agent until after the 2020 season. So the Marlins don't have any urgency to make a trade any time soon. And they've been down this path before, because Berry expressed a similar sentiment last offseason, and Miami didn't deal their star catcher.
• Submit your question to the Inbox
The bottom line is this: If the Marlins are presented an offer they find attractive enough to make a trade, they will consider it. The Nationals, Astros, Dodgers, Braves and perhaps the Yankees are potential trade partners.
Marlins chief executive officer Derek Jeter addressed the Realmuto situation during the Beyond the Bases podcast on Marlins.com, hosted by Kyle Sielaff.
"We've been very vocal with how we feel about J.T. as a player," Jeter said. "Whether or not he signs an extension or wants to stay in Miami, that's not up to us. That's entirely up to him, and he has that right. But where he plays for the next two years is entirely up to us.
"Our bottom line is this organization is not about one particular player. It's about 25 guys that we have here at any given time. We want everyone to buy into what we're building here. We're building a championship team. Look, that's not easy to do, trust me, from my experience. It takes a lot of hard work. There's no easy way out. You have to be willing to put that work in. We will continue to try to improve this organization, and every decision that we make will be to make this organization better.
Which prospects' performances in the Arizona Fall League and in Spring Training should fans pay attention to the most?
-- @StuckinJB772
In the Arizona Fall League, there are two: outfielder Monte Harrison and right-hander Jordan Yamamoto. Both have been selected to the Fall Stars Game, which will be played Saturday night. Harrison, ranked by MLB Pipeline as Miami's No. 2 prospect, is hitting .319/.421/.383 through 13 games. Yamamoto, the club's No. 17 prospect, is 3-0 with a 1.69 ERA.
As for Spring Training, keep an eye on right-hander Nick Neidert, the Marlins' No. 4 prospect. Neidert may be ready to make the leap to the rotation in 2019 -- if not out of Spring Training, certainly over the course of the season.
Who are long-term options at shortstop in the Marlins' Minor League system?
-- @hracicot34
The name to really keep an eye on is Jose Devers, the 18-year-old acquired from the Yankees in the Giancarlo Stanton trade. Ranked by Pipeline as Miami's No. 13 prospect, his stock is expected to rise quickly in 2019. At just 18, he was promoted to Class A Advanced Jupiter, making him one of the youngest players at that level.
Devers is a slick-fielding, left-handed-hitting shortstop. Right now, he is very thin, and he isn't expected to develop into a power threat. But he is regarded as a pure hitter, a top-of-the-order talent. You will hear a lot about "swing path" and "bat-to-ball skills" from the Marlins' development people. Devers has a really natural swing. According to data provided by the Marlins, he had the 12th lowest strikeout rate in the South Atlantic League during his time this year at Class A Greensboro. He was the second-youngest player in the league before being promoted to Jupiter.
Are the Marlins looking to invest in free agency at all this year?
-- @GambeKenn
I anticipate the payroll will be about $100 million, and $46 million is locked up in three players: Martin Prado, Wei-Yin Chen and Starlin Castro. About $24 million is tied to six arbitration-eligible players, but not all six may end up with the club next season.
The answer is the Marlins will explore moderately-priced free agents, mostly on one-year deals.
The Marlins will look at first-base options like Logan Morrison, Lucas Duda, Matt Adams or Mark Reynolds. They also will target at least one starting pitcher to help ease the innings for their young pitchers. Someone like Jeremy Hellickson fits the mold. And the Marlins will look to close out games, so a veteran who has closed before or is a potential candidate to do so will be a priority.
Is there a realistic trade market for Dan Straily, Derek Dietrich and Miguel Rojas? Or are they non-tender candidates?
-- @Unozerounocinco
All three are arbitration-eligible. I'm not sure they want to trade Rojas, because he fits what they are building around: athletic players who can work up the middle. Rojas and JT Riddle could again split time at shortstop, with Rojas being an option at any infield spot. As for Dietrich and Straily, both are more likely trade candidates. There could be clubs willing to make deals, but the return wouldn't likely be high.