Inbox: Will money drive managerial decision?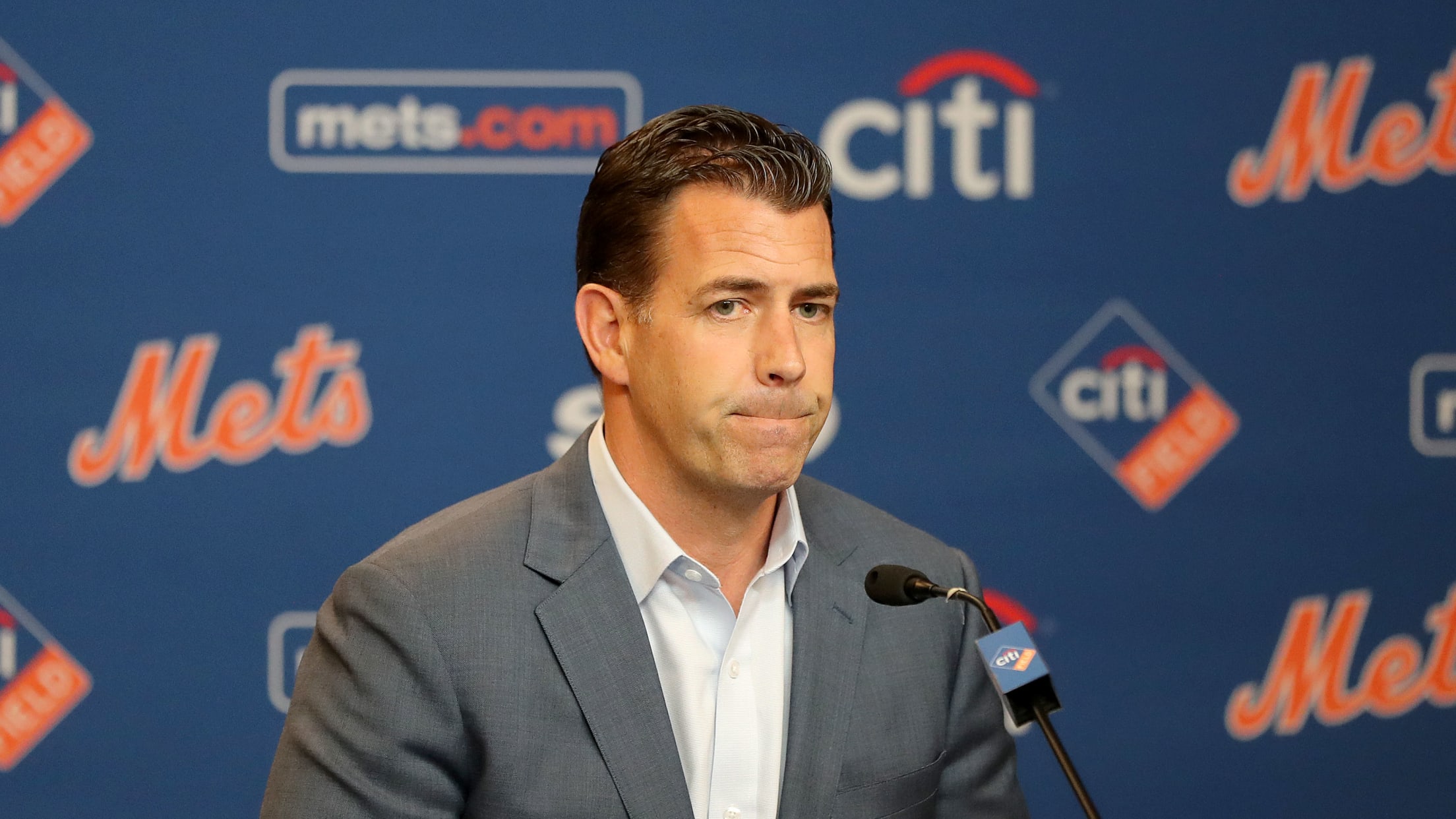 For the third straight autumn, the Mets will spend October conducting a job search for a top baseball official. Two years ago, they hired Mickey Callaway as manager. Last fall, it was Brodie Van Wagenen as GM. This year, they're back for another manager search, which could take the better
For the third straight autumn, the Mets will spend October conducting a job search for a top baseball official. Two years ago, they hired Mickey Callaway as manager. Last fall, it was Brodie Van Wagenen as GM. This year, they're back for another manager search, which could take the better part of the month.
• Mets offseason FAQ: Who stays, goes, arrives?
While we wait for candidates to surface and interviews to take place, let's dig into the first Inbox of the offseason:
Do you think the managerial decision will be based on who's best, or on a budget?
-- @Robgomets via Twitter
When asked this exact question on a conference call last week, Mets chief operating officer Jeff Wilpon, who cuts the checks, replied: "I think that's a better question for Brodie in terms of what the search is going to bring about, and what he thinks is the right person for this job."
Van Wagenen chimed in at that point to say: "In making this decision [to dismiss] Mickey, I never asked a question to Jeff about price. I didn't make recommendations based on what was either owed to Mickey, or what the expectation would be for the new manager. I think the game plan and the goal is to find the right person to take us forward. We haven't contemplated a financial component to what is the right person."
Taken at face value, that would seem to mean the Mets will spend what's necessary -- which might not actually be that much, relatively speaking. With big-salaried names Mike Scioscia, Bruce Bochy, Buck Showalter, Ned Yost and Clint Hurdle all either retired or unemployed, the list of MLB's highest-paid managers isn't nearly what it was even a year ago -- and given the decreasing role of managers within organizational decision-making circles, that trend seems likely to continue.
As a result, managers may need to recalibrate their financial expectations. Would Joe Girardi, for example, require the same $4 million per season he collected as manager of the Yankees? Or would he be happy simply to rank among the top three to five highest-paid managers in the league -- a number closer to half his old salary? If it's the latter, then the financial aspect of the Mets' manager search probably may not be as big a deal as it seems on the surface.
Which of the coaches have a chance of remaining on the staff this coming year?
-- @MillManner via Twitter
Much will depend upon the new manager -- particularly if the Mets hire a veteran like Girardi, who would theoretically have more negotiating power when it comes to bringing in his own coaches. The team already informed bench coach Jim Riggleman he won't be returning. A change or two elsewhere on the staff wouldn't surprise me, but don't expect any significant shakeup. It's worth noting that under hitting coach Chili Davis, the Mets improved their offensive ranking (based on runs per game) from 23rd in the Majors in 2018 to 13th this season.
On the pitching side, the Mets ranked 20th in MLB in ERA before Phil Regan's late-June takeover, and sixth after it. If Regan wants to return at age 83, it would be difficult for the Mets to say he doesn't deserve the chance.
If the Mets keep J.D. Davis, where do you think they'll play him?
-- @A_RandomUser46 via Twitter
That depends on multiple factors, including whether the Mets acquire an everyday center fielder. If they don't, the team could put either Jeff McNeil or Davis in left field, with the other playing third base. If they do, Davis might have to scrap for time at both positions given Brandon Nimmo's need for playing time in left.
While Davis didn't distinguish himself defensively at either position this season, he has far more professional experience at third. If the Mets want to play Davis there, it would behoove them to commit to him before the start of Spring Training, allowing him to head into the season with plenty of reps.
Already, some trade talk has swirled around Davis, but color me skeptical. Davis was by far Van Wagenen's best acquisition last offseason. I can't see the GM parting with him easily.
What do you think the plans are for Dominic Smith? Do you think the Mets will try to trade him? If they keep him, where would he play?
-- @SharonWeidberg1 via Twitter
The easy answer is to predict a trade, but I'm not sure Smith's market value is quite so high as his value off the bench to the Mets. Even if Pete Alonso plays in 161 games at first base again, Smith can provide value as a regular pinch-hitter and backup left fielder.
Smith was blocked at both of his positions this year, and still managed 197 plate appearances despite two months lost to injury. There's a role here for him, even if it isn't completely defined yet.
What are your thoughts around the impact that Yoenis Céspedes will have next year?
-- @MikeGray214 via Twitter
Until or unless Céspedes is on the field, in uniform, playing MLB games, my assumption is that he will not significantly impact the 2020 Mets -- and I suspect team officials feel the same way. Céspedes will be 34 on Opening Day, coming off multiple major surgeries plus a significant rehab setback, and 21 months removed from his most recent big league plate appearance. With Céspedes, the Mets have little choice but to assume the worst and hope for the best.
Can someone in the Mets' organization develop Edwin Diaz's changeup if we're keeping him for next year? Diaz can't continue with only two pitches, especially if his slider is so unreliable.
-- @ItsjustJimmy via Twitter
I actually don't think that's necessary. Right-handed pitchers typically save their changeups for left-handed batters. Diaz's problem wasn't with lefties, who hit him at a .193/.294/.398 clip. His problem was with home runs, both against his fastball and his slider.
Two years ago, Diaz only needed two pitches to be the best reliever in baseball. He doesn't need to add pitches to get back to that; he simply must refine the ones he already has.
What does Mets breaking Hall of Famer precedent by retiring Jerry Koosman's number mean for the timetable of when we can expect them to retire David Wright's? Are they now going to go through retiring every worthy number that came before him first?
-- @jquadddddd via Twitter
I believe the inevitability of honoring Wright played a role in the Mets' decision to retire Koosman's No. 36. Knowing they will eventually retire Wright's number incentivized the organization to soften its longtime restriction of only retiring the jersey numbers of Hall of Famers.
The Mets also understand that if they're going to retire Wright's number, it would be appropriate first to retire those of other backlogged Mets -- a list that could include Keith Hernandez, Gary Carter, Dwight Gooden and/or Darryl Strawberry.
It's hard to say what that means for Wright's timeline. Wilpon indicated the Mets are going to speed up their pace of number retirement ceremonies, but he didn't give an indication of how many players would receive the honor. If it's one or two, perhaps the Mets will save Wright for last. If it's six or seven, they're not likely to wait a decade-plus to honor Wright.
My advice for No. 5 fans: hang tight. Wright's jersey retirement probably won't happen in the next year or two, but it also won't take nine years like it did for Mike Piazza.